Buying a range hood can be a daunting experience, especially when there are so many different types on the market. This major appliance represents a significant cost, so it's best to choose the right model from the start! Whether you're looking for a budget solution or something more high-end and sophisticated, we'll help you find the perfect option, at the right price.
In this guide, we take an in-depth look at the different types of cooker hoods available, from traditional cooker hoods to island hoods. We'll also discuss their features and styles, as well as their energy efficiency and overall cost of ownership. Plus, you'll get tips on how to choose the right type of hood for your kitchen space and budget. Whether you're a beginner or an experienced buyer, this guide contains everything you need to make an informed decision about the right range hood for your needs.
We have spent 120 hours researching over 60 range hoods on the market and referring to 10 expert articles and opinions to select the best range hoods. One of our favorites so far is the Cosmo COS-63175.
With its good value for money, this ducted hood offers a suction power of almost 380 CPM, for a very good dispersion of grease, smoke and fumes.
Its energy-saving LEDs give you good visibility, even after dark, and its high durability promises many years of use. If not, you can always count on the 3-year warranty to return it to the manufacturer.
---
How Do We Pick the Best Range Hood and Make This Guide?
The odors from unventilated grease, fumes and cooking can poison you in the long run and can potentially damage your home. So, to create this guide, we've taken into account some of the most important criteria to make your shopping experience as easy as possible.
Ventilation method: ducted or ductless? This will depend on the configuration of your kitchen and whether you have an air duct to the outside. If not, you may need a ductless hood with a filter.
Type of range hood: wall-mounted, under-cabinet, island? Again, the choice will depend on the structure of your kitchen and the space you have.
Suction power: the higher the CPM number, the more effectively the hood will absorb steam, odors and smoke.
Consumer reviews are also important to consider in order to understand the pros and cons of each model and thus ensure objectivity in your analysis. We hope you enjoyed reading this article and find the hood of your dreams!
---
Editor's Choices for the Best Range Hoods:
Cosmo COS-63175 – Best Wall-Mounted Range Hood
Glacier BCSM130SS – Best For Small Space
KitchenAid KVWB600DSS – The High-End Wall-Mounted
Vesta Atlanta 860 PCM – Best Under-Cabinet Range Hood
Tieasy Range Hood – Highest Price/Performance Ratio
Broan® Glacier BCS330SSC – Best Budget Range Hood
---
1. Cosmo COS-63175 – Best Wall-Mounted Range Hood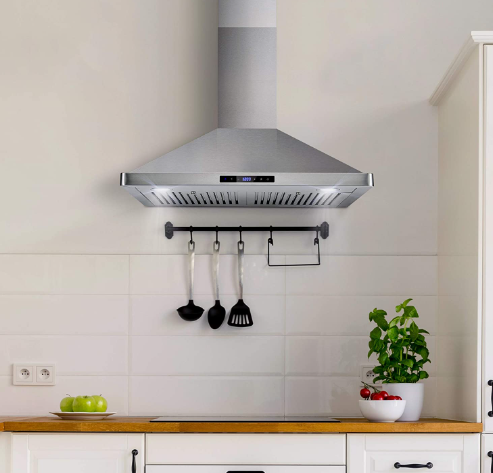 The best value for money
The Cosmo COS-63175 modern range hood is the perfect addition to any kitchen. It's sleek and powerful, and features a contemporary design in sleek brushed stainless steel materials that are designed to resist heat, grease, oil and steam. If you're concerned about energy consumption, you should also know that its LED lighting ensures maximum brightness, while optimizing energy consumption.
Cosmo COS-63175 Features
Dimensions: 65 x 24 x 76.2 x 50 cm (25.6 x 9.4 x 30 x 19.7″)
Weight: 14 kg (31 lbs)
Ventilation type: ducted (convertible to recirculation)
Materials: brushed stainless steel
3 fan speeds
Airflow: 380 CFM
Stainless steel and dishwasher safe filters
Sound level: 65 dB
LED lighting
Touch controls
ETL certified
Voltage: 120 V
Warranty: 3 years
Our review of the Cosmo COS-63175
We particularly like this Cosmo COS-63175 range hood because it brings together efficiency, convenience and energy savings, and therefore money! It comes with a range of features that offer a high level of convenience and ease of use to any household, such as touch controls with an easy-to-use backlit digital display that allows one-touch control of the fans and lights.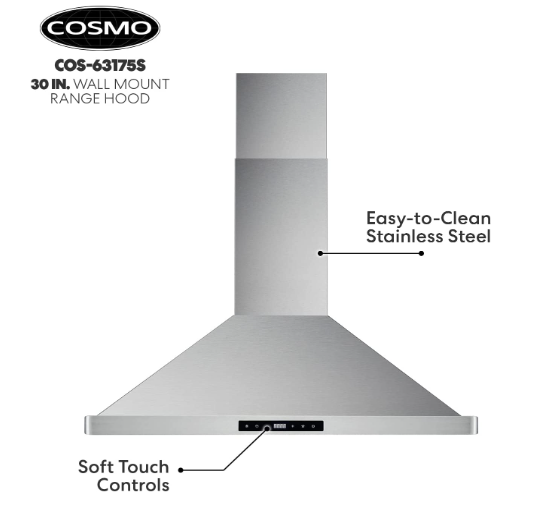 Its 3 variable fan speeds allow you to adapt your needs to a variety of cooking styles. Plus, the 380 CFM of suction removes steam, grease and smoke from even the greasiest of meals.
The noise level is only 45 dB at its lowest speed, making this hood particularly suitable for modern kitchens, without breaking your ears.
Big plus for the flexible ducts that ensure a convenient, simple and straightforward installation, even for the less handyman!
Two energy-saving LED lights provide extra light when needed in your kitchen area, without consuming more.
For extra protection against odors and grease, ARC-FLOW stainless steel filters easily capture them (with the added bonus of being dishwasher safe).
This all stainless steel hood is made of 20-gauge 430 steel to ensure durable quality you can trust. It's also ETL certified (North American safety standard compliant) so it's very safe, and comes with a 3-year limited warranty.
The Cosmo COS-63175S can even be converted to recirculating/ductless mode with a charcoal filter kit purchased separately.
A 3-pin power cord is included in your purchase so you can get started right away without having to search for additional supplies.
The big highlights of this hood are definitely all the features it offers, for a fairly affordable retail price. The design is perfect in a modern kitchen, the fact that the filters are dishwasher safe and the noise is not really disturbing will have finished convincing you.
On the other hand, the blue protective film is quite hard to remove, so be patient! Also, since the hood protrudes a little beyond the cooktop, it may not properly suck in the fumes from the main burner. To ensure optimal suction, it may be necessary to cook your food on the bottom burners.
If you're looking for a stylish, low-noise, energy-efficient hood that offers great value, look no further than the Cosmo COS-63175! A beautiful wall-mounted range hood that allows you to cook great meals, without the smell in the house!
---
2. Glacier BCSM130SS – Best For Small Space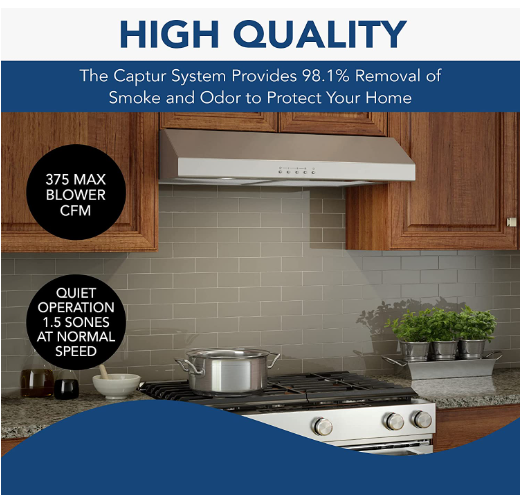 The ductless range hood for small spaces
You have little space but the use of a hood is essential for you? Don't have room to install wall ducting due to your kitchen design? Don't worry, the Broan® Glacier BCSM130SS hood is specially designed for small spaces, mounting directly under your kitchen cabinetry.
Broan® Glacier BCSM130SS Features
Dimensions: 50 x 15 x 76.2 cm (19.6 x 6 x 30″)
Weight: 9.8 kg (21.6 lbs)
Materials: stainless steel
Ventilation type: ductless
3 fan speeds
Airflow: 375 CFM
Open mesh and dishwasher safe filters
Noise level: 38 dB
Halogen lighting (recommended bulbs – MR16 or PAR16)
Push buttons
HVI certified
Warranty: 1 year
Our review of the Broan® Glacier BCSM130SS
This under-cabinet solution from Broan® is the perfect choice for busy kitchens that need a complete package. With the Glacier BCSM130SS, you'll get clean, superior air quality without sacrificing style and convenience.
The 375 CFM power output quickly removes 97.4% of smoke and cooking odors in minutes – for a consistently enjoyable cooking experience! A nice surprise is the 38dB, which ensures truly quiet operation!
With convenient 3-speed push-button controls and 2 halogen lights included, you'll have no problem seeing your cooktop in dark or dimly lit spaces. However, halogen lamps have a shorter lifespan than LEDs, and tend to consume more power. Plus, they're not included, which can delay your use.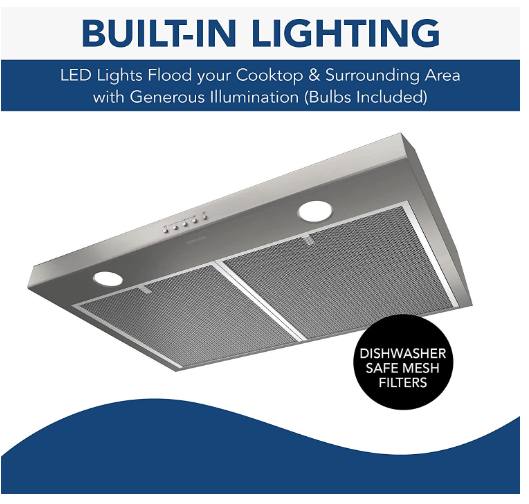 And don't worry about getting out the cleaning supplies; the two open-mesh grease filters are dishwasher safe, saving you time and effort. In terms of design, this is a less worked raw product, but that's a subjective detail depending on individual preferences.
Finally, this hood can be installed in a duct or ductless with air recirculation (filter sold separately), which gives you four different installation options so you can get the right configuration for your kitchen space. The manufacturer offers only a one-year warranty on this product.
Bonus: This hood is HVI certified, which assures the consumer that the advertised airflow, sound, energy and light ratings are the results of independent laboratory testing verified by HVI.
Minus points on the price, mainly because halogen bulbs need to be changed more regularly than LEDs, and because the warranty is only effective for one year. Otherwise, the Broan® Glacier BCSM130SS is a good choice if you're short on space and want a functional, quiet and efficient appliance!
---
3. KitchenAid KVWB600DSS – The High-End Wall-Mounted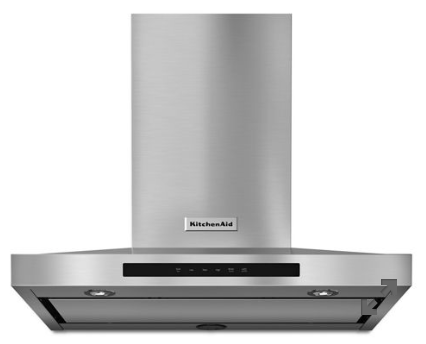 The Rolls of the kitchen hood
You have a nice budget to equip your kitchen with a very powerful, elegant and smart hood? The KitchenAid KVWB600DSS is a concentrate of technology and is equipped with an impressive 600 CFM suction capacity. It's time to take your appliances to the next level!
KitchenAid KVWB600DSS Features:
Dimensions: 62,5 x 76,2 x 50 cm (24,6 x 30 x 20″)
Weight: 25,4 kg (56 lbs)
Ventilation type: ducted
Materials: stainless steel
Automatic activation function and speed control
3 fan speeds
Airflow: 600 CFM
Removable and washable filters
Whisper Quiet System (49 to 63 dB)
Halogen and LED lighting
Electronic touch controls
Warranty: 1 year
Our Review of the KitchenAid KVWB600DSS
The KitchenAid KVWB600DSS is sure to be an innovative and intuitive addition to your kitchen! This beautiful hood offers an impeccable finish, and several impressive features.
For example, its boosted function gives you fast, efficient ventilation when you need it most – that is, it turns on automatically if the hood's sensor detects high-temperature cooking on multiple burners, and it can also be activated manually.
Unlike other traditional models, its intelligent automatic speed adjustment feature adjusts the exhaust speed according to the heat produced.
Plus, its removable filters can be easily washed. And if you want quieter operation while cooking, this hood easily converts from a traditional to an inline fan installation using a metal housing (sold separately) – perfect for any modern kitchen!
What we also like is the ability for kitchen professionals to use the KitchenAid KVWB600DSS hood: with a high-performance 600 CFM motor capacity, it's compatible with most 30- and 36-inch cooktops, including some commercial cooktops.
Intuitive electronic glass touch controls allow you to easily adjust the fan speed, effortlessly selecting one of 3 available speeds for better air circulation in your kitchen.
In addition, LED lights generously illuminate the cooktop for better visibility, while halogen lights provide soft mood lighting to give your kitchen a little more style.
Noise-wise, you can enjoy peace and quiet while you prepare your meals, thanks to its Whisper Quiet System that generates only 49 dB at low speed, while at maximum speed, the volume increases to 63 dB. We think that's still relatively noisy.
Obviously, this type of appliance has a much higher cost than standard models, in addition to being covered by only one year of warranty. Nevertheless, it remains one of the best cooker hoods on the market!
A true competition hood, which blends in beautifully with a modern, contemporary kitchen. The KitchenAid KVWB600DSS is innovative and intelligent for an aspiration as close as possible to your needs. It's a shame that it's still quite noisy despite its Whisper Quiet system.
---
4. Vesta Atlanta 860 PCM – Best Under-Cabinet Range Hood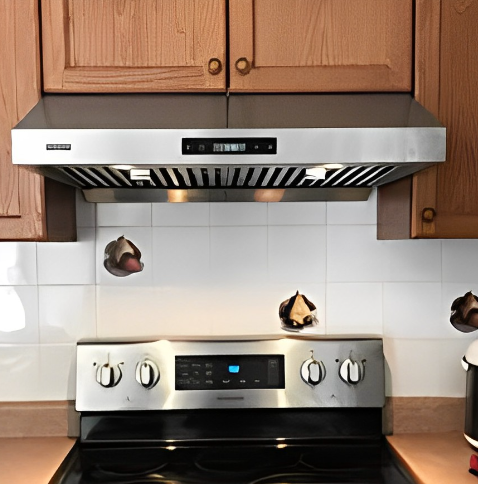 The 6-speed model and easy to clean
Are you looking for a hood with exceptional suction power that fits perfectly into a small space? The Vesta Atlanta 860 CFM is the answer! With its 860 CFM and 6 speeds, it's the perfect hood for zero cooking odors in the home, but also for professional kitchens that need strong suction.
Vesta Atlanta 860 PCM Features:
Dimensions: 76.2 x 55.8 x 17.7 cm (30 x 22 x 7)
Weight: 20 kg (44 lbs)
Ventilation type: ductless
Materials: stainless steel
6 fan speeds
Airflow: 860 CFM
Removable and washable filters
Sound level: 65 dB
LED lighting
ETL certification
Electronic touch controls
1-year limited factory warranty + 10-year motor warranty
Our review of the Vesta Atlanta 860 PCM
The Vesta Atlanta 860 CFM range hood is the perfect addition to any modern kitchen. This stylish unit is constructed of durable stainless steel and can provide your cooking area with powerful ventilation and lighting.
The hood's maximum air extraction level of 860 CFM will help you quickly remove smoke, steam and odors, while its dual motor system ensures efficient operation. Plus, a touchscreen control panel allows you to quickly choose between 6 different speed levels. Typically, hoods only have 3 speeds, so the Vesta Atlanta 860 PCM 6 speeds take your vacuuming to a whole new level.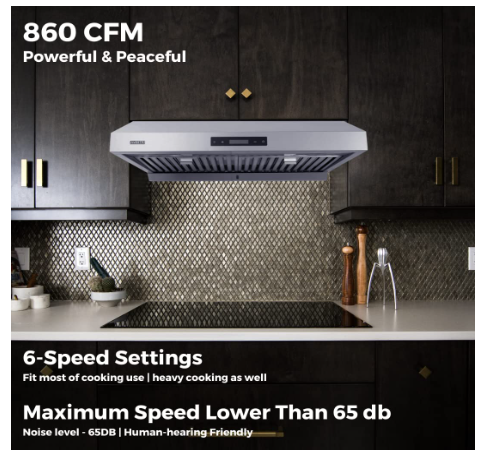 For better filtration and optimal performance, this unit is equipped with removable, dishwasher-safe dual baffle filters. Plus, flexible exhaust connections (top round, top rectangular, rear rectangular) make installation easy.
For better visibility in your kitchen, the hood is equipped with a pair of bright LED lights that illuminate the cooking area, and with 3 levels to adjust the visibility depending on the time of day.
For easy cleaning, the body of the appliance is designed with seamless edges that are easy to clean with a damp cloth.
On the installation side, we recommend that at least 2 people can install this hood because it is much heavier (20 kg, compared to 9 kg for other models).
As for the noise level, the use of the hood emits a sound volume of about 65 dB, which is quite reasonable for a hood with such an average suction capacity. At speed 6, however, the noise is much louder and can be disturbing.
Big plus for the grease tray located at the back, allowing you to maintain your hood in the best possible way, and to avoid clogging, but also for the 3 ventilation configurations: 2 top vents (round and rectangle adapters) and a rear rectangle vent, all 3 being included with the hood. This is ideal for a greater capture of odors and grease!
While installation can be tricky with only one person, and the noise at speed 6 is quite loud, the Vesta Atlanta 860 PCM hood performs very well for large cooking needs. If you want a high-performance hood in a small space, at a price that is still reasonable, this is definitely the best choice.
---
5. Tieasy Range Hood – Highest Price/Performance Ratio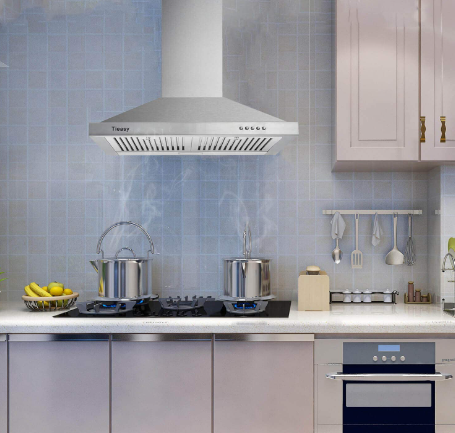 The high-performance hood without breaking the bank
Don't want to spend a lot of money to free your kitchen from cooking and greasy odors? The Tieasy hood is the perfect compromise between low cost and high performance. It is silent, offers a very decent suction and has 2 exhaust modes.
Tieasy Range Hood Features:
Dimensions: 75 x 46.5 x 92 cm (30 x 18 x 36″)
Ventilation type: ducted
Materials: stainless steel
3 fan speeds
Airflow: 450 CFM
Removable and washable filters
Sound level: 55 dB
LED lighting
ETL certification
Touch-sensitive push-button controls
Voltage: 120 V
5 year warranty on parts
Our review of the Tieasy Range Hood
Tieasy range hood is your perfect kitchen assistant. With its powerful motor, this hood is designed to instantly remove smoke and potentially harmful odors from the air in your home, leaving you with only clean, fresh air for all your cooking needs.
It features three fan speeds (low, medium, high), so you can accommodate all kinds of foods and cooking styles. Plus, the two stainless steel baffle filters are removable and easy to clean in the dishwasher.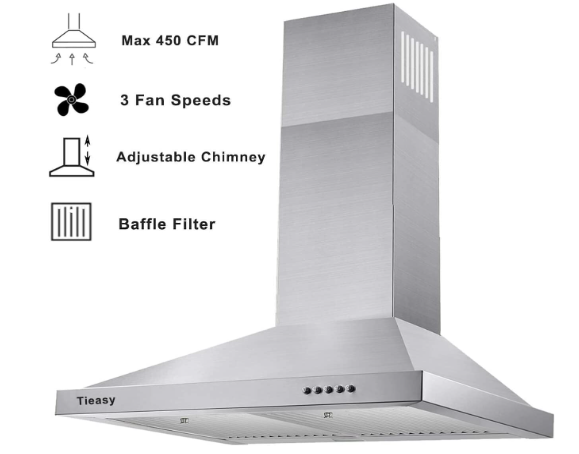 This hood offers you a choice of ventilation modes – ducted and non-ducted – that ensure superior performance while operating quietly at less than 55 dB at high speed.
For the ducted mode, the range hood comes with a duct to the outside and away from your home. This is the most commonly used type, which guarantees high performance, high capacity and low noise.
The ductless mode works with the cooker hood, which removes cooking odors by means of a dedicated charcoal filter (sold separately), and the recirculated air will come out of the hood clean, without grease. This type is suitable for rooms without extractor ducts.
ETL certified, this hood also offers three exhaust speeds, pushing up to 450 CFM. LED bulbs provide quality, energy-efficient lighting. And accessing these various functions can be done at the touch of a finger – thanks to the smooth operation of its push button controls.
Installation of this product is also easy – with a ceiling height requirement of between 7.5m and 2.6m, it's suitable for countless fireplaces, especially as the stainless steel flue is adjustable! With its brushed steel finish, even though this hood is supposed to be low cost, its performance and design are really nice.
The only downside is that the LED lighting is located at the back of the hood, so it doesn't really illuminate the preparations.
---
6. Broan® Glacier BCS330SSC – Best Budget Range Hood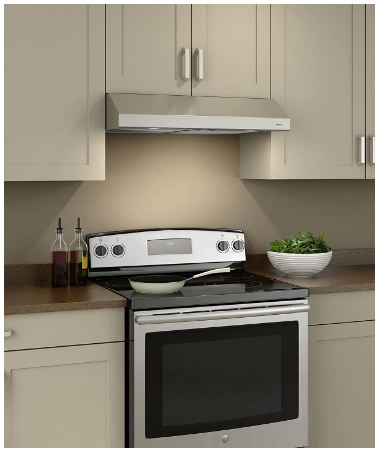 The low-power but affordable option
You don't cook a lot of greasy or steaming dishes? Are you looking for a practical, inexpensive hood to disperse cooking odors? The Broan® Glacier BCS330SSC offers a very competitive price, and efficient operation.
Broan® Glacier BCS330SSC Features:
Dimensions: 50 x 76 x 15 cm (19.6 x 30 x 6″)
Weight: 8.6 kg (19 lbs)
Ventilation type: ductless
Materials: stainless steel
Colors: stainless steel, black or white
2 fan speeds
Airflow: 300 CFM
Removable and washable filters
Sound level: 33 dB
Halogen lighting (bulbs not included)
HIV certification
Rocker controls
Voltage: 120 V
Our review of the Broan® Glacier BCS330SSC
The Broan® Glacier BCS330SSC offers superior smoke and odor capture with its exclusive CapturTM system, and is also suitable for ductless installation using an HPF30 charcoal filter (not included).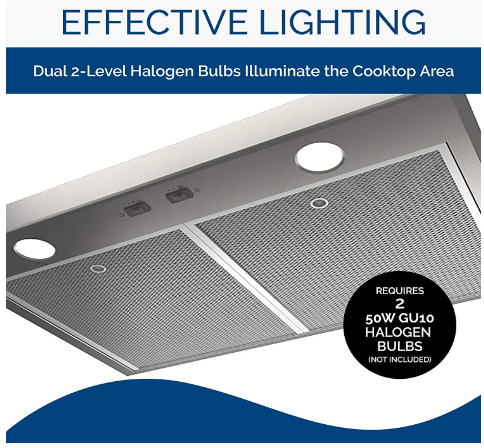 With its two high-efficiency fine mesh filters, you can enjoy the convenience of easy cleaning with durable performance that includes a fully enclosed bottom and two high-efficiency aluminum filters that are dishwasher safe.
This economical hood is both powerful and quiet – delivering 300 CFM of air movement at only 33 dB without sacrificing performance, though the suction power still falls short of other entry-level models.
Equipped with two 50W GU10 halogen bulbs (not included) for bright, direct lighting at two levels, this hood is also ADA compliant and can be operated with a UL listed wall control, allowing for remote control.
Nevertheless, you only have the option of 2 suction speeds, which can be a problem when cooking dishes with lots of fumes, smoke and grease. Moreover, most hoods offer at least 3 speeds.
In conclusion, this is not the most powerful or efficient range hood on the market, but if you have a small budget and are looking to capture your daily cooking odors, this is a good option.
The Broan® Glacier BCS330SSC may not be the most powerful or efficient range hood on the market, but if you're on a budget and don't cook big, fatty or smoke/steamy dishes, it's a good, affordable and functional option.
---
What You Should Know Before Buying a Range Hood?
What Are the Different Types of Range Hoods?
Under-cabinet hood: installed under cabinets, usually above the stove or sink, it uses a fan to exhaust smoke and cooking odors from the kitchen.
Wall-mounted hood: is mounted on the wall above the stove and extends outward to provide additional coverage. It is usually equipped with an adjustable fan that can be set at different speeds for better control.
Island hood: This is usually mounted on the ceiling directly above an island or cooktop. It offers more powerful exhaust capabilities than other types of hoods due to their height, but may require additional customization to fit properly in your space.
Built-in hood: designed to be installed in a custom cabinet. The ventilation module can be installed inside, internal module, or outside, external module. These models are the quietest.
How Easy is it to Install a Range Hood?
Installing a range hood is relatively easy and can usually be done in a few simple steps. Depending on the type of range hood you have, you may need to find the appropriate mounting template for your model.
Once you've determined the right size and fit of your hood, you'll need to decide on its location in your kitchen. You'll need to make sure that the exhaust duct is properly connected to the hood itself and that the electrical wiring is also properly connected.
Once these preparations are complete, the actual installation process should be fairly simple. Your hood should come with instructions on how to properly install it on your wall or under the cabinet above your stove.
This usually involves using screws or other fasteners, drilling holes in the appropriate area, and then attaching brackets to hold the hood in place. Finally, after testing it and making sure everything is working properly, you can finish by setting up any additional features such as dimmable lights or fan speed settings.
Overall, installing a hood is not too complicated a task and can usually be done quickly and with minimal effort if all the proper steps have been taken beforehand. However, for those who do not feel comfortable undertaking this task themselves or do not have access to the necessary tools, there are many professionals experienced in installing various types of kitchen appliances.
What Are the 2 Modes of Operation of a Range Hood?
One of the first criteria to consider when selecting a range hood is the ventilation system. There are two main types of range hoods: recirculating or with an external exhaust. Choose a range hood with an outside air outlet. If it is not possible to install an adequate duct, turn to a recirculating hood.
Fume hoods without external outlet (recirculation)
A charcoal filter cleans the dirty air (smoke, grease, odors), extracts most of the particles and returns it to the room. These hoods are simple to install, but are considered less efficient than those with an outside exhaust because they return the air to the room without extracting smoke, heat or humidity.
Fume hoods with an exterior outlet (exhaust)
This type of exhaust hood completely eliminates dirty air, which is expelled to the outside through an air duct. The installation of an exhaust hood is more complex because of the ducts, but once they are in place, it is easy to install.
Our Criteria for Choosing The Best Kitchen Hood
Motor capacity
Fume hoods are equipped with electric motors chosen according to their capacity to expel air: this capacity is expressed in cubic feet per minute (CFM or CFM – Cubic Feet per Minute).
To calculate the capacity of the motor, you must take into account the volume of the kitchen and the length of the duct. If the kitchen is open to the living room, consider the total volume.
The hood must be able to perform 10 to 12 air changes per hour to properly remove smoke and dirty air.
To calculate the required capacity, multiply the height of the kitchen by its area to obtain the volume of the room. Multiply this number by 10 to obtain a result expressed in m3/h.
For example, in a kitchen of 15 m2 and 3 m in height, one should ideally install a hood with a motor capacity of 450m3/h.
The length of the duct must also be taken into account. A long duct, or one with several 900° elbows, requires a greater ventilation capacity.
To help you, the following table allows you to evaluate the minimum capacity required simply based on the duct:
Conduit length / CFM capacity:
1 to 15 feet: up to 270 CFM
16 to 20 feet: 270 to 400 CFM
20′ and over: 400 CFM or more
The lighting of the hood
Most cooker hoods are equipped with one or more lamps, which allow a better visibility during cooking, especially in the evening. Depending on the model you choose, you will find LED lamps (more energy efficient) or halogen lamps (needing to be replaced more often because of their short life span). Make sure the bulbs are included with the hood, otherwise you will have to store around.
Filters
The primary role of filters is to capture grease before it enters the ductwork, which can lead to a fire hazard or, in the long run, cleaning problems.
Aluminum filters: Metal mesh or micro mesh filters are the most common. They are effortless to remove, dishwasher safe and therefore reusable. Fine mesh filters are much more effective.
Baffle Filters: These professional style filters are made of stainless steel and are positioned inside the housing. More durable than aluminum filters, they cover the entire bottom surface of the hood and are dishwasher safe.
Charcoal Filters: Charcoal filters are used when there is no external exhaust. They eliminate cooking odors and retain grease. They are rarely interchangeable between different models of hoods, except perhaps between models from the same manufacturer. They are not washable and must be replaced regularly.
We do our best to provide you with a comparison to help you choose the best range hood possible. If we have missed any information or new models, feel free to leave a comment below or send us a message.