Shaved Ice Machine is also called Snow Cone Maker, Ice Shaver, Ice Crusher, Ice Blender Machine, or Snow-Cone Machine sometimes in English.
The sweltering heat of summer can quickly become unbearable. There's nothing better to cool off with than an iced cocktail, a slushie or a snow cone.
If you're well equipped, you don't have to go out of your way to buy something to cool down your body. All you need is a slush ice machine.
This type of machine works in almost the same way for all models.
But there are a variety of them, and choosing the right one requires a lot of research.
Whether you are looking for a machine that can provide enough ice for a large group or for your children to use whenever they want, you need to take the time to compare the products on the market.
To make it easier for you, we've done the hard work for you.
We spent 40+ hours carefully reviewing the top 30 best-selling shaving ice machines in the Canadian market, and based on the opinions of more than 1,000 customers who have used these products, formed the following list of selected shaving ice machines and purchase guide.
Following our last update, our favorite model is the Nostalgia Electrics RSM602: its large capacity and retro design will be a hit at your summer parties.
---
1. Nostalgia Electrics RSM602 – Best For Snow Cones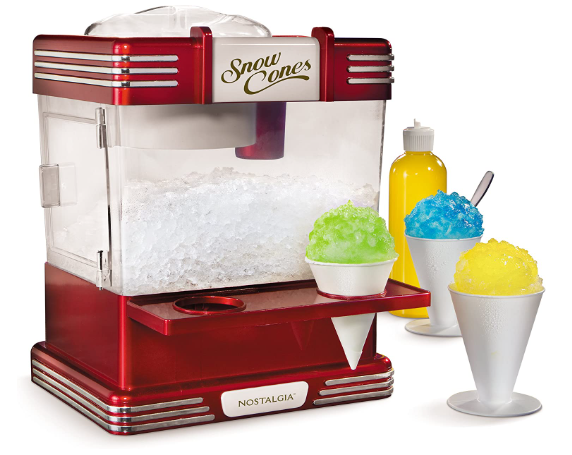 Are you nostalgic for the days when you ordered a snow cone at the funfair or while going to see a movie? It is now possible to obtain machines that will give your ice cream the perfect texture. The ideal model is the Nostalgia Electrics RSM602.
Nostalgia Electrics RSM602 Features:
Electric model for greater efficiency.
Large compartment with door for ice storage.
Retro design with two cone holders.
Comes with a scoop and two reusable cones.
Power: 40 Watts
Dimensions: 27.3 x 26 x 34.3 cm/10.75 x 10.25 x 13.5 in.
Weight : 2.72 kg/6 lb
What we think of the Nostalgia Electrics RSM602
As its name suggests, the Nostalgia Electrics RSM602 will bring back memories. Its retro design will be a great success with your guests. It is equipped with a support that can hold two cones.
It can be used with standard ice cubes. Simply add them to the ice cube area on top of the machine and press the button. Fully electric, its stainless steel blade will turn your cubes into crushed ice.
Its large compartment is practical and avoids the risk of damage. Moreover, it can keep a large quantity of ice. It is therefore the machine to have when you receive several guests in summer.
You can prepare and store crushed ice for 20 snow cones of eight ounces each quickly. The small scoop included with the machine allows you to scoop the ice and pour it into the cones without spilling anything.
A door is located on the side of the compartment to give you quick access to the interior. Some people have mentioned that the door is quite fragile. It is therefore recommended to handle it with care.
The Nostalgia Electrics RSM602 also comes with two reusable cones. This way you avoid wasting disposable cones. They can't be placed in the holder in front of the machine, but they have a foot to put them on.
With the Nostalgia Electrics RSM602, you'll enhance your summer parties. You can make snow cones for a large number of people in minutes. You can also use the crushed ice for cocktails. Plus, its retro design gives it an interesting look.
---
2. Manba MA1001 – Best Budget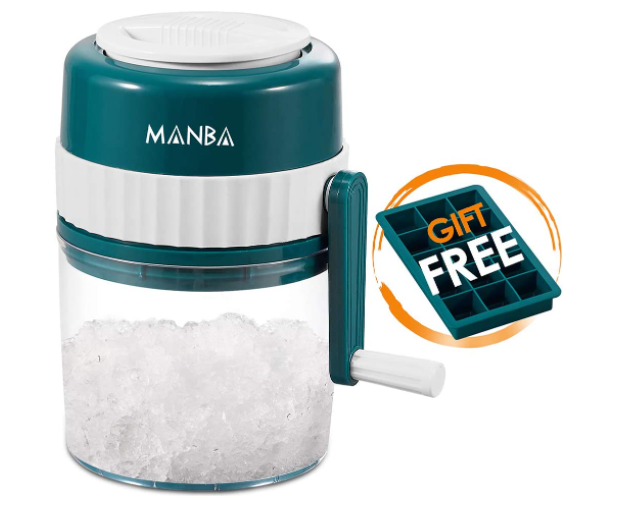 If your budget is not the highest, but you would like to have a crushed ice machine on hand when you feel like making cocktails or smoothies, then you need the Manba MA1001. With it, no matter where you are, you can have crushed ice.
Manba MA1001 Features:
Manual model with side handle.
Four good quality blades for better efficiency.
Compartment for one liter of crushed ice.
Compact design for easy transport and storage.
Comes with a silicone mold to make 15 ice cubes.
Dimensions: 13 x 13 x 20 cm/5.12 x 5.12 x 7.87 in.
Weight: 0.73 kg/1.6 lb
What we think of the Manba MA1001
The Manba MA1001 is a mechanical model, not an electric one, hence its low price. You have to turn the crank to transform your ice into a crushed finish. By the way, the latter is not quite like snow, it is slightly coarser.
If you think it takes a lot of elbow grease to use, think again. It's easy to use, especially with its four blades. The blades are durable and will not rust.
The crushed ice falls into a container that can hold up to a liter. It can easily be used as an ice bucket or serving bowl, avoiding the need for more dishes.
This machine is very easy to clean. Its various parts separate and are even dishwasher safe.
One of the advantages of the Manba MA1001 is that it is easy to carry around. Indeed, it is small and very light. Whether you're camping or on a picnic, you don't need electricity to operate it. All you need is ice and you're done.
It comes with a mold that can make 15 ice cubes. Made of silicone, it is flexible and easy to unmold.
The Manba MA1001 can be taken with you wherever you go as long as you are able to get ice. Its crank system is easy to use and its blades are of good quality. Although the end product may be thinner, you can still use it for snow cones.
---
3. West Bend JB15333 – Best For Youngest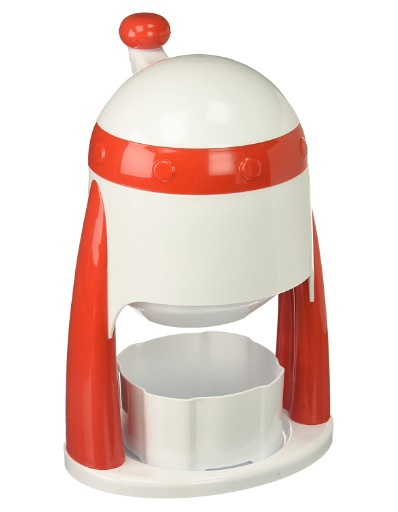 Snow cones can be fun and healthy snacks for kids. Plus, the main ingredient is easy to make. All that's missing is a device that will turn your ice cubes into snow. Let your kids make their own cones with the West Bend JB15333.
West Bend JB15333 Features:
Manual model with hand crank on top.
Compact and safe design allows children to use it.
Drip tray to prevent spills.
Comes with two sixteen ounce ice cream molds that double as containers.
Dimensions: 24.1 x 17.3 x 12.2 cm/9.5 x 6.8 x 4.8 in.
Weight: 0.73 kg/1.6 lb
What we think of the West Bend JB15333
The West Bend JB15333 is perfect for children and older kids. It operates manually, with a hand crank. Plus, the ice chamber is closed with a lid, so there's no risk of cutting.
The crank is located on top of the unit and rotates on the horizontal plane. This prevents it from being well supported when you turn it, so it tends to be unstable. You can always take two people or take it easy when using it.
This machine does not work well with traditional ice cubes. It is best to use the two molds provided to freeze water and crush the resulting ice.
These molds also serve as containers for the crushed ice. They have a capacity of sixteen ounces. They can also be used as a bowl, if you don't have cones on hand.
When you crank the handle, the ice crushes into a perfect texture for making great frozen desserts. A drip tray keeps water from spreading across your work surface.
The compact size of the West Bend JB15333 is perfect for taking it anywhere with you. It also allows you to store it anywhere without it taking up too much cabinet space.
The West Bend JB15333 will make it easy for your kids to make frozen snacks. They will have fun turning a block of ice into snow. The two included molds are convenient in many ways and the machine is safe and easy to clean. At the price it comes at, it's a great gift for kids and adults alike.
---
4. Fome Home – Most Professional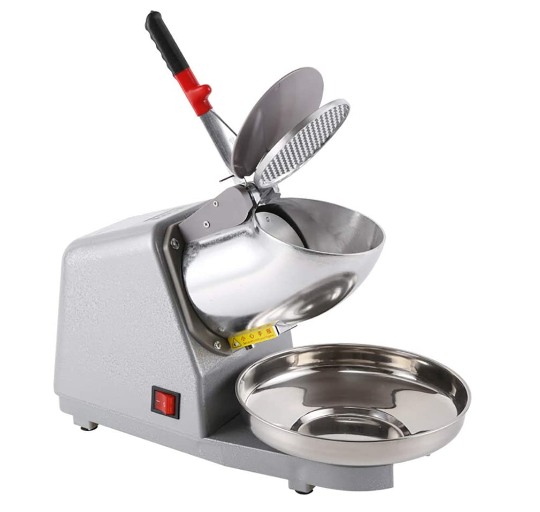 Are you looking for an ice crusher that you will use regularly? If you want a professional-grade, high-performance machine for yourself or your business, then the Fome Home may be the one for you.
Fome Home's Features:
Very fast and efficient electric model.
Lever to close the lid and put pressure on the ice.
Industrial design in stainless steel.
Water drainage system.
Power : 300 Watts
Speed : 80 kg/h
Dimensions : 41.9 x 21.1 x 28.7 cm/16.5 x 8.3 x 13 in.
Weight : 5.5 kg/4.4 lb
What we think of the Fome Home
The Fome Home is quite reasonably priced, especially when you consider that it is the kind of device that can easily be used professionally in some businesses.
It is powered by electricity. Its motor is powerful and efficient. It can handle heavy workloads, no matter how much time it is used. Only one button is needed to start it.
This machine is equipped with two strong stainless steel blades. They can reach a speed of 2200 revolutions per minute. So you understand that this model is very fast. In fact, up to 176 lbs of ice can be crushed in one hour.
Its water drainage system prevents puddles on your work surface. The ice chamber is closed with a lever-operated lid. By keeping it closed, you prevent chunks from being thrown around and you can add pressure to the ice to crush it faster.
The end result is fine enough for all types of uses. Whether you want to make snow cones, smoothies, or just keep food cold, you have the perfect texture to do so.
A container collects the crushed ice. This one doesn't allow you to keep a large amount, you have to empty it after each use.
Very strong and durable thanks to its stainless steel design, the Fome Home is also rather massive and heavy. Make sure you have room to install it and, if possible, don't have to move it too often.
The Fome Home is perfect for those looking for a higher level of quality. If you have the space to install it, then you'll be able to enjoy as much ice as you want in no time. Strong and durable, it won't let you down anytime soon.
---
5. Time for Treats Iceberg – Most Versatile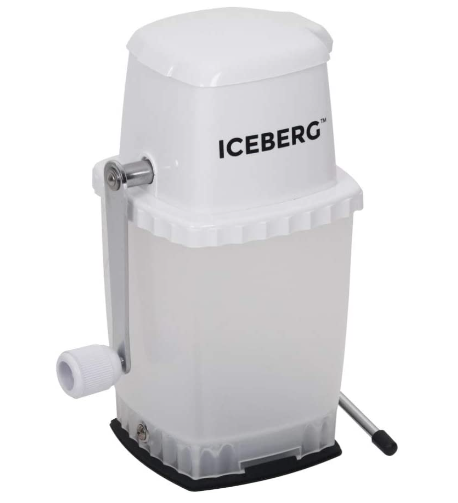 The vast majority of models are able to offer you only one size of crushed ice. However, depending on the occasion, it can be interesting to have ice in different sizes. If this is what you are looking for, then the Time for Treats Iceberg will meet your needs.
Time for Treats Iceberg Features:
Manual model with side crank.
Two texture choices, depending on which way the crank is turned.
Five-cup crushed ice compartment.
Compact design is easy to carry and store.
Suction cup base with suction lever for stability.
Dimensions: 15.2 x 11.4 x 24.1 cm/6 x 4.5 x 9.5 in.
Weight: 0.8 kg/1.8 lb
What we think of the Time for Treats Iceberg
The Time for Treats Iceberg is a mechanical device that works with a hand crank. With its five stainless steel blades, it can transform your ice cubes into the texture of your choice.
Indeed, you have the possibility to choose your final product. To get a thin ice perfect for making snow cones, simply turn the crank clockwise.
Turning it in the opposite direction will also crush your ice cubes, but in a coarser way. You can use this final product for cocktails for example.
This machine is very compact and can be used anywhere. As long as you have access to ice, you can process it quickly.
Still, expect to work a bit if you have a large amount of ice cubes, as there are not many that can be compacted at once.
Once the ice has passed through the blades, it falls into a container from which you can harvest it. The container can hold up to five cups of crushed ice.
Cleaning the Time for Treats Iceberg is quite simple. Its container can be separated from the head containing the blades, which gives you good access to the inside.
An interesting aspect of this machine is its great stability. It has a suction cup that keeps it from moving when you use it. Simply place it on a flat surface and flip the lever. The air under the suction cup is then sucked out.
The Time for Treats Iceberg differentiates itself from the competition with two interesting features. Its suction cup gives it great stability and the end product is finer or coarser depending on which way you turn the crank. At the size it is, you can take it anywhere and you will get crushed ice quickly.
---
6. Nostalgia ISM1000 – Best For Precise Measurement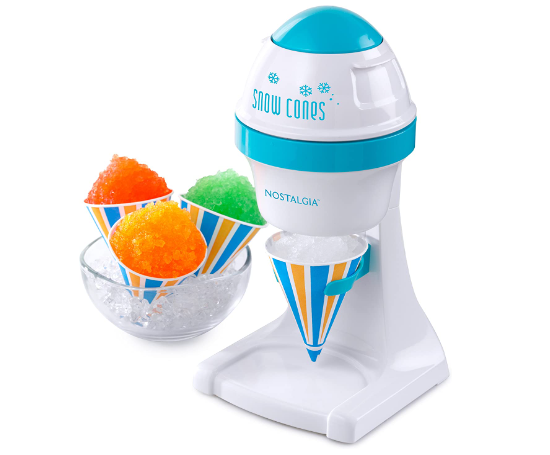 Do you like the idea of being able to make an ice-cold snack on a hot summer day? With the right machine on hand, you can do it quickly and without having to leave the house. Simply purchase the Nostalgia ISM1000
Nostalgia ISM1000 Features
Easy to use electric model.
Button on top, stops the machine immediately when pressure is released.
Design allows for one snow cone at a time.
Comes with a snow cone holder.
Dimensions: 17.2 x 15.9 x 33 cm/6.8 x 6.5 x 13 in.
Weight : 1.48 kg/3.3 lb
What we think of the Nostalgia ISM1000
The Nostalgia ISM1000 is a small, compact electric machine ideal for small families or singles and couples. It does not have a container to hold the ice, so you have to make one snow cone at a time.
A stand is included and can be installed under the blade. This means you can place a cone on it and fill it with the desired amount of crushed ice. If you prefer your ice in a glass or small bowl, you can place it in the dedicated spot on the base of the machine.
This machine works with simple regular ice cubes. Not many can be crushed at the same time since the compartment where they are placed must also accommodate the head of the machine.
In our opinion, is not quite a flaw since you can't make more than one cone at a time, so it would be pointless to have a large surplus of ice.
When you're ready to turn on the Nostalgia ISM1000, just hold down the big button on top. This also maintains a pressure that stabilizes it.
As soon as your cone is full, you simply release the pressure and the machine automatically shuts off. Allow it to cool down after making a few frozen desserts to prevent it from overheating.
You can disassemble it into several pieces, which makes it easier to clean.
The Nostalgia ISM1000 is sure to please kids and adults alike. It's easy to use and you can make snow cones quickly. Just release the button when there is enough shaved ice for you. Even kids can do it. Plus, cleaning it is far from a chore.
---
7. Hawaiian Shaved Ice S900A – Quick & Easy To Use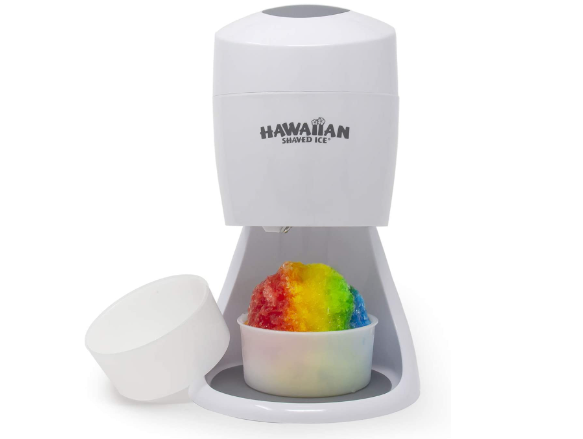 What could be better than enjoying a good shaved ice on a hot summer day?
With a purpose-built electric ice cream maker, you can make it quickly and effortlessly.
That's what the Hawaiian Shaved Ice S900A offers you.
Hawaiian Shaved Ice S900A Features:
The easy to use model.
Electrically powered for effortless operation.
Comes with two molds that form blocks of ice in the right size.
Stainless steel blade for texture adjustment.
Non-slip mat to hold molds in place.
Attractive design disassembles for easy storage.
Power: 55 watts.
Dimensions: 16.5 * 20.3 * 35.6 cm/6.5 * 8 * 14.
Weight: 1.36 kg/3 lbs.
Warranty: limited, 1 year.
What we think of the Hawaiian Shaved Ice S900A
The Hawaiian Shaved Ice S900A is a beautifully designed machine that takes up little counter space, offering quick access ideal during hot weather.
If you prefer to store it between uses, there's no need to worry; it can be disassembled to easily slide into a cabinet.
It comes with two molds to make ice slices.
These are the perfect shape for use with this model.
Although it also works with regular ice cubes, this method is not the most efficient and does not offer the same result.
This means you need to remember to prepare your molds in advance so you don't run out when you need them.
For a fine snow-like texture, it is recommended that you leave the ice cubes at room temperature for five minutes before shaving.
Simply apply a little pressure to the top of the machine and the stainless steel blade will start working.
If the texture is not to your liking, you can use a screwdriver to adjust the height of the blade.
The freshly crushed ice cream comes out directly into the mold previously positioned on the non-slip mat.
You can then eat it directly from the mold or transfer it to a cone.
The Hawaiian Shaved Ice S900A is a very simple to use electric shaved ice machine. Its molds allow you to make ice cubes in the right shape for effective shaving. It offers the ideal texture for making cones, but you can adjust this as you see fit.
---
What You Should Know Before Buying An Snow Cone Maker
There are many reasons to need crushed ice. But not everyone can afford a refrigerator that gives them as much as they want. Fortunately, there are machines that allow you to make your own when needed. If you want to know more about the usefulness of this kind of machine, we offer you the answers to the most frequently asked questions about them.
Why Use a Crusher to Crush Ice?
It is true that there are several ways to crush ice. You can of course do it by hand. However, the crusher is faster and will save you from freezing your fingers. Another method often used is the blender. It is not always recommended to crush ice with this type of device if you want your blades to stay in good condition. Unlike the blender, the crusher has the advantage of giving a uniform texture.
Why Use Crushed Ice?
Crushed ice can be used for a variety of beverage recipes. Make fruit smoothies or slush during the summer heat waves. Make cocktails like margaritas or frozen daiquiris. You can also make snow cones for the whole family.
Aside from consumption, crushed ice can also be used to keep food cold or to make a beautiful presentation for your dishes. Place it in a bowl or on a plate with fruit, sushi or a bottle of alcohol.
What to Put in Your Snow Cones?
One of the best recipes to make with crushed ice is snow cones. There are many different ways to make them. The traditional and easiest way is to buy a syrup from the store that you can put on your ice cream. However, you should expect to have a rather sweet result.
If you want to make your snow cones entirely, here are some ingredients you can add to them. Make your own syrup from fresh fruit or mix it into the ice cream in small pieces. Juice and grenadine are other ways to add a fruity taste to your cones. You can also add tea or coffee if you like these drinks cold. Finally, milk makes the texture creamier.
---
Our Criteria For Choosing a Crusher Machine
Since there is a wide variety of crusher models to choose from, it's a good idea to take the time to do your research to find the one that best suits your needs. Here are the important criteria that will help you in your decision making.
Price
The price of a shredder can vary depending on its method of operation as well as its capacity. You can expect to pay between $30 and $250 for a machine of this type.
The Type of Machine
There are two types of crushers. The first one is manual and works with a crank. Pressure is applied to the ice and it passes through the blades. This type of machine is less expensive, but you have to work a little physically to achieve the desired texture. On the other hand, you can use them anywhere, without the need for electricity.
The second option is the electric machine. More expensive, it is however more efficient, faster and no effort is required on your part.
The Ice Room
The ice chamber is where you put your ice cubes before they are crushed. The bigger it is, the faster and more efficient you will be. Another thing to look for is whether or not it has a lid. Those with a lid are safer and you're less likely to make a mess.
The Container
Not all models come with a container that can hold freshly crushed ice. Those that do allow the user to prepare a larger quantity of portions. If you plan to use your machine with several guests, this is the option to choose from.
The Design
Choosing a compact machine will make it easier to carry or store. If you want a larger machine, choose a model with an interesting look, so you can display it on your counters. Some are more retro in style while others are more sober.
---
We do our best to provide you with a product comparison to help you choose the best Snow Cone Maker possible. If we have missed any information or new models, feel free to leave a comment below or send us a message.