Coffee is a ritual that has taken on great importance in our modern lives. For many of us, it is a beverage associated with moments of relaxation at work or conviviality with friends and family. However, most of the time, we consume a standardized coffee, lacking flavor and character.
This is a pity because we miss out on the qualities of a product of exceptional richness, offering a very wide range of tastes. To obtain the best possible coffee, the beans must be ground and used directly. Two tools are then essential: a coffee maker, but also a coffee grinder.
The coffee grinder allows you to obtain a grind. The main difference between grinds is their thickness: the finest grinds are used with espresso machines, the coarsest with piston machines. Intermediate grinds are recommended for mocha machines and filter coffee makers.
Of course, it can be difficult to know what the right choice is depending on the machine you have. In addition, manufacturers offer products for different profiles: there are grinders designed for simple, everyday use as well as those designed for true aficionados.
We researched the top 40 coffee grinder products in the Canadian market and spent more than 50 hours to create this product list and buying guide; also refer to the opinions of 800+ consumers who have bought and used these machines.
If you want to store around with a great value, we recommend the Cuisinart DBM-8, as long as you don't use it for your espresso machine. If you want to stay manual the Hario Skerton Plus is simply the best!
---
1. Cuisinart DBM-8 – Best Overall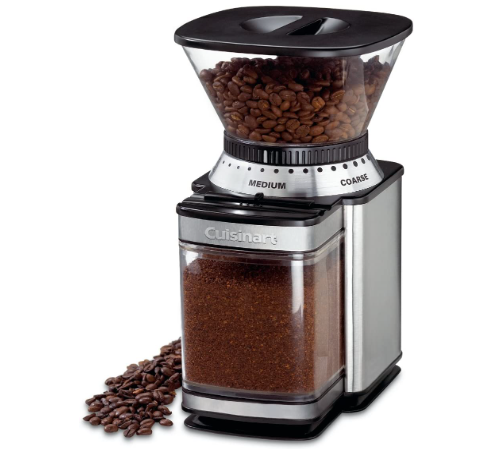 The Cuisinart DBM-8 was designed for coffee lovers who consume coffee on a regular basis. It is capable of producing different grind sizes, making it an excellent all-rounder for its price range. You can buy it most often at a price of around $65 online.
What we think of the Cuisinart DBM-8
You can leave this coffee grinder on your counter without any problem, since it is particularly compact: 19 * 31.2 * 22.4 cm, which is equivalent to 7.48 * 12.28 * 8.82 in. It is also light: 2.04 kg, or 4.5 lb. You will not have any particular difficulty to find its place even in a reduced space.
You have 18 settings to obtain a more or less fine grind. Be careful though, even the ultra-fine setting is a bit too thick to get good quality coffee if you use an espresso machine.
However, there is no problem with other types of machines. In addition, the circular grinding wheel ensures excellent homogeneity. The risk of over-extraction and under-extraction is therefore limited.
The 500 watt motor offers a remarkable speed of execution. When you place your beans in the grinder, you can choose the quantity of ground coffee you want to obtain: from 4 to 18 cups. The removable container can hold up to 32 cups, or 4.7 L.
Note that the power comes with a defect: the noise produced is quite significant. However, since it doesn't take much time, we weren't bothered. Maintenance is more problematic: your grains can tend to stick to the walls and bounce around. Adding a little water before grinding reduces the effect.
Safety has been well taken care of, including an electric timer and automatic shut-off. The overall design is solid and pleasant. The unit itself is made of stainless steel, and the whole thing is Bisphenol A free. The lifespan is a few years if you do the maintenance properly.
Cuisinart DBM-8 Features:
Best value for money
Produces up to 16 cups in one use, stores 32 cups
18 grind settings
500 watts
19 * 31.2 * 22.4 cm / 7.48 * 12.28 * 8.82 in
2.04 kg / 4.5 lb
Do you like to drink coffee on many occasions and do your friends and family like it too? With this coffee grinder, you will get good quality grinds and will be able to prepare perfectly extracted beverages. However, if the noise bothers you or if you have an espresso machine, the device is not suitable.
---
2. Hario Skerton Plus – Best Manual Coffee Grinder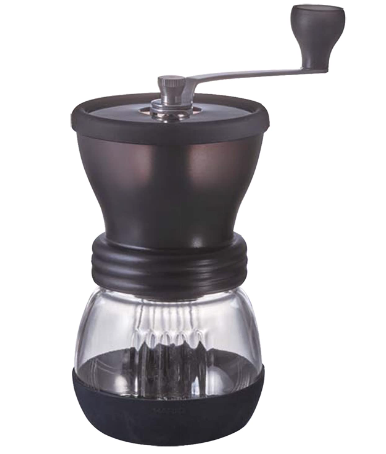 Looking for a quality manual coffee grinder that you can keep for a long time? You can trust the Hario Skerton Plus.
What we think of the Hario Skerton Plus
The Hario Skerton Plus is in two parts: the grinder itself and the container that holds the grind.
You can grind up to 100g of coffee. An easy-to-remove silicone cover sits on top of the grinder to prevent the beans from jumping out. The burr is made of ceramic.
To adjust the fineness of the grind, you have to remove the upper parts of the spindle and tighten the adjustment gear. This is a bit constraining because you have 3 elements to remove and put back. However, it allows you to obtain a wide variety of different grinds. You can try several times until you find the perfect grind for your taste.
The grinding process is improved by a balancing system that keeps the grinders well aligned: however, there is always a little wobble in the setting for the coarser grinds, which gives a less homogeneous result.
The bean container has a silicone bottom for a better grip on the countertop. Once your coffee is ground, you can simply use this tank as a pot by detaching it from the top and screwing on the supplied lid.
The glass of the Hario Skerton Plus container is made in Japan and has an excellent resistance. Glass is the specialty of the brand, which has nearly a century of experience in the field. The quality is not limited to the glass: the whole model is robust and will last you a long time.
So it's not a plastic model that will break down quickly. The Hario Skerton Plus is a prestige product, and the price is accordingly high: at over $80, it is a particularly expensive manual coffee grinder.
Hario Skerton Plus Features:
Manual coffee grinder
High quality Japanese glass container
Ceramic burr
Other materials: silicone, stainless steel, polypropylene
Dimensions: 20.32 x 10.16 x 12.7 cm / 8 x 4 x 5 in
Weight : 544.31 g / 1.2 lbs
The Hario Skerton Plus is without a doubt one of the best manual coffee grinders on the market today. However, its high price does not put it within the reach of all budgets.
---
2. Baratza Encore – High-Performance Coffee Grinder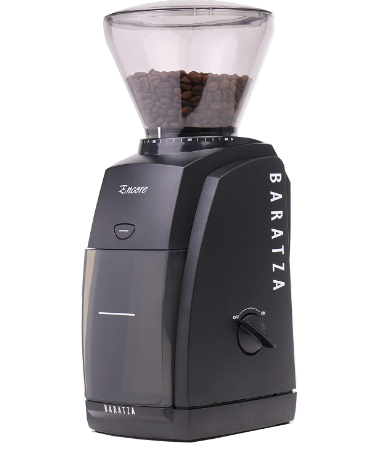 Do you really enjoy coffee, but still want to limit your investment? The Baratza Encore is a near top-of-the-line product that you can often buy online for just under $200. Some concessions are made against more expensive machines, but the versatility is decent.
What we think of the Baratza Encore
What strikes you immediately with this product is the elegance of its design. It is black, sober and simple. We find its appearance very pleasing: it makes a good impression, and you immediately feel that the device is of good quality.
Unfortunately, we have to moderate this point: if the grinding wheel and the unit itself, made of stainless steel, prove to be perfectly durable, the observation is different for the plastic grain compartment: you have to be careful when handling it because of a marked fragility.
The object is a little heavier than the average competitor, at 3.1 kg or 6.83 lbs. This does not prevent it from having modest dimensions that can fit on your countertop even if you don't have much space: 11.9 * 16 * 35.1 cm, which is equivalent to 4.69 * 6.3 * 13.82 in.
You don't have a timer, but this is not really a problem during daily use. In fact, for the ignition you have a switch, and for the grinding you just press the single button after choosing one of the 40 grind settings available.
If this allows to adapt well to all the machines, please note that you will get a less than satisfactory result on an espresso machine working with a classic filter: better a pressurized filter. This is a concession to be aware of, but one that proves to be anecdotal for some consumers.
The capacity of the machine is 142 g, or 5.01 oz. The power output, meanwhile, is 110 watts. This is not the best power-to-price ratio you can find, but the efficiency remains correct. However, the noise produced, which is very loud, is a bit more problematic.
Baratza Encore Features:
The easiest to handle
One button
40 grind settings
11.9 * 16 * 35.1 cm / 4.69 * 6.3 * 13.82 in
3.1 kg / 6.83 lb
Encore allows you to get a foot in the door of the high-end. It does offer limited functionality though, and if you're really into premium quality, for a few dozen dollars more you can find a truly uncompromising device with more settings.
---
4. Krups F203 – Best Coffee Grinder For Budget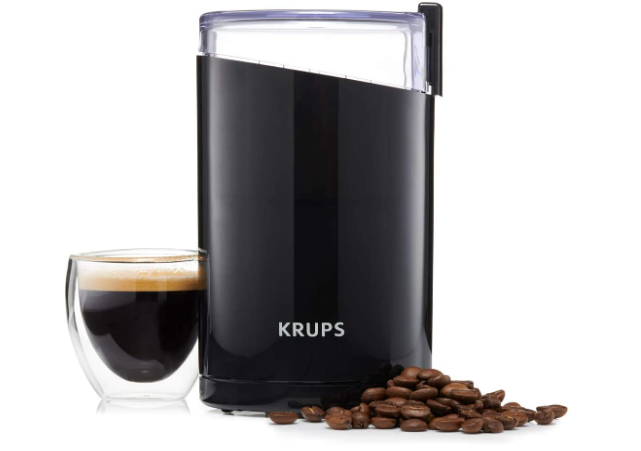 The Krups F203 was essentially designed to be used by single individuals on a budget but wanting to be able to enjoy an espresso during the day. Because of its modest versatility, it is generally available for a reasonable price, close to $20, on the web.
What we think of the Krups F203
First of all, be aware that you don't have any adjustment for the grind. It comes only as the machine designs it: that is, rather fine and suitable only for use with an espresso machine.
It is a blade grinder. These are solid, made of stainless steel. This is less true of the device itself, which is made of plastic and can stop working quite quickly, in a few months. The brand still offers a one-year warranty, in line with the observed durability.
You get 200 watts of power here, which ensures a decent speed since it is recommended to grind at most the amount needed for 12 cups, that is, 3 oz or 85 g of beans.
The very modest performance of the device has an advantage if you live in a small space: you can position it anywhere without being disturbed, since it measures 8.9 * 7.6 * 17.1 cm, or 3.5 * 2.99 * 6.73 in for 454 g, or 16.01 oz. The cable is also very short: just under 1 m, or 3 ft.
Some good ideas allow a safe use of the object: you have in particular a function avoiding the start-up as long as the lid is not correctly positioned. Also, the overall design is quite practical, and makes it easy to pour your grind.
Finally, you can also use this machine to grind some spices: pepper or coriander are among the manufacturer's recommendations. If you cook a lot, the interest can be real, however think that it will then require a very regular maintenance and a bit tedious.
Krups F203 Features:
The most compact
Makes enough coffee for 12 cups of espresso
200 watts
8.9 * 7.6 * 17.1 cm / 3.5 * 2.99 * 6.73 in
454 g / 16.01 oz
Warranty: 1 year
F203 is a coffee grinder that is more for your personal use: if you want to accompany your breakfasts or meals with a coffee without looking for a perfect flavor, it is very well associated with your espresso machine. If your requirements are more demanding, you should aim for another price range.
---
5. Bodum Bistro – A Right Compromise Between Versatility & Precision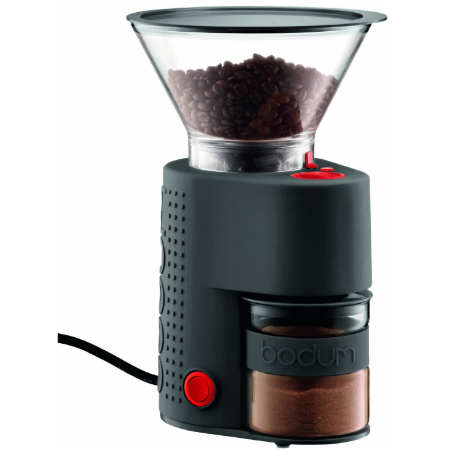 The Bodum Bistro is a rather popular model, known for its interesting versatility considering its intermediate price positioning. Indeed, although it can produce a grind adapted to all types of machines, you can still acquire it at a reasonable price: about $120 on the web.
What we think of the Bodum Bistro
Let's focus first on the main quality of the device: although it only offers 14 settings, which is nowadays quite small, it still allows you to get grinds that work with all types of machines. However, be careful: fine grinding is more difficult to achieve as it wears.
The dimensions of the product are 19.3 * 18 * 31.8 cm, that is 7.6 * 7.09 * 12.52 in. You can leave it on your counter without any problem, especially since it is quite successful aesthetically. You can choose between different colors, including red, white or black, to have a consistent decoration.
The grinding container is made of borosilicate glass. The advantage of this material – as well as its resistance to high temperatures – lies in the reduction of the static effect: if you prepare a fine grind, there will be less adherence to the wall and you will not have to make a long cleaning every time.
Thanks to a button on the top of the product, you can set the desired grinding time, depending on the amount of coffee you want to produce next. Note that the maximum capacity of the machine is quite interesting: 7.4 L, which is equivalent to 1.95 gal.
The great advantage of the Bodum Bistro is its simplicity of use. On the other hand, its performance is a bit of a step down. This conical grinder has a motor of only 160 watts that doesn't provide optimal speed, and while it is versatile, it doesn't allow for a wide range of flavor.
Bodum Bistro Features:
The most accessible grinder for use with all types of machines
16 grind settings from very fine to coarse
Borosilicate glass bean container to prevent sticking
Very easy to use, intuitive start and timer buttons
19.3 * 18 * 31.8 cm / 7.6 * 7.09 * 12.52 in
Need versatility without looking for the maximum precision available? That's what the Bodum Bistro is designed for. However, its initially modest performance tends to decline over time. Its value for money is slightly diminished as a result. During promotional periods, it is a good choice.
---
6. Black+Decker CBG100SC – Best For Beginners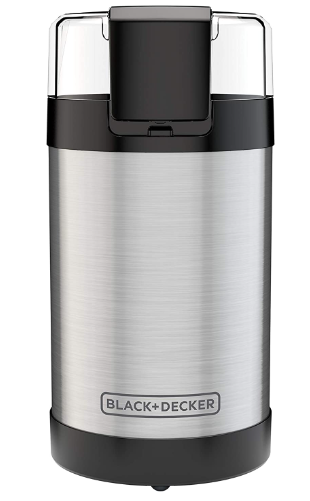 You can buy the Black+Decker GBC100SC for about $19 on the various trading platforms. This very modest price can be explained by its limited performance and efficiency, which means that the device is intended for single people whose main requirement is good ergonomics.
What we think of the Black+Decker CBG100SC
Let's first address the dimensions and weight of this product. It measures 10.8 * 10.8 * 21.6 cm, that is 4.25 * 4.25 * 8.5 in, for 780 g, which is equivalent to 27.51 oz. So you are in front of a rather compact device, which has a rather original appearance compared to other coffee grinders: it looks indeed a bit like a thermos.
Do not expect a superb quality of manufacture. We can still note the effort to propose a metal design in this price range. However, the sturdiness is not excellent: do not expect to keep the object for more than a few months. It only produces a useful grind for filter and piston machines.
It is a stainless steel blade machine. It has a safety device, which prevents it from working as soon as you do not put the lid on correctly. The consistency of the grind is really satisfactory.
There are no settings available, which makes it remarkably easy to use: all you have to do is press the push button. You can then feel your way around to obtain a finer or finer grind according to your needs. We recommend that you do some tests on small quantities.
The capacity is respectable, as you can get enough ground coffee for 12 cups. If you are alone, or even two with a rather modest consumption, this is more than enough to meet your needs. But if you're going to be entertaining a lot, you might feel a little too limited.
Given the blade design, you also have the option of blending herbs or a few spices. However, this quickly affects the performance, which is already very limited. The device is rather slow, and confronting the blades with anything other than coffee has a real and detrimental impact on its already rather short lifespan.
Black+Decker CBG100SC Features:
The most ergonomic design for individual use
Single push button
Safety mechanism
10.8 * 10.8 * 21.6 cm / 4.25 * 4.25 * 8.5 in
780 g / 27.51 oz
Black+Decker CBG100SC is a coffee grinder that lasts a short time, and has a moderate efficiency. But this very affordable price still makes it an interesting, and yet rather versatile, option for very small budgets. If you have more money, we think it's a good idea to make another choice.
---
7. Hamilton Beach 80393 – Adjustable & High-Capacity Entry-Level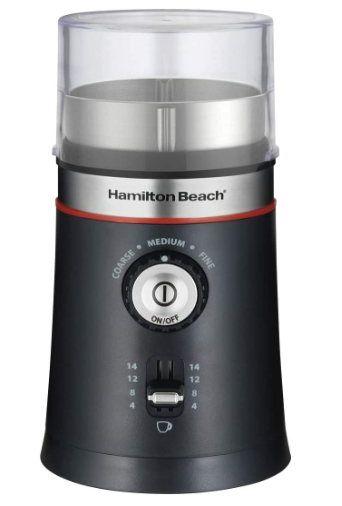 The Hamilton Beach 80393 is a very affordable coffee grinder that offers a fairly wide range of features despite a price tag that is mostly around $21 online. However, in order to achieve this, concessions have been necessary in other areas and may greatly upset discerning consumers.
What we think of the Hamilton Beach 80393
The main sacrifice made on this device is that of longevity. However, in our opinion, this is quite legitimate: the price positioning is honest. Don't expect to keep the product for more than a few months, unless you use it very sparingly and remember to systematically clean it after each use.
The focus is on functionality, which allows, on an entry-level device, to have different quantity settings, from 4 to 14 cups, and to choose between a fine, medium or coarse grind. This creates a compatibility with most machines that is particularly appreciable.
Also note that the container, made of stainless steel, is removable. It is very practical to be able to remove your grind from the device without having to move it and eventually unplug it. Moreover, the object remains very light, only 848 g, which is equivalent to 29.91 oz: the comfort is optimal to prepare you a coffee quickly.
Although this also seems to go in the direction of easier maintenance, be careful: the blade, and the inside of the unit itself are more complicated to clean. In practice, after just one use, there is a bit of grind adhesion, and washing with water is not possible due to the proximity of electrical parts.
Neither the power nor the design stand out especially. They have been put on the back burner, in order to offer you a device that still has a very positive aspect: you can receive. It is possible to prepare enough for several people on a small budget.
Hamilton Beach 80393 Features:
Small price for a good capacity
Grinds up to 14 cups
Very easy to hold
Convenient removable container for pouring the grind
Possibility to adjust the fineness of the grind
848 g / 29.91 oz
Beach 80393 is the entry-level model for entertaining. It also offers an interesting array of features. However, its design, quality, and efficiency fall far short of other appliances, so it will be justified in many situations to raise your budget.
---
8. KitchenAid BCG111OB – Alternative With Balanced Qualities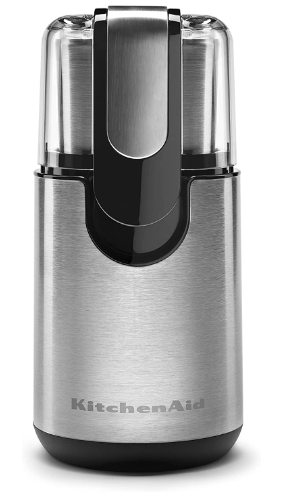 What we think of the KitchenAid BCG111OB
The KitchenAid BCG111OB is a blade grinder. Just like the exterior, these blades are made of stainless steel for durability.
This model allows you to obtain 4 to 12 cups of ground coffee. Markings inside the bowl indicate the amount of beans to put in according to the number of cups desired.
This model is rather easy to clean: the lid and the grinding bowl are dishwasher safe.
For more safety, the motor does not start until the lid is closed. Also, a mechanism allows the bowl to stay in place during the process. Note that the edge is particularly sharp: it is advisable to take care not to cut yourself!
A simple pressure on the top of the lid starts the grinding. An advantage of this machine is that it is quieter than other models.
You can see the progress of the process through the transparent lid. It will be up to you to decide when the grind is at the desired fineness. It may take several tries to know the right time. Count about 2 minutes for a fine grind, 1 minute for a medium grind, less than 1 minute for a coarse grind.
Once the coffee is ground to your liking, you can open the lid and retrieve the contents. However, a quantity always remains "stuck" at the bottom, under the blades. It's a little annoying, but not so bad, because this excess comes off well.
On the other hand, the bottom of the lid allows the finest particles to pass through, which can end up on your countertop… or in the motor. Too bad!
The main color is "Black Onyx". Note however that the color is stainless steel. Another color is available: note that the price may vary depending on the color chosen.
KitchenAid BCG111OB Features:
Electric coffee grinder with blade
Motor power: 160 W
Bowl capacity: 113.4 g / 4 oz
Dimensions: 18.03 x 10.41 x 9.4 cm / 7.1 x 4.1 x 3.7 in
Weight: 1.18 kg / 2.6 lbs
One year limited warranty
A nice coffee grinder, the KitchenAid BCG111OB is not without its flaws, but it is a well-balanced model that will suit many people.
---
9. Shardor CG618B Electric Coffee Grinder – High-Performance Alternative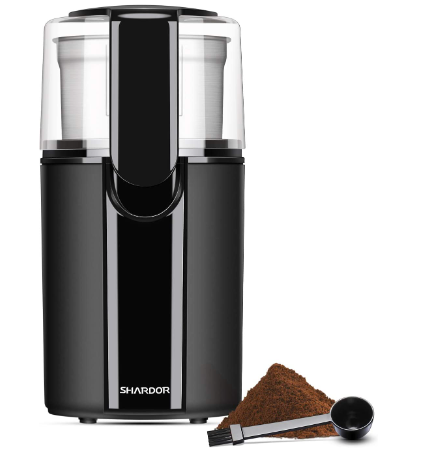 What we think of the Shardor CG618B
The first thing we notice about the Shardor CG618B is that it is larger than other models. If you are a single person, you may find that this unit takes up too much space on your countertop.
The second thing we notice is that the Shardor CA-CG618B is powerful. With its 20000-24000 rpm, it allows you to get your coffee grind in 8-15 seconds, which is very fast.
The grinding bowl is made of stainless steel. It can hold enough coffee for 4 to 12 cups. A measuring line helps you put in the right amount of coffee.
Just press on the lid to activate the machine. Note that the motor is quite noisy; this is one of the major drawbacks of this model.
The Shardor CA-CG618B comes with a useful two-in-one accessory: one side serves as a measuring spoon, to help you put the right amounts, and the other side is a handy brush to clean the machine.
This is a multi-functional grinder that can also grind spices, cereals, etc.
The grinding process works well, but with small amounts, you notice that sometimes there are still unground grains at the bottom of the container.
That said, the bowl is removable and dishwasher safe. Overall, this is an easy-to-clean model.
Finally, note that the price is pretty decent for such a device (about $40). Considering its performance, it is a good deal… if its size and noise do not bother you too much.
Shardor CG618B Features:
Electric coffee grinder with blade
Motor power: 200W
Rotation speed: 20000-24000 rpm
Bowl material: stainless steel
Cord length: 105 cm / 41.3 in
Dimensions: 24.1 x 12.7 x 12.4 cm / 9.5 x 5 x 4.9 in
Weight: 1.02 kg / 2.2 lbs
A little noisy and bulky, the Shardor CG618B is nevertheless powerful and fast. In addition, it is a model that offers excellent value for money.
---
10. Hamilton Beach Fresh Grind – Compact & Efficient Alternative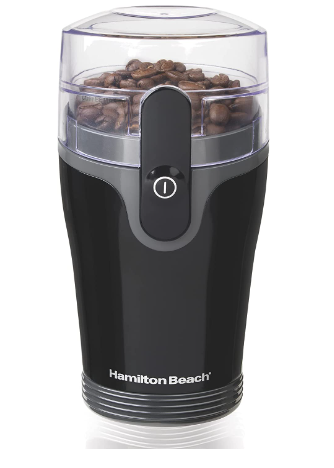 What we think of the Hamilton Beach Fresh Grind
The Hamilton Beach Fresh Grind is a rather compact coffee grinder and is therefore designed for small quantities. You can keep up to 12 cups in the lower part, provided you go through a decanting phase.
It is a model with blades. The blades are made of stainless steel. The top of the device is removable, which makes the lower part easy to clean.
The cord has its own compartment at the bottom of the unit and can be completely hidden in the base.
This grinder is pretty versatile since you can also grind spices, and we can say that it does well for this exercise.
On paper, the power of the Hamilton Beach Fresh Grind is not phenomenal, however grinding grains with this device is quite fast and usually takes between 10 and 20 seconds. It is recommended that you do several short presses until you get the grind you like.
One of the great things about this model is that it is really quieter than other models: you can hear the grinds bouncing around as much as the motor.
Unfortunately it is not the most durable product and after intensive use the motor may fail. Moreover, the whole thing does not give a particularly robust impression.
However, the good point is that this device comes with a 5-year limited warranty.
We also appreciate the price: for about 30$, you will have an excellent little machine at a very attractive price.
Hamilton Beach Fresh Grind Features:
Electric coffee grinder with blades
Suitable for coffee and spices
Stainless steel blades
Motor power: 125 W
Dimensions (inches): 17.8 x 8.9 x 9.4 cm / 7 x 3.5 x 3.7 in
Weight: 590 g / 1.3 lb
5 year limited warranty
With the Fresh Grind, Hamilton Beach offers a small electric coffee machine that will give you a quick, nice grind without too much noise. It's a shame that the long-term reliability isn't there, but that's made up for by the entry-level price.
---
11. Breville Smart Grinder Pro – Modern & Ultra-Versatile Coffee Grinder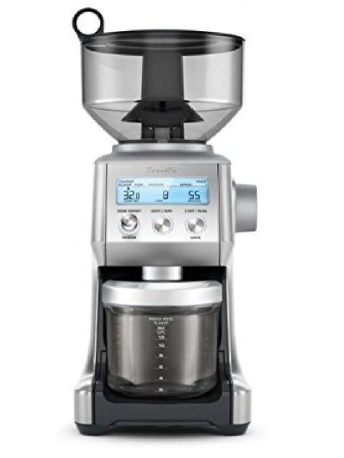 No matter what flavor of coffee you enjoy and what machine you want to use, the Breville Smart Grinder Pro is capable of producing the right grind. It offers a very nice range of settings, as well as an LCD screen. It is usually offered on various retail platforms for around $225.
What we think of the Breville Smart Grinder Pro
This coffee grinder, with a conical grinding wheel, is best known for its versatility: whether you're using an espresso machine or a piston machine, you'll be able to get the right grind.
This is due to the fact that you can choose between 60 grinding settings. In fact, the capabilities go far beyond that, with a removable part that allows you to determine on several levels whether you prefer a fine or coarse grind. This increases the possibilities exponentially to fit each machine.
Despite the technology embedded in the device, the dimensions remain very reasonable: 31.8 * 21.6 * 41.4 cm, or 12.52 * 8.5 * 16.3 in. The size is certainly above average but without becoming problematic. The product is also rather light: only 2.9 kg, or 6.39 lb.
Two filter holder supports and a cleaning brush are included in your purchase. It should be noted that maintenance and handling logically require more effort than on entry-level coffee grinders. However, a careful reading of the instructions is more than enough to feel comfortable.
The LCD screen gives you all the information you need, including the number of cups you can prepare and the time required for grinding. The grain compartment holds up to 450 g, or 15.87 oz. An automatic shut-off function has been integrated.
The machine is made of steel. Since it is mainly intended for real coffee aficionados, it is often subjected to very intensive use, so its lifespan may seem short compared to other appliances: count on a little more than a full year.
Breville Smart Grinder Pro Features:
The grinder that can be used with all coffee machines
60 grind settings
LCD screen for increased accuracy and control
31.8 * 21.6 * 41.4 cm / 12.52 * 8.5 * 16.3 in
2.9 kg / 6.39 lb
Do you like to test for the best possible grind, have several coffee machines at home, and often share coffee with friends and family? Then the Breville Smart Grinder Pro will give you the precision you want. But there are more efficient and less expensive grinders.
---
What to Know Before Buying a Coffee Grinder
The first step to being truly satisfied with your choice is to define your needs. Indeed, an entry-level machine may perfectly please someone and seem much too limited for another buyer. Here are some ideas of parameters you can take into account.
The Type of Machine You Use
This is an essential parameter: not every machine can handle the same grind. Therefore, it is necessary to check that you can get a suitable result for you. Here are the machines classified from the finest to the coarsest grind: espresso, mocha, filter, piston.
Also consider that if you have an espresso machine with a pressurized filter holder, you can get by with a slightly thicker grind. Generally speaking, we observe that on entry-level models, a sacrifice is made either for the piston machines or, more frequently, for the espresso machines.
How Often You Drink Coffee
For you, coffee is essentially a break, and you rarely drink more than one per day? In this case, an inexpensive machine will still have a decent life span and will be suitable for you. If you are a connoisseur who drinks coffee very often and for its flavor, be prepared to invest.
The Number of People You Brew For
If you entertain frequently, you'll quickly find yourself stymied by the limited capabilities of some grinders. The best thing to do in this case is to anticipate and plan for a machine with a slightly higher capacity than your real needs: this way, you will avoid making your possible last-minute guests reach for the coffee.
Your Space
Coffee grinders are not bulky, but they always go hand in hand with a dedicated machine. On a small kitchen counter, the whole thing can become unbearable. We recommend that you remember to check that you have enough room before making the purchase.
---
Our Criteria For Buying a Coffee Grinder
If your needs are more important, it is also useful to know how to evaluate the quality-price ratio of a product. Here is a list of features that have a direct influence on this point, which you should weigh up according to your wishes.
The Price
You can easily find entry-level coffee grinders for about 20 to 30$. They generally lack versatility and are intended for individual use. The top of the line is most often offered for around $200 to $250. Then you have a series of intermediate devices that are more or less efficient.
The Type of Coffee Grinder
There are three types of coffee grinders: those with blades, those with a flat grinding wheel, and those with a conical grinding wheel. The first ones are the entry level, not very expensive. The second ones are rather high-end and versatile. The third ones are intermediate, and offer a less homogeneous grinding.
The Grind Settings Offered
On entry-level machines, you rarely have much choice: you have to make do with what the machine produces, and try to grope around yourself little by little to find the ideal grind fineness. This can be quite frustrating and requires some adjustment if you change coffee makers.
High-end grinders, on the other hand, offer several settings, usually ranging from fine to coarse. You usually have about 15 to 20 settings on intermediate products, 40 or even 60 on more expensive products.
The Grain Compartment & Capacity
The first question to ask about the grain compartment is how much grain it can hold, in grams or ounces. The larger it is, the more grinds you can prepare at once.
The second question is the capacity of the grinder in cups, which can also sometimes be expressed in liters, cups or gallons. 4 cups is a minimum capacity. 12 to 14 cups is about average. Beyond that, you can consider that the mill you are considering has a large production capacity.
The Grinding Vessel
As with the grain container, the question of strength is paramount, and capacity comes next. Note that on entry-level machines in particular, there may be no distinction between the grain compartment and the grinding container: this is still much less comfortable to use.
Additional Features
Among the options often present, you can of course set the desired amount of grind, either directly or in number of cups. The presence of a timer is also very practical. Finally, the automatic stop is always reassuring to avoid accidents and unfortunate oversights.
Think about safety considerations as well: for example, a system that prevents the machine from starting until the lid is properly closed may seem trivial, but it will save you trouble if you have children and will also save you the trouble of cleaning your countertop.
The Power
The power of coffee grinders is usually expressed in watts. It is desirable that it is as high as possible, but the raw data is not very interesting: you have to compare it to the capacity of the product, and take into account its design. What you're trying to determine is actually speed.
Of course, in this respect, price has a significant impact: in general, the more you invest, the more efficient it is. But it can also induce more noise. Brands are not always precise on this criterion, so it is advisable to inform you directly from the Internet users on online stores.
The Design
Finally, the appearance of a coffee grinder is important. It must fit into your kitchen, but also look good: a cheap plastic product immediately gives the impression that the quality of coffee will be lower. This is of course not always true, but you might as well give yourself the best chance to please!
---
We hope this guide will help you choose the best value coffee grinder, even beyond our selection. Remember: the most effective technique is to talk to other users, who can provide you with additional information and opinions after extensive use.
We do our best to offer you a comparison to help you choose the best possible coffee grinder. If we have missed any information or new models, feel free to leave a comment below or send us a message.