Mixology Kit, also known as a Bartending Kit, Mixology Bartender Kit, or Shaker Kit in English, is a must-have bartending tool for Canadian wine lovers.
Become a bartender at home, create new cocktail recipes and impress your friends, it's possible with the many mixology kits on the market. Shaker, ice tongs, cocktail strainer, pouring spouts, unique goblet wine glasses… You finally have all the utensils and professional equipment to become the perfect bartender. The festive atmosphere of a cocktail bar, without leaving the comfort of your home, that's all we ask!
We spent 60+ hours researching the most produced and sold 40+ bartending toolkits in the Canadian market, and referred to the opinions of 600+ customers who have tested and used these bartending toolkits and some other bartending experts. Check out this list of bartending kits, as well as a buying guide.
Following our last update, our favorite model is the Cresimo Cocktail Shaker Kit with Bamboo Stand. With its great price, 12 accessories and chic bamboo stand, it's the perfect kit to get started in mixology. A high-quality set that you will love!
---
1. Cresimo Cocktail Shaker With Bamboo Stand – Best Overall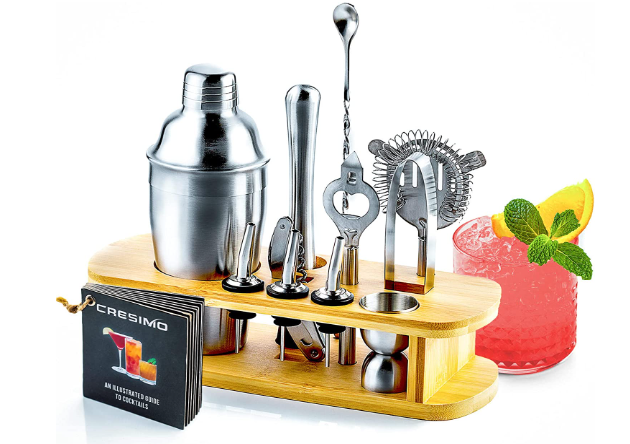 The 12 pieces mixology kit for beginners and advanced
If you want to try your hand at the art of bartending, or are looking to keep the fun going at home once your bartending shift is over, this mixology kit from Cresimo is the perfect equipment. With 12 pieces of 18/8 stainless steel, you have all the equipment you need to make delicious cocktails.
Cresimo Bamboo Cocktail Shaker Set Features:
Cocktail shaker set with bamboo stand
Capacity: 24 Oz or 71cL
Dishwasher safe (except bamboo stand)
Material: 18/8 stainless steel
For beginners and professionals alike
Bamboo stand
3 pouring spouts
1 ice tongs
1 ice strainer
1 mojito masher
1 shaker with integrated strainer
1 corkscrew
1 long bar spoon with cocktail fork tip
1 bottle opener
1 one and a half ounce measuring cup
Bonus: a cocktail recipe guide
What We Think of The Cresimo Bamboo Cocktail Shaker Set
This is a mixology set that you can really enjoy because of its accessibility: it is suitable for both beginners in bartending and initiates. The 12 pieces allow you to make the most famous cocktails, including the famous Cosmo, Moscow Mule, Margarit, or the Apple Martini. If you are a beginner in learning how to make cocktails, Cresimo delivers its kit with a small guide of recipes, so you can practice with essential recipes.
All parts are made of stainless steel and are dishwasher-safe for easy cleaning without the risk of leaving stains. The inside of the shaker is also made of high-quality steel, so you won't find any chemical residues spilled in your drinks. We would like to point out that the shaker is not insulating, which means that when you shake your mixture with ice, your hands may be quite cold. This is a fairly common sensation in bartending, which guarantees a very cool drink. If you think you might not like it, we recommend a more insulating model.
The real aesthetic touch is without a doubt the bamboo support, which really gives a chic and elegant effect to your bar or kitchen. The particularity of this wood is that it is not only ecological but also very resistant to water and almost indestructible. A real asset for a support that fits very well with your environment.
A very good product if you are a beginner in mixology, or if you are already experienced. An affordable price for 12 steel pieces and a very nice bamboo stand. We strongly recommend the Cresimo kit!
---
2. Mixology & Craft Mixology Kit – High-End Bartender Kit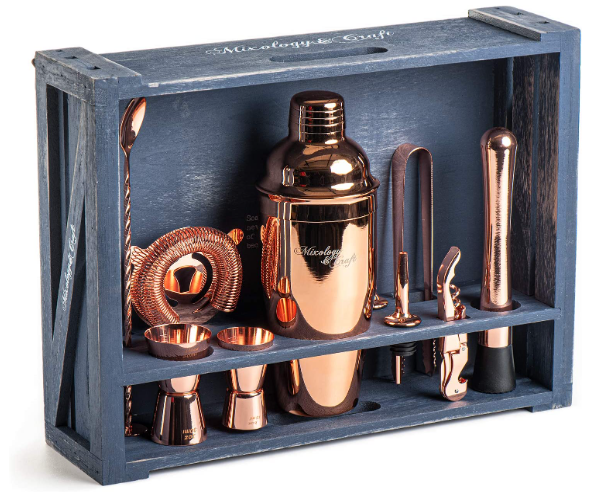 The chic and high-end set, for exceptional cocktails
With its copper color and rustic handcrafted wooden display, this mixology set is the very elegant and upscale touch you wanted to bring to your bar/kitchen area. Hang it on the wall, or display it for all to see. Each item has its own storage compartment for a neat and chic presentation.
Mixology & Craft Mixology Kit Features:
High-end mixology kit
Color: Copper
11 pieces included
A handmade wooden stand
A catalog of cocktails available on the internet
2 decoration picks included
Material: SS304 & SS430 alloy steel
Warranty: 3 years
What We Think of The Mixology & Craft Mixology Kit
The kit is composed of 11 pieces: a 24-ounce Mixology & Craft shaker (which allows you to make up to 3 drinks at once), a 15/30mL measure, a 20/50mL measure, a mojito masher, a bar spoon, a cocktail strainer, 2 pouring spouts, an ice tong, and a corkscrew. Enough to start or perfect your mastery of delicious beverages, and explore all the diversity that this luxury kit can offer. Moreover, the brand offers you a catalog of recipes available online, as well as two small decoration picks, to add an original and attractive visual to your drinks!
Made of SS304 & SS430 alloy steel, each element of this kit is ultra-strong, rustproof, durable, scratch-resistant and dishwasher safe. An ease of maintenance quite appreciable! In terms of packaging, even the box in which you receive your kit is well crafted, with a really attractive design. It is really a high-end kit, which does not particularly stand out because it is better than another, but because its packaging, its wooden structure and its copper color give it a more elegant visual. Honestly, its price is justified only by the aesthetics, not by the performance.
A kit that will perfectly meet your needs, whether you are a beginner or a professional. The trump card is definitely its wooden display, a real aesthetic asset to have in your kitchen or bar area. This is not a better kit than the others, so if elegance is not your main priority, a more affordable model will do just as well.
---
3. FineDine Cocktail Bar Tool Set – Small Budget Mixology Kit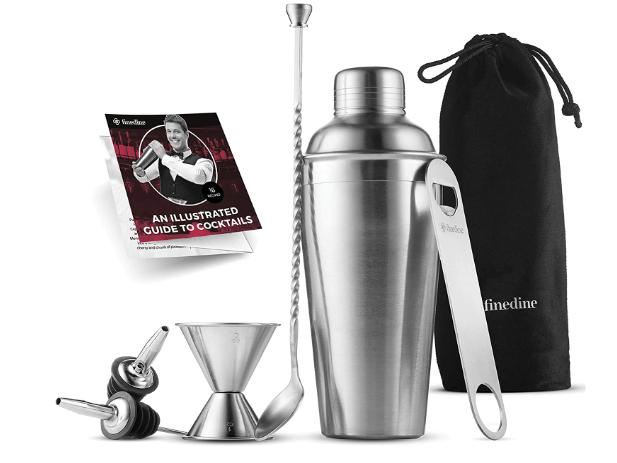 The basic mixology kit is less complete, but accessible to all
Why spend a lot of money on outings when you can have delicious homemade cocktails with an efficient, easy-to-use kit that's perfect for developing your mixology skills? This entry-level kit beats all its competitors thanks to its low price, which makes it very popular.
FineDine Cocktail Bar Tool Set Features:
Entry-level mixology set
Material: stainless steel
7 accessories
For beginners
Total weight: 558g
Total dimensions: 27.51 x 10.21 x 9.91 cm
What We Think of The FineDine cocktail bar tool set
This mixology kit has 7 cocktail-making accessories: 2 pouring spouts, a measure (1 and 2 Oz), a bar spoon with a built-in mojito masher, a 26 Oz steel shaker with strainer lid, and a flat beer opener. As a gift, you get a small book included, featuring 16 recipes for delicious cocktails. Everything is made of stainless steel and is dishwasher safe, a real time saver when you arrive at the end of the night and don't feel like cleaning up after a party.
Very simple to use, you may not have the most popular accessories, such as the colander or the ice tongs, but the elements present are well enough if you are a beginner. Your learning is easy and very pleasant. On the contrary, if you are already a professional, or you like to indulge yourself with high-quality equipment, we do not recommend this kit. Many consumers complain about some defects of the accessories, including leaks that appear between the shaker and its lid, metal traces left on the fingers… At this price, you can't expect incredible quality.
This model leaves us a bit disappointed: even if its price remains very attractive for a mixology kit, its efficiency is marred by several small manufacturing defects pointed out by consumers. Don't hesitate to pay a little more for a better-quality kit.
---
4. Modern Mixology kit – A Good Alternative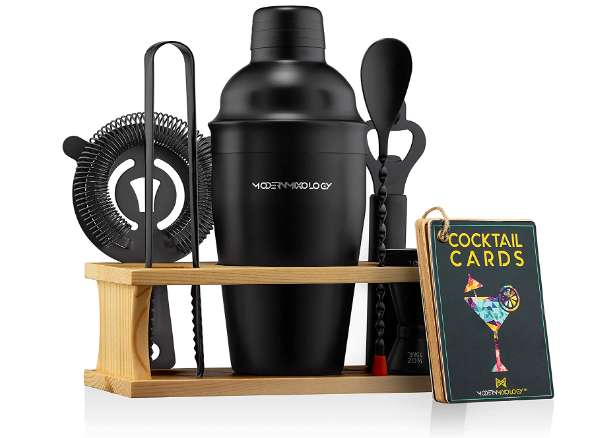 The matte black color of this kit is simply irresistible! Whether you buy it for yourself, or as a gift for a birthday, wedding, or graduation, it's a kit that's worth the money. Its price, quality and design make it an irresistible party accessory.
Modern Mixology Kit Features:
Matte Black Mixology Kit
Material: SS304 and SS430 alloy steel
Dimensions: 21.31 x 16.89 x 10.21 cm
Weight: 812 gr
6 pieces + wooden display + recipe cards
What We Think of The Modern Mixology Kit
Each item is made of high-quality SS304 and SS430 alloy steel, which gives it a great anti-rust and stainless quality. Therefore, it is highly recommended to wash it by hand, rather than in the dishwasher, to avoid any scratches. Its matte black coating gives it sobriety, elegance and high quality.
The kit comes with a wooden display stand, which allows for well-organized storage, and a presentation that always looks good. And like almost every manufacturer, you get a set of vintage-looking cards with several cocktail recipes on them. You've got everything you need to work wonders behind the bar!
The company is very responsive to their customers, quickly making sure you receive all the items in your package, just days after you order. Plus, you get a 3-year warranty in case of a glitch. However, there are no pouring spouts for strong spirits, nor a second measuring device, nor a corkscrew. This may be a factor when you make your choice.
A very attractive kit, with a very chic and attractive black design. For 50$, you have all the bartending accessories to initiate yourself to the art of cocktail making, an affordable price that has nothing to envy to the more high-end models.
---
5. Aloono Mixology Kit – Best For The More Experienced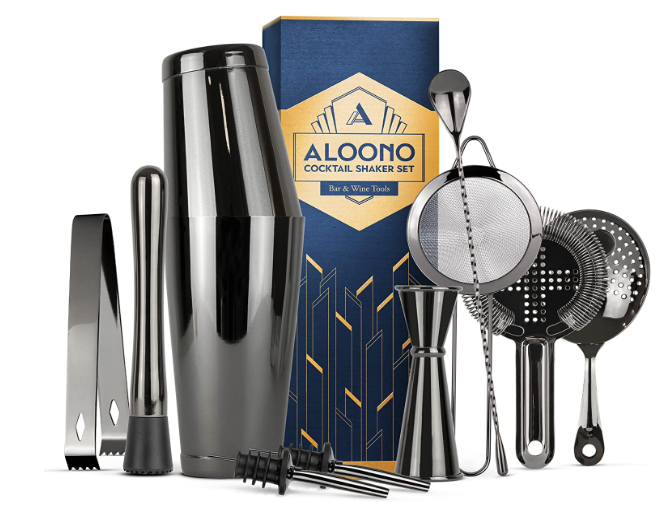 What makes this kit different from the other products in this selection is the shape of its shaker. You'll notice that it doesn't contain a cap that fits on the shaker itself. That's because it's a Boston model, a shaker made up of two timbales, one fitting into the other. Its use is more complex than the Cobbler shaker, the most common model. One wrong move, and your whole cocktail could end up on the floor. It is therefore a kit more dedicated to professionals or confirmed, because of its more delicate handling.
Aloono Mixology Kit Features:
Cocktail kit for experienced / professional
Dimensions: 31.8 x 10.39 x 10.21 cm
Weight : 798 gr
11 pieces of mixology
Material: stainless steel
Hand wash only
Shaker model: Boston
What We Think of The Aloono mixology kit
In addition to the Boston shaker, which requires more speed and agility to use, it's also because you have three types of strainers available that this kit is more reserved for experienced bartenders and barmaids. The Hawthorne strainer (the most popular) has a much denser spring, which prevents any broken ice or fruit pulp from getting into your cocktail. With the other kits reviewed earlier, this wasn't really a problem. Here, the complexity of creating the perfect cocktail is highlighted with top-notch accessories that only the most experienced will be able to get the most out of. The second strainer replaces the one usually found on the cap of Cobbler shakers. Finally, the third strainer is ultra fine, and allows a total purification of your beverage before it lands in your guest's glass. That's a lot of strainers!
With 11 pieces included, this assortment is complete and brings the professionalism and fun vibe you'd find at a bar in the city. Each piece is made of 304 stainless steel, which makes it perfectly protected against rust, oxidation, scratches and marks. As it is quite possible to use this kit in a bar, especially a high volume one, it is ultra-resistant and not likely to break quickly. For maintenance, we recommend hand washing rather than dishwashing for durability.
In addition to the three strainers, you also have a long spoon for mixing, a measuring cup (also called a jigger) of 2, 1.50, 1 and 0.50 ounces, where each measure is indicated inside, a mint and citrus pestle, an ice tong, two pouring spouts for spirits and finally two shaker glasses. Why two glasses? Simply because this type of shaker is not built with a lid, and that you can simply shake. Here, the small glass is integrated and the movement must be controlled in order not to spill everything. Let's just say that this type of model is for you if you are looking for authenticity, and have a good basis in bartending.
A kit with a very elegant look, worthy of the greatest bar professionals. If you have a basic knowledge of mixology, or if you are a professional, this is definitely the kind of model we recommend. A very low price compared to the features and accessories that are offered, a big YES!
---
6. Mixology & Craft Bartending Kit – High-End kit for Beginners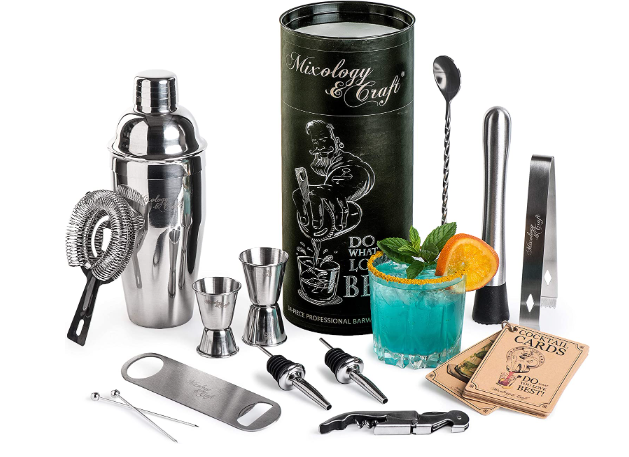 This mixology kit is the perfect gift for someone who wants to take the plunge into cocktail making. Packaged in a chic round black case, with a sober and elegant design, this is a perfect kit for beginners. Thanks to the Cobbler shaker, very easy to use thanks to its lid and its stopper, you prepare a good cocktail, without putting it everywhere.
Mixology & Craft Bartending Kit Features:
Mixology kit for beginners and/or amateurs
14 pieces included
Black cylindrical case
Material: heavy-duty alloy steel SS304 and SS430
Hand washable
Dimensions: 28.19 x 10.67 x 10.67 cm
Weight: 889.04 Grams
What We Think of The Mixology & Craft Bartending Kit
With 14 pieces of heavy-duty SS304 and SS430 stainless steel, you'll have the tools you need to make cocktails, even if you're just starting out. Each accessory is branded with the manufacturer's name in elegant script. A real touch of class that makes all the difference. The small recipe book guides you step by step through the best drinks. You get the same experience as in a bar, with all the comforts of home.
Although this kit is geared more towards professionals, the many accessories included in this kit have everything you need to professionalize your experience. The Hawthorne strainer, the two jiggers (15/30 ml and 20/40 ml), the engraved 600 ml shaker (allowing you to fill 3 glasses at once), the 2 decorative picks, the bottle opener, the 2 spouts, the spoon, the ice tongs and the pestle allow you to make professional cocktails, with a very elegant style. Here you don't have a display stand, but the kit comes in a cylindrical case where you can store your accessories after use. We advise you to wash the whole set by hand, in order to preserve the quality of the steel, and avoid any scratches.
Mixology & Craft is known for being a very responsive brand with outstanding customer service. It is always good to prefer manufacturers who take care of their members.
Mixology & Craft is a great bartending brand that offers the whole bar experience, at home. With 14 branded, durable accessories and a stylish case, it's a perfect kit for novices to try, or even for the experienced who want to treat themselves to a cocktail set for less.
---
Things to Know Before Buying a Mixology Kit
The Different Types of Bartending Kits
There are different types of shakers, each with a different level of experience:
The Cobbler
This is the most common model found on the market. Very easy to handle, no risk of your cocktail spilling during manipulation. It is small in size, and each piece fits easily into the other, making it very easy to use for amateurs and people who want to try bartending. An ice filter is already built in, which makes it easy to pour into the glass, but it tends to grate the ice cubes. It is therefore not a model very much used by professionals, who find that it dilutes the flavors.
The Boston
This model of shaker is the oldest in existence! With a unique and very elegant design, it is composed of a metal tumbler and a glass. The design of a cocktail requires more agility and good handling, since you don't have a lid that closes properly. If you're looking for authenticity, and your bartending skills are already advanced, this is a shaker that can make a difference.
The Continental
Easier to use than the Boston shaker, it is composed of a timbale and a stopper. However, its design is less authentic and you will need an ice filter. Nevertheless, it is very popular with mixologists because of its speed and ease of use.
For beginners, a Cobbler is the natural choice, which will make your life much easier. For the experienced and professional, the Boston and Continental are just as effective.
Use a Shaker or a Spoon to Mix Your Cocktail?
The technique of mixing a cocktail with a spoon is called "stirred". It is used to mix liquids of the same density, for example when you are making cocktails from several alcohols. The spoon mixes gently and does not break the flavors.
For liquids with different densities (an alcohol and a soda, an alcohol and a liqueur…), the use of a shaker is preferable (shaken technique). The energetic movements allow the homogeneous mixing of non-miscible materials, while preserving the aromas.
We therefore always advise the use of a shaker rather than a spoon, for a cocktail without layers of different tastes.
Do I Need a Kit With a Display?
It depends mostly on your taste, as it is more a question of aesthetics and organization. A wooden or bamboo stand, for example, allows you to have all your bar elements well organized and it brings a real cachet to your space. As it doesn't affect cocktail making, it all depends on your needs. Often, a display stand will add an additional cost to the purchase price.
I am a Beginner, Can I Invest in a Mixology Kit?
Of course you can! The wide variety of products on the market allows beginners who have no basics to try their hand at the art of bartending. If you have the basic accessories, such as the Cobbler shaker, pouring spouts, strainers, a spoon, a masher and a recipe book, you are already well equipped!
---
The Criteria for Buying the Best Mixology Kit
The Accessories
The more accessories you have, the more complete your mixology kit will be and the more complex and technical cocktails you will be able to make. We are talking about pouring spouts to pour your alcohols properly, reusable straws to improve the experience of use, recipe books to begin in mixology, a display stand for aesthetics, corkscrew, bottle opener, different types of strainers… All these elements will participate in your progress, especially if you are a beginner. Obviously, the more complete the kit, the higher the price. But don't forget, it's really worth it!
The Price of The Mixology Set
The entry level kits are around 18$, they don't have many pieces but can be very good for people who want to try the practice. And often, they even have a cocktail recipe book, which is pretty cool! For the more professional, high-end kits with more accessories, you can shell out about $110. At that price, you get a wooden stand for presentation. Other kits, less high-end but just as dedicated for professionals are between $50 and $80.
The Shape of the Shaker
As discussed above in the things to know before investing in a mixology kit, the shape of the shaker is intimately linked to your bartending experience. For beginners, we recommend a Cobbler shaker, the most common and easy to use. For amateurs, experienced and professionals, a Boston or Continental will give you more technical and perfectly mastered cocktails.
The Material of the Mixology Elements
Almost all materials used for mixology kits are stainless steel alloy. This protects the accessories against rust, scratches, oxidation and ensures a real shine and brilliance for your cocktail set. A true guarantee of quality that ensures a long life
---
We do our best to provide you with a product comparison to help you choose the best mixology kit possible. If we have missed any information or new models, feel free to leave a comment below or send us a message.