A Water Filter Jug is also called Water Filter Pitcher, or Water Filter Dispenser sometimes.
Are you tired of plastic bottles, but the taste of tap water puts you off? The solution is to filter it with a carafe filter. This is an ecological gesture, which allows you to reduce your impact on the environment, while eliminating residual pollutants.
There are models designed for single people or couples, others for families, with different capacities and features. There is a wide range of products on offer, and comparing them to select the one that really suits you can be time-consuming and tedious. So we decided to make it easier for you.
In order to simplify your choice, we have conducted more than 50 hours of analysis and comparison of the 40 most produced and sold filter jugs in the Canadian market, and referred to the opinions of 800+ consumers who have used these products, and selected what we think Best product and wrote a complete buying guide.
Following our last update, our favorite model is the LEVOIT Water Filter Pitcher, which stands out for its filtration quality and its adjustable speed.
---
1. LEVOIT Water Filter Pitcher – Best Overall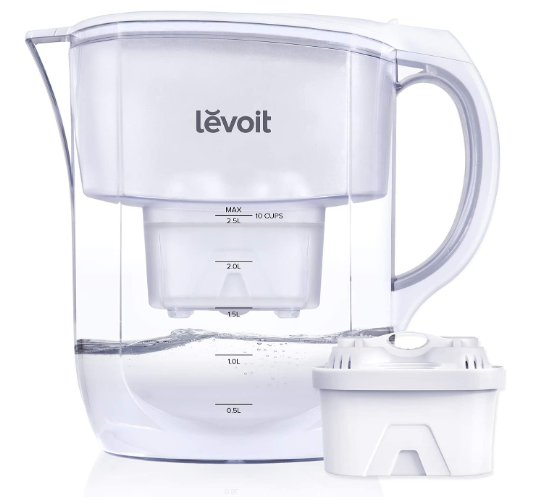 Simple and efficient is a motto that suits you? Are you looking for a filtering carafe that is as effective as it is affordable? The Levoit is an option to consider. Offered at reasonable prices on retail platforms, it's sturdy and secure enough to keep you stress-free.
What we think of the Levoit
What we particularly appreciate about this object is its manufacturing quality. The Levoit is robust and made without bisphenol A. The manufacturer is confident in its product and offers a 2-year warranty and lifetime support.
In addition to the excellent design, it is the 5-stage filtration system that makes this product top of our ranking. Thanks to activated carbon, for example, or an ion exchange resin, the presence of heavy metals, chlorine or suspended particles in your water is significantly reduced.
In terms of food safety, you have nothing to fear: the Levoit complies with all the reference standards, is FDA, LFGB and RoHS certified.
Plus, you're in control of what you do.
For example, you can choose between slow and fast filtration. There's no worry about knowing when to replace the filter: a small display on the top of the carafe tells you, in percentages and days, how much life is left.
A large handle is provided for serving. The pouring spout has a lid: this prevents dust or bacteria from getting into the water. Just note that some users find the item a bit heavy when full.
Levoit's Features:
The most complete and controllable filtration system.
5-stage filtration, adjustable speed.
Remaining filter life clearly displayed.
Water level indicated directly on the carafe (in liters).
Large handle for comfortable handling.
Complies with LFGB, RoHS and FDA standards.
Bisphenol A free.
Capacity: 2.5 liters / 10 cups.
500 ml bottles saved (per filter): up to 320.
Dimensions: 13.34 * 26.67 * 25.4 cm / 5 ¼ * 10 ½ * 10 in.
Warranty: 2 years. Support: lifetime.
The Levoit is, in our opinion, the best value for money water filter jug on the market today. In addition to being efficient, it has a nice design. It tells you exactly when it's time to change the filter, and gives you more control over filtration than most other models.
---
2. Brita UltraSlim – High Capacity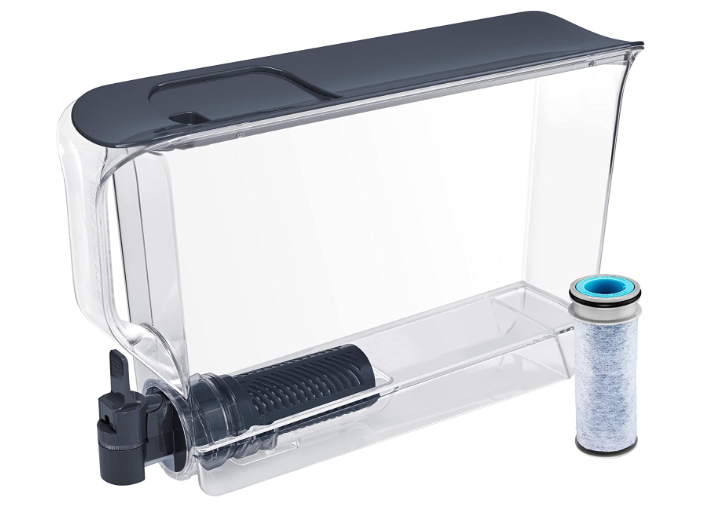 Your water isn't the most contaminated, but you'd still like to be able to drink it without a chlorine aftertaste or smell? If you're willing to pay a little more for a top-of-the-line product from a reliable manufacturer, then the Brita UltraSlim should appeal to you.
What we think of the Brita UltraSlim
The first brand that usually comes to mind when we talk about water filter jugs is the well known Brita. Despite the high price of their models, you are sure to get one of the most reliable products on the market.
The UltraSlim is no exception. Made of BPA-free plastic, it offers a perfectly designed format. In fact, being long and thin, it takes up little space on your refrigerator shelf.
This does not affect its capacity. On the contrary, this model can hold an impressive 25 cups of water, or 5.7 liters. Filling is simple, using the top opening.
It's a good substitute for the water dispensers built into refrigerators. You simply open a door and use the tap to pour yourself a glass. If you prefer to take it out, a handle is provided for your convenience.
Unlike most carafes on the market, the filter of this one is located at the tap. It is therefore reserved for slightly contaminated water. It significantly reduces the smell and taste of chlorine.
The Brita UltraSlim comes with SmartLight Filter Indicator technology. As the name suggests, this is a light at the tap that changes from green to red when it is time to change the filter, usually after two months of use.
Brita UltraSlim Features
Filled through the top opening, the filter is located at the faucet.
SmartLight Filter Indicator lets you know when to change the filter.
Space-saving design in the refrigerator.
Bisphenol A free.
Capacity: 5.7 liters/25 cups.
Dimensions: 11.2 * 40.6 * 26 cm/4.4 * 16 * 10.25 in.
Weight: 1.4 kg/3 lbs.
The Brita UltraSlim is perfectly designed for those who want more space in their refrigerator while still having maximum capacity. Effective against low contaminant water, it's simple to use. Its indicator light lets you know when it's time to replace the filter.
---
3. Waterdrop WD-PT-05 – Best Budget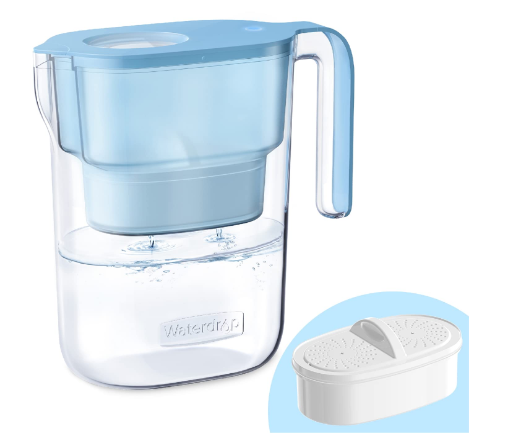 One of the criteria for choosing a carafe filter is the filter. Of course, it must meet your needs according to your water, but you must also check its durability. Will you have to change it regularly? If you don't want to worry about this, choose the Waterdrop WD-PT-05.
What we think of the Waterdrop WD-PT-05
First of all, it's important to know that the Waterdrop WD-PT-05 is best suited for one or two people. Indeed, its small capacity of five cups, or 1.1 liters, limits you to that level.
Keep in mind that you may have to refill it quite often. On the other hand, this size makes it much easier to handle and lighter in weight. It also takes up less space in a refrigerator or on a countertop.
NSF 42 and 372 certified, this model uses an activated carbon and reverse osmosis filter. It significantly reduces chlorine taste and odor, as well as lead and other contaminants.
The filter is well designed and allows water to flow quickly through it, from two different locations. In one minute, your pitcher is full. Plus, it's a long-lasting filter. Count on about 760 liters before you need to change it.
A gravity induction indicator is located on the lid. An indicator light tells you when it's time to change the filter. If it flashes red, you may want to consider getting a new one. When the light stays red, it needs to be changed.
The Waterdrop WD-PT-05 is made of durable BPA-free plastic. The ergonomic handle is convenient and you can fill it easily. The lid opens by itself under the pressure of tap water.
It is available in many pastel colors, such as blue, green, pink or yellow. So you can add color to your kitchen or office.
Waterdrop WD-PT-05 Features:
Activated carbon and reverse osmosis filter.
Quick-fill, long-lasting 200 gallon/757 L filter.
NSF 42 and 372 certified, effective against chlorine, lead and other contaminants.
Indicator light to know when it's time to change the filter.
Available in different pastel colors.
Bisphenol A free.
Capacity: 1.1 liter/5 cups.
The Waterdrop WD-PT-05 is a small filter carafe, ideal for one person. Despite its limited capacity, it is very quick to fill. Its filter has a relatively long life and its NSF certification shows its efficiency. Moreover, you can choose the color from a good selection.
---
4. Brita UltraMax – Best Alternatives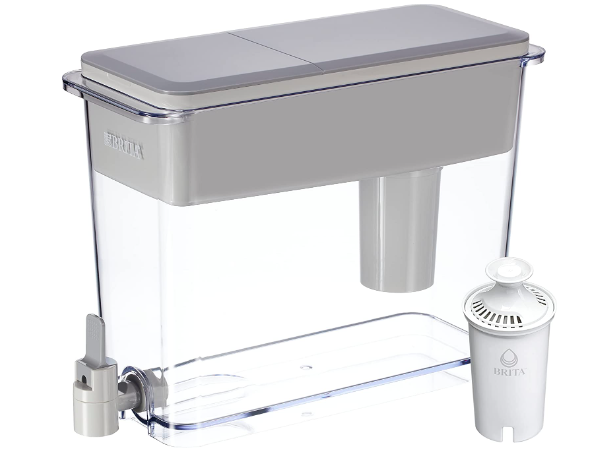 Would you like your children to have easy access to clean water? And preferably without bothering you every time they are thirsty? Then the Brita UltraMax should be ideal for you. Designed with families in mind, it costs a little more than some competitors, but offers above-average capacity.
What we think of the Brita UltraMax
The first thing that sets this carafe apart from other models is its large capacity: about 4.5 liters, or 18 cups. This is perfect for families: you won't have to refill it every time. A tap, located at the base, allows the youngest ones to serve themselves, without having to solicit the busy parents.
The second thing you should notice about the Brita UltraMax is its unique rectangular shape. In fact, it's specially designed for placement in the refrigerator: you put it in the corner and it's simply out of the way. So you can keep your filtered water longer, without frustration.
A standard Brita filter is included with your purchase. This filter makes the water taste better by fighting the presence of chlorine. The amount of pollutants, such as mercury or copper, is also reduced.
Brita's filters are compatible with all of the brand's carafes.
A replacement indicator is present on the filter.
Of course, the design is solid and safe. The carafe is made of plastic, but rest assured: there is no bisphenol A.
Note, however, that this model is intended for serving glasses of water rather than for filling bottles: the speed of water flow is limited. This has the advantage of preventing children from getting into mischief.
Brita UltraMax Features:
The best for families.
Service faucet that even children can use.
1 Brita filter compatible with other Brita models included.
Fits easily into a refrigerator without becoming too bulky.
Filter replacement indicator.
Bisphenol A free.
Capacity: 4.5 liters / 18 cups.
Bottles of 500 ml saved (per filter): 300.
Dimensions : 36.5 * 14.4 * 26.59 cm / 14.37 * 5.67 *10.47 in.
Weight : 1.36 kg / 3 lb.
It's hard to find a big flaw in the Brita UltraMax. It's a solid, efficient water filter jug that stores easily in the refrigerator. Sure, the water doesn't flow very fast, but it also keeps the kids from spilling it all over the floor. This is the product we recommend first for family use.
---
5. Brita Space Saver – Best For Small Space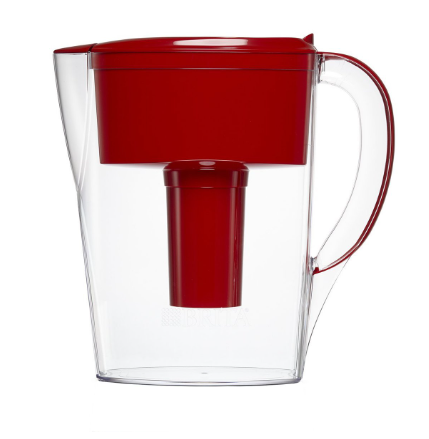 As its name suggests, the Brita Space Saver is a relatively compact water filter jug. It takes up little space and is quite inexpensive, but its capacity is limited. If you are short on space and have few people, this is a solution to consider.
What we think of the Brita Space Saver
The main advantage of this carafe is obviously its design, which is designed to reduce the amount of space it takes up. If you want to drink healthier water, but your kitchen is already overflowing with various utensils, this is a good compromise.
You can place the Brita Space Saver in the fridge or on a countertop and it will be forgotten about until you're ready to drink.
Of course, you will have to tolerate a slightly smaller capacity. The capacity here is 1.5 liters or 6 cups. This is suitable if you live alone or with two people.
Apart from that, this is a classic model. In the box, you have a standard Brita filter. The brand's Longlast filters are also compatible. The presence of harmful metals, such as leather, zinc or cadmium, is effectively reduced.
On the lid of the object, you can see the estimated remaining life of your filter: you will easily know when it is time to change it. You can assume that it will be necessary every 2 months or so.
You should know that the spout also has a lid. This is useful because it prevents bacteria or particles from entering your filtered water. The Bisphenol A-free design of the product takes your health into account.
Brita Space Saver Features:
Best for 1-2 person households.
Compact, discreet and efficient, ideal for small spaces.
1 standard Brita filter included: fights copper, cadmium, zinc, etc.
Estimated filter life indicated on the top of the carafe.
Lidded pouring spout reduces the risk of bacterial intrusion.
Bisphenol A free.
Capacity: 1.5 liter / 6 cups.
Bottles of 500 ml saved (per filter): 300.
Dimensions : 24.56 * 11 * 25.53 cm / 9.67 * 4.33 * 10.05 in.
Weight: 0.78 kg / 1.71 lb.
The Brita Space Saver does everything you'd expect it to do: it filters water well, keeps it fresh, and is a pleasure to be around. Plus, it does it at a generally reasonable price. So we definitely recommend it, but if you really drink a lot of water, its limited capacity may be an obstacle.
---
6. Santevia Alkaline – Made in Canada
The problem with water filters is that they don't just remove what's potentially bad for you – they also remove useful minerals. The Santevia Alkaline solves this problem by adding essential minerals and increasing the pH of the water. It also makes it taste much better.
What we think of Santevia Alkaline
As you can see, Santevia Alkaline's main asset is to fight against the main problem of filtration: the removal of healthy elements. It does this by adding minerals to the water. According to many consumers, this makes the water more pleasant to drink than with other carafes.
It may also have positive effects on your health. For example, drinking mineralized water is recommended by international institutions such as the World Health Organization (WHO).
Another advantage of the Santevia Alkaline is its design. It is really well done and pleasant, and fits perfectly into the atmosphere of a modern kitchen. Moreover, different colors are available: grey, white, red or blue. And this, without big variation of price.
The capacity offered here is 2.1 liters. Given the average price, this may seem a little light. Nevertheless, it should not be forgotten that the water benefits from a special treatment. Moreover, this is usually more than enough for 3 to 4 people. And Santevia has made sure that filling the carafe is very easy.
You don't even have to remove the lid: you can place the item directly under the tap. As for changing the filter, the one supplied is extremely durable. Moreover, its lifespan is displayed: you know exactly when it will be necessary to replace it.
Santevia Alkaline Features:
The carafe that produces the best tasting water.
Adding minerals and increasing pH, fresh water in your mouth.
Comes with 1 filter, countdown timer for replacement.
Particularly easy to fill, no need to remove the lid.
Different colors available, aesthetically pleasing object.
Bisphenol A free.
Capacity: 2.1 liters.
Bottles saved (over a year): up to 8300.
Dimensions: 15.24 * 27.94 * 27.94 cm / 6 * 11 * 11 in.
Refund policy: 30 days.
The Santevia Alkaline offers healthy, great tasting water with added useful minerals, thus avoiding one of the pitfalls of filtration. It is attractive and comfortable to use, and fits in very well with modern kitchen equipment. However, it is not the best capacity/price ratio on the market.
---
7. Brita Slim – Ultra Compact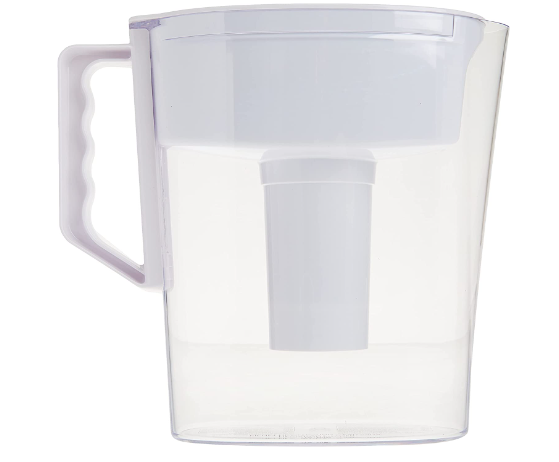 What we think of the Brita Slim
It's hard to miss its main feature: the Brita Slim is not very big. It fits easily in a refrigerator, even if it's already full. Which is quite handy if you're not the type to arrange everything to the millimeter.
This implies a limited capacity: 1.25 liters, i.e. 5 cups. It's not much, but it's still quite adequate for a single person, a student for example: this carafe can thus be a smart move-in gift.
As for the filtration, it works in the classic way, with Brita activated carbon and ion exchange resin filters. This allows you to reduce the presence of chlorine to improve the taste of the water and significantly reduce the amount of any heavy metals such as cadmium, copper or mercury.
Although there is a waterproof sticker to tell you when to change the filter, this is not the optimal solution in our opinion. We simply recommend a replacement every 2 months: you should then be relatively safe.
The design of the object is not particularly sophisticated, but it has the merit of being efficient and without frills. The serving handle is quite comfortable, while the long spout allows for a quick flow of water.
If you're home alone and drink a lot of water, this BPA-free and sturdy model is one of the best value for money.
Brita Slim Features:
Best for students and people on a tight budget.
Space saving, easy to store.
Filter reduces copper, mercury, cadmium and chlorine.
Handle for quick and easy service.
Self-adhesive filter change indicator.
Bisphenol A free.
Capacity: 1.25 liter / 5 cups.
500 ml bottles saved (per filter): 300.
Dimensions: 26.9 * 23.1 * 10.7 cm / 10.6 * 9.1 * 4.21 in.
Weight: 0.73 kg / 1.6 lb.
The Brita Slim filter carafe is intended for individual use because of its small capacity. But if it suits you, there's no reason to deprive yourself: it's solid, works perfectly well and will save you space, all without costing you money.
---
8. Soma 102-10-01 – Best Appearance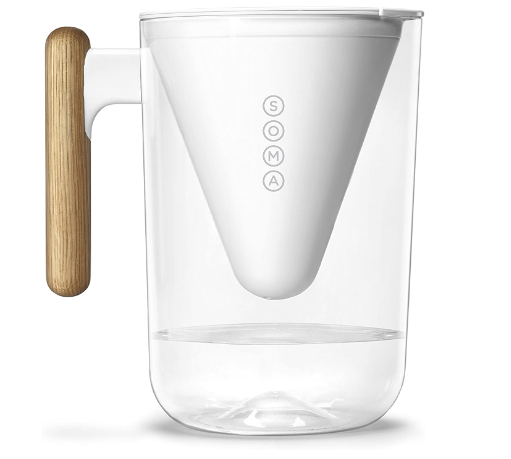 Are you disappointed by the appearance of the filter carafes, which seems too basic? Are you looking for a product that will enhance your kitchen while being particularly effective? The Soma 102-10-01 is a high-end, environmentally friendly model that might just meet your expectations.
What we think of the Soma 102-10-01
You won't miss the handle of the Soma 102-10-01. First, it's very pretty, and really gives the item a distinctive style. Second, it's made from durable white oak. You get a stylish yet natural look.
When it comes to serving, this is simply one of the best decanters currently available, as it blends fine styling with practicality of the handle. There is one slight downside, however: the pouring spout is built right into the design, and you have to take the hit to avoid spilling water next to it.
Nevertheless, apart from this slight detail, efficiency has not been sacrificed on the altar of design. The product has been tested by the Water Quality Association, and is certified to NSF/ANSI standards 42 and 53. Simply put: it filters out contaminants such as copper, cadmium or mercury, and it filters them well.
To fill, you don't even have to bother lifting the lid. Just place the carafe under your faucet and the water will plunge straight to the filter.
And if you want to control your spending and never run out, Soma offers a subscription plan with or without a commitment to receive a filter directly to your home each month.
The capacity is just under 2.5 liters, or 10 cups. This is usually enough for 3 or 4 people. The Soma 102-10-01 is not too large, and it should fit in your refrigerator.
Soma 102-10-01 Features:
The most environmentally friendly model.
Beautiful handle made of durable white oak.
Easy to fill, the lid can stay on.
Water Quality Association tested.
True efficiency, NSF/ANSI standards 53 and 42 certified.
Bisphenol A free.
Capacity: 2.3 liters / 10 cups.
Dimensions : 15.24 * 22.86 * 26.67 cm / 6 * 9 * 10.5 in.
The Soma 102-10-01 is a filter carafe that highlights your environmental awareness. It is aesthetically beautiful, and its efficiency is attested by serious certifications. However, the price is significantly higher than the average price of other products with the same capacity.
---
9. ZeroWater MAIN-16842 – With Free Water Quality Meter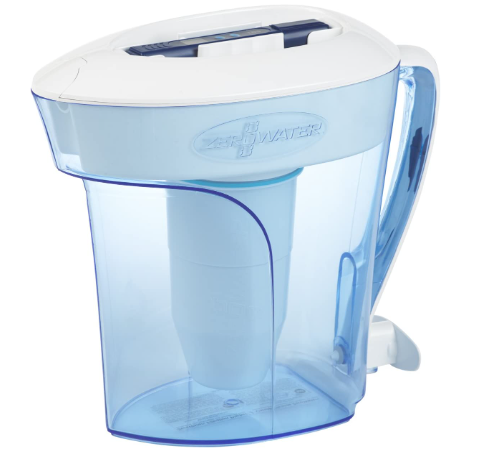 Is filtration quality the most important thing for you? Are you adamant about this aspect and would like to enjoy a model with a decent capacity? Then the ZeroWater MAIN-16842 may be just what you need in a carafe filter.
What we think of the ZeroWater MAIN-16842
First of all, let's salute the excellent idea that ZeroWater had: a water quality testing device is directly included in your purchase. This immediately eliminates the need to question the actual effectiveness of the product. To avoid losing the small device, a dedicated slot is provided directly on the lid.
If you need more to be reassured about the filtration performance, this model is NSF certified. It has been independently tested and found to remove approximately 99.6% of dissolved solids from water. A good score that can be explained by the presence of a 5-stage filtration system.
The ZeroWater MAIN-16842 is particularly suited to fight against lead and other heavy metals that may be present in your tap water. It can hold up to 2.3 liters, or 10 cups.
A handle is provided to grip the carafe and pour water directly into a glass or saucepan. Moreover, the use proves to be rather comfortable and the object is quite pleasant visually. It is made without bisphenol A. However, there are two things that make us place this model at the bottom of our list.
First, a few users note a slightly shorter lifespan than what they've seen on some competing models.
Secondly, the tap dedicated to serving seems superfluous to us: it makes it a little more difficult to store in the refrigerator, and the water flow is a little too slow.
ZeroWater MAIN-16842 Features:
The most reassuring carafe for everyday use.
Water quality testing device included in your purchase.
NSF certified decanter tested by an independent laboratory.
5-stage filtration system removes 99.6% of dissolved solids.
Includes a service tap.
Bisphenol A free.
Capacity: 2.3 liters / 10 cups.
Dimensions : 29.54 * 15.06 * 27.94 cm / 11.63 * 5.93 * 11 in.
Weight : 1.7 kg / 3.75 lb.
The ZeroWater MAIN-16842 is an intermediate filter carafe, which has the advantage of using 5-stage filtration and is offered for sale with a water quality tester. If your main concern is health, this is the ideal choice. On the other hand, it is not the most practical reference on our list.
---
10. ZeroWater ZP-006-4 – Simple & Effective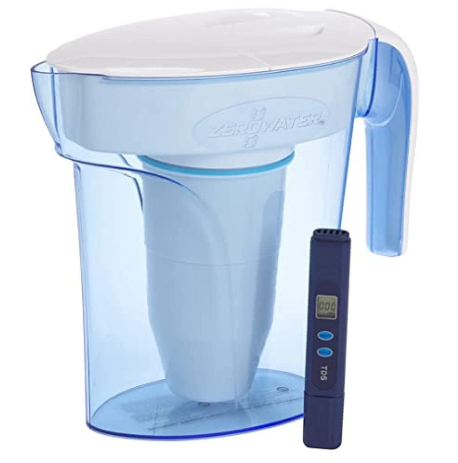 Are you looking for a way to effectively filter your water without having to spend too much money on a simple carafe? If you live alone or with a partner and your water consumption is moderate, choose a model like the ZeroWater ZP-006-4.
What we think of the ZeroWater ZP-006-4
The ZeroWater ZP-006-4 is an affordable carafe filter. This is not because of the quality of the filtration, which is excellent, but rather because of its size.
Indeed, this model can only hold 6 cups of water, or about 1.4 liters. This size is convenient if you want to have more space in your refrigerator, but expect to have to refill it regularly, sometimes even daily depending on your consumption.
It comes in a pitcher shape, making it easy to serve and place on a table. Its handle is solid and non-slip. This product is made of BPA-free plastic. It offers a blue and transparent contour.
Its filtering is complete and efficient. In fact, it is NSF certified since it can remove up to 99.6% of dissolved solids in water, such as lead and various metals.
The filtration is done in five levels. Three of them are used to remove suspended solids. Another reduces organic contaminants. The last one uses ion exchange technology to counteract inorganic contaminants. This is the one that deals with metals.
The ZeroWater ZP-006-4 comes with a quality meter. You can test the quality of your water yourself by checking the amount of particles in it.
ZeroWater ZP-006-4 Features:
NSF certified, removes 99.6% of dissolved solids.
5-stage filtration system, uses ion exchange technology.
Water quality testing device included in your purchase.
Bisphenol A free.
Capacity: 1.4 liter/6 cups.
Dimensions: 26.7 * 13.5 * 24.1 cm/10.5 * 5.3 * 9.5
Weight: 1 kg/2.3 lb.
The ZeroWater ZP-006-4 is a convenient and affordable water filter carafe. Its capacity may seem limited to some, but its compact size is convenient for small households. Plus, its five-stage filtration is very comprehensive. Thanks to the included meter, you will be able to check for yourself the real efficiency of this product.
---
11. LifeStraw Home – For Ultra-Efficient Filtration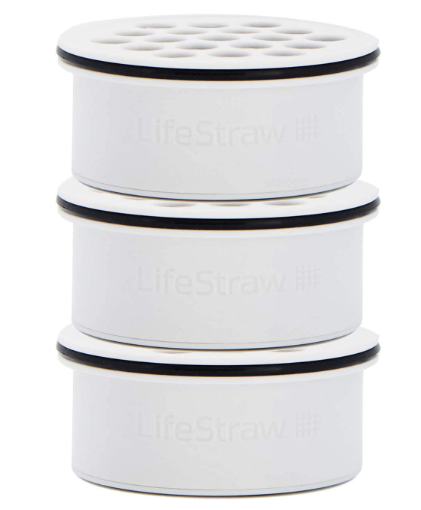 Does the water coming out of your tap taste bad and smell bad? There is a model of carafe that can filter any water, even those that are on the borderline between drinking and undrinkable. It is the LifeStraw Home.
What we think of LifeStraw Home
You may have already heard the name LifeStraw. This is the manufacturer that offers these famous straws that allow you to safely drink water from swamps or other unappetizing sources.
This is due to their ultra efficient filtration system. And their Home model in pitcher form is just as effective. It uses activated carbon and ion exchange technology for all dissolved solids and chemicals.
But where it really stands out is that it removes over 99.99% of bacteria, parasites and microplastic particles. It still preserves the healthy minerals present in the water.
This most effective method comes at a price, and it is rather high. Also, since the water must pass through a membrane that prevents microscopic organisms from passing through, you can expect the process to take longer.
The LifeStraw Home is made of shatter-resistant glass. It is easy to handle and ideal for service. Despite its impressive size, it only has a capacity of seven cups, or 1.6 liters.
It is also worth mentioning that this manufacturer is very involved in third world countries. Every purchase of this product helps a child in need to have access to clean and drinkable water.
LifeStraw Home Features:
Removes over 99.99% of microorganisms and microplastic.
Filter retains healthy minerals.
Shatter-resistant glass design.
Capacity: 1.6 liter/7 cups.
Dimensions: 16.3 * 16.3 * 28.5 cm/6.4 * 6.4 * 11.2 in.
Weight: 0.4 kg/1 lb.
The LifeStraw Home is a filtering pitcher whose high price is justified by its impressive filtration quality. It even allows you to remove bacteria and parasites. Made of glass, it offers a modest capacity, but outstanding efficiency.
---
12. ZeroWater ZD-20RP – For Clean Water Within Easy Reach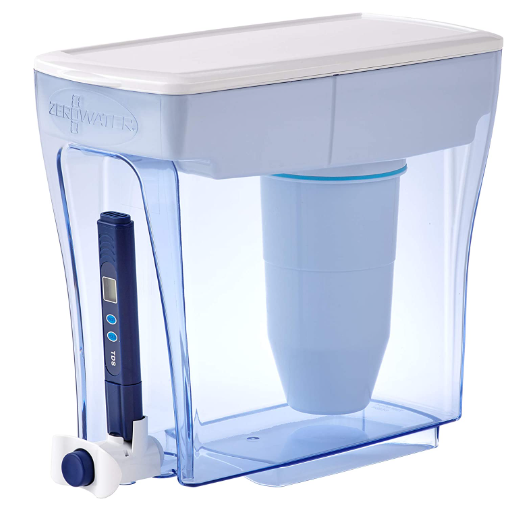 One of the common problems with looking for a carafe filter is that they can be limited in capacity. If you don't want to have to refill it multiple times a day to keep your family's water clean, choose a model like the ZeroWater ZD-20RP.
What we think of the ZeroWater ZD-20RP
The ZeroWater ZD-20RP is a water dispenser with a tap for service. The tap has a push button that is easily operated with one hand.
It should be noted that some people have noticed that there is a leak at this point. If this happens to you, it is quite possible to repair it in a short time.
This model has a large capacity of 20 cups, or 4.6 liters, making it ideal for families. It is therefore ideal for the family. Moreover, its design is made so that you can slip it into the refrigerator without it taking up too much space.
It's made of solid plastic and you don't have to worry about it being BTA-free. You can easily tell how much water is left in it because its blue walls are transparent.
The ZeroWater ZD-20RP's filtration is NSF certified, which means that it is known to be efficient. This is due to its five stages, including a carbon layer and an ion exchange system.
This filter is very useful against chrome and lead contaminated water. It is able to remove 99% of dissolved solids.
To prove its effectiveness, it comes with a device to test for particles in the water. After filtration, it should indicate that there are virtually no contaminants left.
To prevent losing this device, a holder is located on the front wall, just above the faucet. This keeps it within easy reach.
ZeroWater ZD-20RP Features:
Dispenser with a faucet with a push button.
NSF certified, removes 99.6% of dissolved solids.
5-stage filtration system using ion exchange technology.
Water quality testing device included in your purchase.
Bisphenol A free.
Capacity: 4.6 liters/20 cups.
Dimensions: 29.9 * 14 * 27 cm/11.75 * 5.5 * 10.6 in.
Weight: 1.5 kg/3.3 lb.
The ZeroWater ZD-20RP is a convenient carafe with a large capacity. Simply use the tap to access clean, contaminant-free water. Its test feature allows you to quickly check the quality of the filtration.
---
What You Should Know Before Buying a Water Filter Jug
Not everyone has the same expectations of a carafe filter. Indeed, you may be more interested in health, ecology or taste. However, whatever your profile, there are important elements to know. Here are the answers to the questions that consumers frequently ask about these products.
Are Water Filters Environmentally Friendly?
Yes, we would even say that this is their main advantage. They allow you to largely limit your consumption of plastic. This material is now found in large quantities in the ocean, where it forms huge continents that seriously harm marine biodiversity.
Will I Really Enjoy Healthier Water?
There are two things to know. First, filtered water is actually healthier than tap water, since the harmful elements are removed.
Second, the positive elements are also removed. This is the disadvantage of filtration, which some models compensate by remineralizing.
This means that for some people, for example infants, filtered water is not suitable. But for the vast majority, it is preferable to tap water.
Is the Taste of Filtered Water Really Superior?
Carafes eliminate a large part of the chlorine. This is what sometimes contributes to the unpleasant, bitter taste of your home water.
Are There Any Risks?
As mentioned above, you have to be careful with some people. Other than that, no. Filtration may even be absolutely essential in some areas where the quality of tap water is questionable.
---
Our Criteria For Buying a Water Filter Jug
Now that you know the ins and outs of filtering carafes, all that remains is to choose a model that suits you! And for that, there is only one solution: compare the products and their characteristics. Let's study together the criteria that should guide your choice.
The Price
Keep in mind that you will save money by choosing a carafe filter. In fact, you may be able to significantly reduce your bottled water expenses. Here are the typical prices:
Count 15$ at least for a compact small-capacity model.
You will find many references between 25 and 45$.
There are high-end products up to about $70.
The factors that have the most influence on the price are the capacity and the quality of manufacture.
Remember to budget for filters as well.
Capacity
This is expressed in cups or liters.
One liter is generally considered to be equivalent to four cups, which is a rather optimistic estimate.
You will find many 10-cup models, which in reality is more like 2.3 liters than 2.5 liters.
Beware: even if you choose a large capacity model, chances are you will fill it several times in a day. Especially if you also use the filtered water for cooking.
The Quality of Manufacture
The vast majority of filter carafes, whether high-end or not, are made of plastic. However, they must not contain bisphenol A. Some models have wooden handles, or make special efforts on recycling possibilities. In this case, they may cost a little more.
The Filtration System
Each brand offers its own filter models, but the operating principle is often the same.
The most commonly used methods are activated carbon and ion exchange resin. In concrete terms, the objective is to reduce the presence of chlorine, but also of heavy and harmful metals (lead, cadmium, mercury, zinc, etc.), in the water intended for your consumption.
Some models are equipped with an even more efficient 5-stage filter.
In addition, it is sometimes possible to adjust the filtration speed.
If you are not convinced by the efficiency of a product or by what the manufacturer claims, the easiest way to check is to pay attention to the certifications.
You can find filter carafes that meet FDA, RoHS, LFGB or NSF standards. Of course, independent laboratory testing is also a good guarantee of performance.
Ergonomic Elements
For a simple and stress-free use, you can have :
A filter life indicator.
A spout, possibly with a dedicated lid.
A service tap, which is perfect for children.
An ergonomic handle.
A special lid that does not need to be removed.
The Weight
Filter carafes are sometimes quite heavy. However, you should be aware that a higher weight can be accompanied by a better quality of manufacture: it is up to you to see what compromise suits you.
Dimensions
On a countertop, the water in the filter jugs must be drunk or used within 24 hours. If stored in the refrigerator, it can be used for 48 hours.
That's why it can be useful, especially for families, to choose a model designed to fit easily into a refrigerator. For example, there are rectangular products, designed in depth.
We recommend that you change the water often, regardless of the storage method you choose.
Aesthetics
When you choose to filter your water, the carafe quickly becomes a central element of your home. You will see it every day and it will become part of the landscape of your kitchen: do not hesitate to choose a design that you like.
Especially since there is no shortage of choice: most manufacturers offer their leading models in various colors.
Accessories Included
Your purchase almost always includes 1 filter. Generally, it is the manufacturer's standard model. Remember to check if there are any compatible long-life filters, often more economical, available on the market.
Finally, other accessories may be offered, such as a water quality testing device.
---
We hope that you and your family will be able to enjoy healthy and pleasant drinking water! To find out more about the models you are interested in, we recommend that you take advantage of the possibilities offered online and talk to other Internet users.
We will do our best to provide you with a comparison to help you choose the best possible water filter carafe. If we have missed any information or new models, feel free to leave a comment below or send us a message.