If there's one thing almost everyone does every day, it's cook. It can be interesting to equip yourself with all sorts of culinary devices when you're a big fan of cooking, but whether you fall into that category or prefer to make small, simple recipes, you need a good kitchen knife.
Knives are a must. And if you only have one of these cutting tools, you need a chef's knife.
But not all knives are of the same quality, and choosing from the many models available to you may seem difficult. You have nothing to worry about.
We have spent 40+ hours analyzing and comparing the most popular 30+ kitchen knives in the Canadian market and considered the opinions of 1200+ consumers who have tested and used these kitchen knives. We also prepared a detailed purchase and usage guide to help you purchase the best kitchen knife.
Following our last update, our favorite model is the Tuo Fire Chef: its quality-price ratio is very interesting as well as its design and its robustness.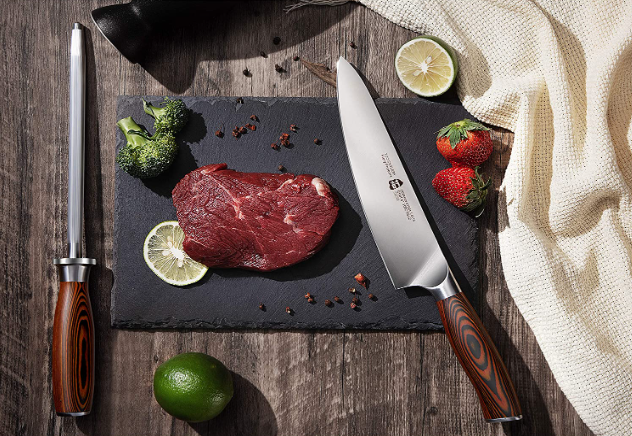 ---
1. Tuo Fire Chef – Best Value For Money
Would you like to own a knife that is both versatile and stylish? A proven, award-winning cutting tool? The Tuo Fire Chef may be the best choice for you if your main criterion is value for money.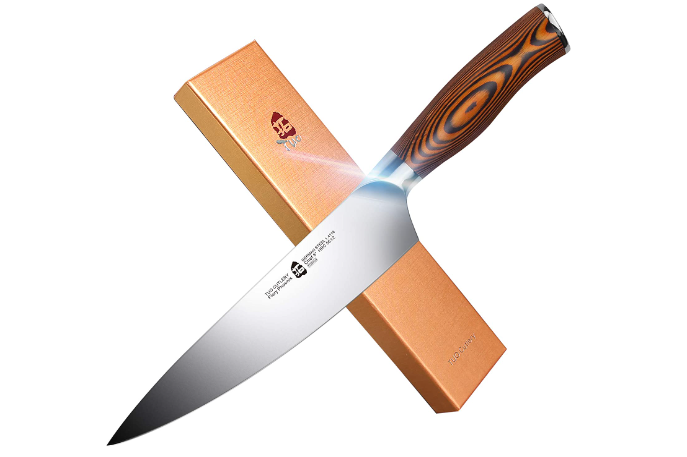 Tuo Fire Chef Features:
German high carbon stainless steel blade.
Honbazuke sharpened to 180.
Elegant polished pakkawood handle.
Part of the Fiery Phoenix collection
Blade length: 20.3 cm/ 8 inches
Weight: 209 g
Hardness according to the Rockwell scale: 56
What We Think of the Tuo Fire Chef's Knife
The Tuo Fire Chef is a knife with a 20.3 cm blade. It allows you to cut all types of food, from simple vegetables to large pieces of meat.
Moreover, it is made of German high-carbon stainless steel. It resists very well to rust. The steel is heat treated for increased strength and flexibility.
On the Rockwell scale, this knife ranks 56 . We can therefore say that it has a hardness that ranks it among the professionals, without being too hard. This means that it will last longer and be easy to sharpen.
This model is sharpened by a complex traditional Asian method called Honbazuke. Without going into too much detail, this means you get a sharp blade with a 180 angle on each side.
It should be noted that some people say they received a badly sharpened knife. If this is the case for you, all you have to do is sharpen it to give it its edge. Either way, you need a sharpener to be able to keep the blade in good condition.
The Tuo Fire Chef is part of the Fiery Phoenix collection, which means you can get other knives with the same design. This one is lightweight and has a comfortable pakkawood handle.
The Tuo Fire Chef is a really good knife that will last you a long time. Get a sharpener to keep it sharp and you will find it useful every day. Its value for money is very good and you can match it with other knives from the same collection.
---
2. Victorinox Fibrox Pro – Top Quality Kitchen Knife
Do you have a passion for cooking and would you like to equip yourself with a quality and versatile knife?
There are models in all price ranges and it is possible to invest a little more without breaking the bank.
To do so, simply opt for the Victorinox Fibrox Pro.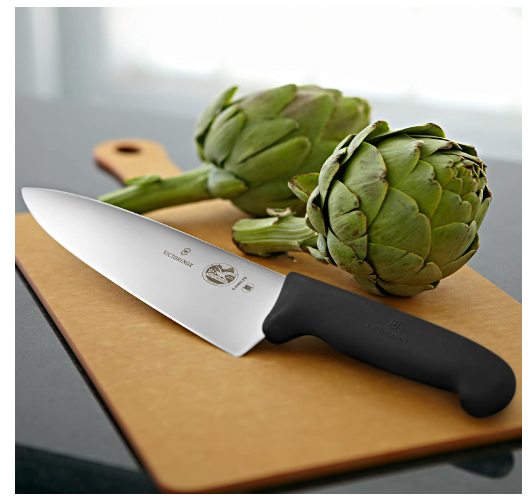 Victorinox Fibrox Pro Features:
The versatile and ergonomic model.
Lightweight European stainless steel blade.
Laser-tested edge, rarely needs sharpening.
Flat back of blade to apply more pressure.
Ergonomic thermoplastic elastomer handle.
Well balanced and non-slip grip, even when wet.
Blade length: 20.3 cm/8 in.
Total length: 43.2 cm/17 in.
Hardness according to Rockwell scale: 56
Weight: 172 g.
Warranty: Limited lifetime warranty.
What We Think of the Victorinox Fibrox Pro
The Fibrox Pro chef's knife comes directly from the famous Swiss brand Victorinox, which is known in the industry for the quality of its products.
This model is very versatile and is used by everyone from the casual cook to the restaurant chef.
It is a slightly higher-than-average investment, but its lifetime warranty ensures that it will last a lifetime.
Its blade is made of European stainless steel appreciated for its lightness.
Its edge is laser tested while its flat back allows you to apply some pressure without discomfort to the palm of your hand.
Its hardness level of 56 on the Rockwell hardness scale is the standard among professionals and rarely requires sharpening, which is simple.
The handle is ergonomically shaped for a good grip.
Even when wet, the handle remains non-slip, offering maximum safety.
In addition, this model is well-balanced for a more comfortable handling.
Although it can be put in the dishwasher, manual cleaning is recommended to preserve a quality knife.
The Victorinox Fibrox Pro is a quality knife from a reliable and reputable manufacturer. Its comfortable handle and balance ensure a pleasant handling. In addition, its sharp blade offers versatility that will appeal to everyone, even professionals.
---
3. DDF iohEF Kitchen Knife – Integrated Blade & Handle
Even if you don't spend much time in the kitchen, it's easy to see that the right choice of knife makes all the difference.
If you have to choose just one, then a chef's knife is the way to go.
Go for versatility at a low price with the DDF iohEF Santoku.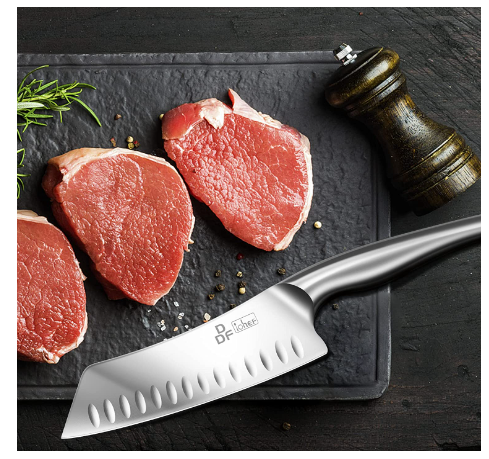 DDF iohEF Santoku Features:
The affordable model.
Mixed chef's knife and santoku design.
Blade and handle molded in one balanced piece.
Made of rust resistant German stainless steel.
Blade is recessed so food doesn't stick.
Double edge, 15 degrees on each side.
Blade length: 20 cm/7.9 in.
Total length: 33 cm/13 in.
Blade thickness: 2.4 mm.
Hardness according to the Rockwell scale: 56
Weight: 181 g.
What We Think of the DDF iohEF Santoku
The DDF iohEF Santoku is one of those knives that manages to surprise despite its low price.
Its design is what makes it stand out from the others.
Indeed, it is a well-designed mix between a chef's knife and, as its name suggests, a santoku.
It offers the shape of the former as well as the typical length and hollows of the latter.
These prevent food from sticking to the blade when slicing.
Its point at the guard is handy for tasks such as removing sprouts from a potato.
Another eye-catching feature of its design is that the blade and handle are one piece.
This makes it well-balanced and leaves no room for sprouts to hide.
Made entirely of German stainless steel, it resists rust well and its hardness of 56 on the Rockwell scale is highly regarded.
It is, however, a very light model, even a little too light according to some.
This means you have to put more pressure to cut a food, which can become negligible as a flaw with practice.
Its double-edged blade makes it suitable for both right- and left-handed users.
The DDF iohEF Santoku is an affordable knife, making it the perfect addition to your kitchen if your budget is limited. It has the features of a santoku mixed with those of a traditional chef's knife. Features like the hollows in the blade and the tip of the guard make it all the more practical.
---
4. MOSFiATA Knife – The Most Elegant Design
Are you one of those people who like to have an elegant kitchen? We think the Mosfiata is the model that best meets this criterion, while being very efficient. In addition, it comes in a box with some accessories as gifts. Who doesn't like gifts?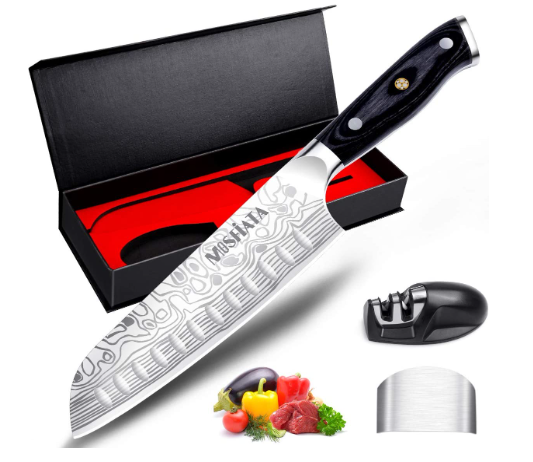 MOSFiATA 7″ Super Sharp Professional Kitchen Cooking Knife Features:
German stainless steel blade with titanium coating
Hand-polished to an angle of 14° to 16° per side
Solid handle secured by three rivets
Comes with a knife sharpener and finger guard
Blade length: 20.3 cm/8 inches
Blade thickness: 0.25 cm
Weight: 640 g
What We Think of the Mosfiata Knife
First of all, let's mention what jumps out at you when you see the Mosfiata. Its design is elegant and is very popular with consumers. Its black color sets it apart from most traditional knives.
It is very strong, especially because the handle and blade are made of a single piece of good-quality German stainless steel.
The handle is riveted in three places, which attaches it securely to the entire knife. It is comfortable to use.
As for the blade, it has a titanium-plated coating. It is very resistant to scratches and rust. Moreover, you don't have to worry about discoloration and fingerprints either.
With a length of 20.3 cm, it is hand polished at an angle of 14 to 16 degrees on each side. This model is a little heavier than others on the market.
It should be noted that although this knife is of very good quality, it is not classified in the high-end category. Its somewhat high price is mainly due to its resistant titanium and its accessories.
Indeed, in the Mosfiata box, you will find more than just a knife. A sharpener is also included, which is quite handy with this kind of product. You can sharpen your blade using the two slots, first passing it through the steel one, then through the ceramic one.
A finger guard is also included for maximum safety.
The Mosfiata is an ideal gift for any cooking enthusiast. Its elegant design is pleasing while its sturdiness and resistance make it an ideal tool for all types of recipes. The knife sharpener included in the box will allow you to keep your blade sharp at all times.
---
5. Fanteck Chef Knife – Best Hand Feel
Are you looking for a high-end product that will be useful every day in your kitchen? The Fanteck knife is an interesting model offering a high-quality blade that will please those who are willing to pay the price.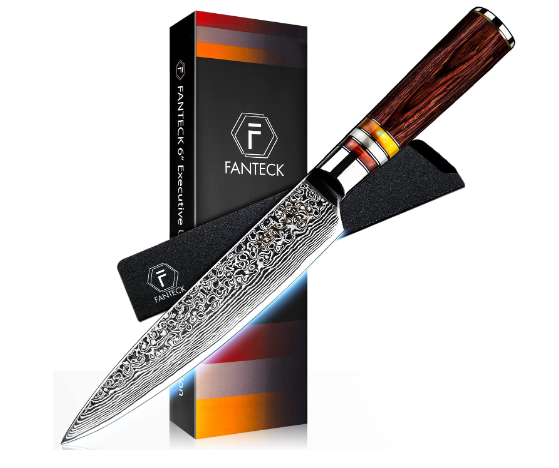 Fanteck Chef Knife Features:
Blade made of 67 layers of Japanese stainless steel
Sharpened between 10° and 15° per side
Pakkawood and acrylic handle
Comes with sheath and small sharpener
Blade length : 20.3 cm/8 inches
Total length: 32 cm/12.6 inches
Blade thickness: 0.2 cm
Weight: 232 g
Hardness according to the Rockwell scale: 61
What we think of the Fanteck Chef Knife
As is easily noticeable from the oily water-like pattern, the Fanteck is made of Damascus steel. A total of 67 layers of high-quality, high-carbon Japanese stainless steel form the blade.
This metal has been heat treated to improve its characteristics. This knife is therefore very durable and resistant.
The blade is hand sharpened to a precision of 100 to 150 per side.
In addition, it has a hardness of 62 on the Rockwell scale. It is therefore recommended to be careful with its sharpness, avoiding cutting bones or frozen food. It is also more difficult to sharpen it yourself.
With a length of 20.3 cm, it is connected to a pakkawood and acrylic handle. The good balance between the latter and the blade gives it a good agility during its handling.
The box in which the Fanteck comes also includes a scabbard, which allows to better protect its blade. If you don't have a knife block and don't have room to keep the box, you don't have to worry about damaging the edge.
A small two-slot sharpener is also included. It's not the best quality, but it allows for quick adjustment of the sharpening if needed. It may be worthwhile to get a really good sharpener for a knife at this price.
The Fanteck is a chef's knife that is very comfortable to handle. Its weight and balance give you a good agility when preparing your food. A little expensive, it is however of a very good quality and can last you a long time if you know how to work well with a knife.
---
6. Triple Tree Chef's Knife – Best For Beginners
If you're a student or just starting to cook, a good knife would come in handy. But a high-priced model is not what you need. Choose the Triple Tree for more efficiency in your kitchen.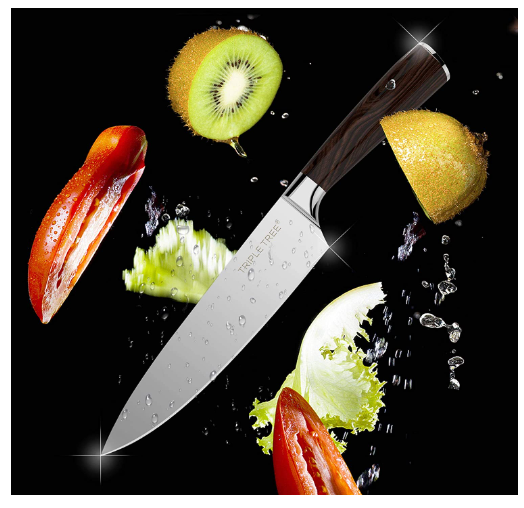 Triple Tree Chef's Knife Features:
Japanese stainless steel blade
Comfortable dark pakkawood handle
Blade length: 20.3 cm/8 inches
Total length: 33.5 cm/13.2 inches
Blade thickness: 0.2 cm
Weight: 240 g
Hardness according to the Rockwell scale: 55
What We Think of the Triple Tree Chef's Knife
First and foremost, the Triple Tree is a very practical knife for those who don't do much cooking in their lives. It is sold at a low price, without being able to be classified in the low range.
With a typical length of 20.3 cm found in chef's knives, it reaches 33.5 cm including the handle. Moreover, its weight is light.
The blade is made of stainless steel. It resists well to corrosion and rust. However, it should be mentioned that it is very reflective. It can even be used as a mirror if you feel like putting your hair up while cooking. On the other hand, it is easy to notice fingerprints or scratches on it.
Be careful when unpacking your box, as the Triple Tree arrives very sharp.
On the Rockwell scale, its hardness ranks at 55. That's good enough for everyday cooking, but be sure to keep the edge sharp on a regular basis. Sharpening is quick and easy.
As for the handle, it's comfortable. Its pakkawood design gives it an interesting dark wood style.
Some people have noticed that the handle is not always straight or feels empty. However, this does not affect the handling and effectiveness of the knife.
The Triple Tree is the perfect knife for beginners. Sold at a low price, it is easy to handle and sharpen. It is able to cut most foods and is durable. Despite these minor flaws, which do not affect its use, it is still a good value for money.
---
7. Mercer Culinary M22608 – Good Grip Chef's Knife
Several elements make a knife a good kitchen accessory.
You need a sharp, durable blade, of course, but you also need a comfortable handle that feels good to hold.
That's what the Mercer Culinary M22608 offers.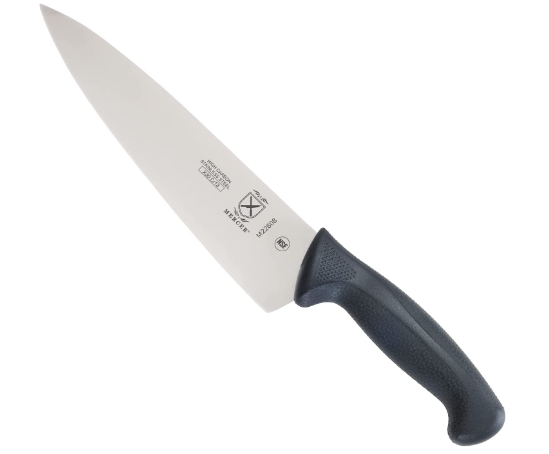 Mercer Culinary M22608 Features:
The model that's easy to use.
High carbon Japanese stainless steel blade.
Textured non-slip handle with finger guard.
Easy to sharpen blade offers a 15 degree angle.
Many colors available, including black, blue and red.
NSF certified.
Blade length: 20.3 cm/8 in.
Hardness according to the Rockwell scale: 53-54
Warranty: Limited lifetime warranty.
What We Think of the Mercer Culinary M22608
The Mercer Culinary M22608 is a chef's knife made from high-carbon Japanese steel.
This not only makes it stain and rust-resistant but also very easy to sharpen.
It is already very sharp right out of the box, offering a 15-degree angle typical of Japanese blades.
With a hardness around 54 on the Rockwell scale, you should expect some softness that can be felt when cutting hard foods.
On the other hand, this doesn't affect its overall quality too much since the manufacturer offers a lifetime warranty on its products, which is a sign of confidence.
Its handle is made partly of Santoprene, a material in the family of plastics that is very similar to rubber.
This ensures a good grip which, combined with the dotted texture, provides a solid hold.
Several colors are available for the handle, including black, green, blue, red and yellow.
The purpose behind these colors is not just for aesthetics; rather, they serve to differentiate your knives when you have several, thus avoiding the risk of cross-contamination.
Be sure to wash them by hand since using the dishwasher can lead to handle deterioration.
The Mercer Culinary M22608 is a knife that offers a solid grip with its good quality non-slip handle. Its blade is easy to sharpen and resists stains and rust well. If you buy more than one, you can vary their color to better differentiate them.
---
8. Airena Classic Santoku Chef's Knife – Best Santoku Format
There are a variety of knives and in the "chef" category is the santoku. If this is the type of blade you are looking for, then the Airena Classic should please you. It is very powerful and will be of great use in the preparation of your recipes.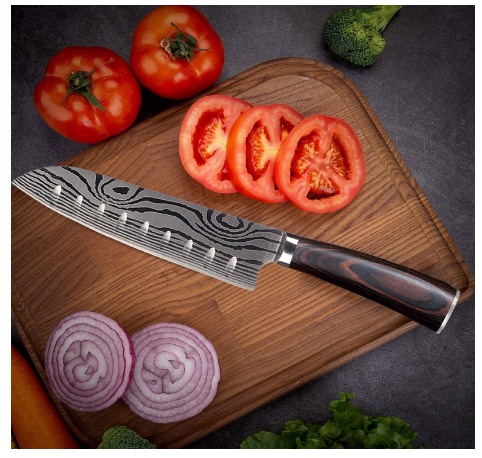 Airena Classic Santoku Chef's Knife Features:
German stainless steel blade with full-length cavities
Sharpened between 16° and 18° per side
Durable dark pakkawood handle
Blade length: 17.8 cm/7 inches
Overall length: 33 cm/13 inches
Blade thickness: 0.25 cm
Weight: 242 g
Hardness according to the Rockwell scale: 55
What We Think of the Airena Classic Santoku Chef's Knife
The Airena Classic is somewhat different from the other knives presented in this article. Indeed, it is of santoku type, which makes it a smaller model. Its blade measures 17.8 cm while its total length is 33 cm.
Small cavities are also present along the length of the blade. These prevent food from sticking to the blade when slicing or chopping.
The material used is German stainless steel with a high carbon content. It is very resistant to stains and corrosion. However, be sure to clean your knife thoroughly and wipe it down completely to prevent rusting.
The blade is durable and flexible. It performs well with its balance of sharpness and strength. The angle is 160 to 180 per side.
The pattern on the blade is reminiscent of tiger stripes. This gives it an interesting look.
The dark pakkawood handle adds to its elegance. It is solid and has a good durability. The comfort of the handle combined with the weight of the knife makes this tool pleasant to handle.
The Airena Classic is 56 on the Rockwell scale. It should be sharpened regularly to keep its edge effective against all types of food.
The Airena Classic is a powerful model in the santoku knife category. When its blade is sharp, you can easily cut vegetables, meat or fish. Its cavities are very practical and make the preparation of your meals faster.
---
What to Know Before Buying a Kitchen Knife
You want to buy a good kitchen knife and you are wondering if there are things you should know before buying one? Let's answer some frequently asked questions.
Why Choose a Chef's Knife?
The chef's knife is certainly the most versatile of the different types on the market. If you could only choose one, this is the one you need. It can cut, slice and chop fruits, vegetables, meat and fish.
What Are the Differences Between a Chef's Knife and a Santoku?
The Santoku is very similar to the chef's knife and offers you the same versatility in the kitchen. The difference lies in the blade.
The Santoku has a generally smaller blade of 17.8 cm. It has small cavities that prevent food from sticking. It is also flatter, which makes it convenient for chopping with up and down movements.
The chef's knife has a longer blade of 20.3 cm. Its edge is more rounded. This means that you have to use a balance movement to chop food.
How to Maintain Your Kitchen Knife
If you want to keep your knife for a long time, you must take good care of it. Before using it, make sure it is sharp. A sharp blade is easier to use and causes less damage to the knife.
When cutting food, do it on a surface that is not too hard. A cutting board is necessary, and wooden ones preserve the edge better.
When you are finished with your knife, clean it well and make sure it is dry to avoid rust. Avoid putting it in the dishwasher. To store it, place it in a block, case or magnetic strip. This way, it will not come into contact with other objects.
What is the Rockwell Scale?
The Rockwell scale is used to determine the hardness of a steel. It is often used to qualify the blade of a knife.
The test is done with a steel ball or a pointed diamond, which is pressed against the steel to be tested. The imprint left will determine its hardness.
A good quality knife will have a hardness of more than 56, but it is not true that the harder the steel, the better the quality. When it exceeds 60, the edge is well preserved, but it is difficult to sharpen.
In addition, it is more fragile and more likely to break. A softer knife will need to be sharpened more regularly, but it is much easier to do so.
---
Our Criteria for Choosing a Kitchen Knife
Are you still looking for the right knife for your needs, but are having trouble comparing the different models? Here are the criteria we used, which might be able to help you.
The Price
It is possible to spend several hundred dollars on a professional quality chef's knife. In our article, we focused on models under $100, for regular home use.
Prices vary widely in this price range, but we consider that to get good value for money, you should spend around $50.
The Blade
The most important criterion to look at when it comes to the blade is its composition. Stainless steel is the most used material in knives, but there are several types. It is generally the amount of carbon that determines the quality. The higher the carbon content, the better the quality of the knife.
German steels are very common and are generally thicker. Japanese steels, on the other hand, are hard and keep their edge for a long time, while the blade is very thin.
As for Damascus steel, it is made of several layers of soft and hard steel, offering good strength and flexibility.
There are also titanium blades that are very resistant, as well as ceramic blades, which are stronger but fragile.
The Level of Hardness
Established according to the Rockwell scale, the choice of the hardness of a knife depends on its use. The higher the number on the scale, the harder the knife will be and the longer it will stay sharp.
However, it is also more fragile and should be intended for a regular user, or at least one who takes care of his knives.
Conversely, a knife made of soft steel needs to be sharpened more regularly, but this is easier than for a hard blade. In addition, it is generally less expensive.
The Handle
There are several materials that can make up a knife handle. Plastic is lighter and less expensive, but the quality of the product is diminished. Wood is more elegant, but it is important to make sure that it does not stay in contact with water for too long.
One of the most commonly used materials is pakkawood. It is a mixture of wood and resin, which improves the aesthetic properties of wood while making it more durable and waterproof.
Comfort
Comfort is an important element, especially if you use your knife frequently. A good knife should have a comfortable handle and a fairly lightweight.
Balance is also important. The weight should be well distributed between the blade and the handle. The best way to check this criterion is by holding the knife in your hand. Not everyone needs the same balance.
The Style
Everyone's style is different. Whether you want to match your knife to your collection or simply because you like elegant objects, this criterion must be taken into account. The handle plays an important role in the style of your knife, but the blades can also vary. Some even have patterns. This is often the case with Damascus steel.
---
We do our best to provide you with a comparison to help you choose the best kitchen knife possible. If we have missed any information or new models, feel free to leave a comment below or send us a message.