The term "butter maker" or "butter machine" includes several types of devices. With the simplest ones, inspired by the traditional churn, you can easily make butter at home. The more advanced machines are actually infusers, which allow you to create a wide variety of products with flavors of your choice, including butter. A good butter machine will allow you to experiment with new culinary creations, and more!
It is not a product that is found everywhere, so you can very legitimately hesitate on the model to choose. This guide is here to help! We analyzed then compared 23 models of butter machine for 20 hours, and took into account the opinions of 859 consumers.
Following our latest update, our favorite model is the STX Infuzium 420. This machine offers an excellent compromise between price, equipment supplied, performance and versatility.
---
1. STX Infuzium 420 – Best Electric Butter Maker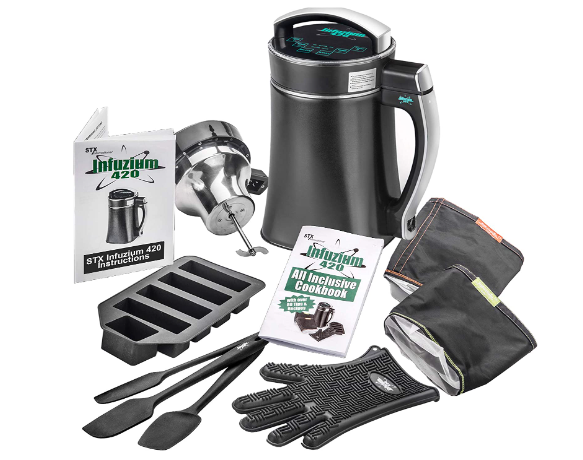 If you are looking for a machine that is versatile, efficient and easy to use, the STX Infuzium 420 is a device that will undoubtedly meet your needs.
What we think of the STX Infuzium 420
As soon as you open the box, you feel a certain satisfaction. Indeed, the STX Infuzium 420 is supplied with complete equipment.
First, let's talk about the silicone oven mitt. This glove protects from the heat and it is textured, which allows a better grip. It has a hole in one corner, which allows it to be kept nearby, by attaching it to a cord, for example. A very practical idea!
You will also find in the box 3 silicone spatulas of different sizes, which are heat resistant up to 260°C (500°F), as well as two washable purifying filters of 73 and 190 microns respectively, depending on the final product longed for.
A non-stick, heat-resistant silicone butter mold is also included. It can go in the dishwasher. Slots allow for even bars, and the mold also includes an extra hole for extra butter.
The device itself offers a power of 800 watts. The interior has a double wall of stainless steel. The lid includes a capable blending blade that offers a speed of 15,000 RPM.
The brew rod is designed to be long enough for brewing smaller quantities. The fact that the rod almost reaches the bottom of the device also limits losses. We appreciate this freedom of being able to make small quantities of one cup (very practical for experimenting) or larger ones, up to 4 cups.
The controls are simple. Just enter the correct mode and the correct duration is displayed automatically. You can also adjust the settings as you wish to get a custom setting. The device is a bit noisy, but the noise is intermittent.
This device allows you to make herbal butter, oils, tinctures, spirits, soups, nut milks (almond, cashew, etc.), bulletproof coffee, gummies, cannabutter, cereal bars, and more. You can even make ointments and lotions.
Finally, note that the device has good durability and comes with a 3-year limited warranty.
Summary of STX Infuzium 420 Features:
Multi-usage
Dimensions: 31.8 x 21 x 17.8 cm / 12.5 x 8.25 x 7 inches
Weight: 3.18 kg / 7 lbs
Colours: black
3 year limited warranty.
We had a hard time finding faults with this STX Infuzium 420: unless misused, it should allow you to manufacture a wide variety of quality products, and for a long time.
---
2. Kilner Butter Churner – Best Manual Butter Maker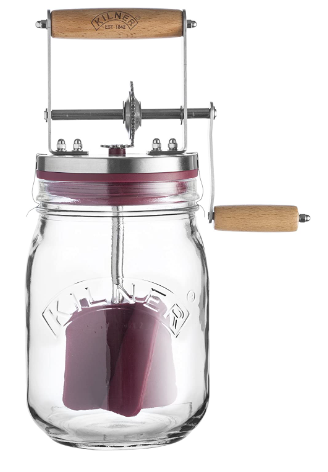 Are you looking for an original gift, or do you like objects that amaze your friends? With this beautiful device, you will be able to make butter in a jiffy (literally)!
What we think of the Kilner Butter Churner
With the Kilner Butter Churner you will experience a simple and traditional way of making butter!
The Kilner Butter Churner is a modern version of a device created in the 19th century in England. This version remains very faithful to the original model, both in its technology and in its appearance. It will seduce you if you want to include an appliance that is both original and vintage in your kitchen.
The process is quite simple. You will first need a very fatty cream (at least 37% fat), which you will leave at room temperature. This cream is then placed in the container of the device. You should then close the lid and turn the handle for about 10 minutes. The cream will thicken little by little to finally form butter.
The next step is to wash the butter in ice water to remove the buttermilk and help it set. Nothing comes with the device for this process, but you have everything you need at home. It may be useful to use wooden spatulas (not supplied) to better shape the butter, but this is not essential.
You will then have the buttermilk left in the container. The good news is that this buttermilk is not to be thrown away. It will be delicious in several recipes, especially for brioches or pancakes.
During your first tries, it can be frustrating that the result does not work, or takes much longer than expected. But if all goes well, you will have the pleasure of having created butter with the sheer force of your arms. !
This effort is the only energy expenditure necessary, which makes it a perfectly ecological device! On the other hand, because of this "sporty" aspect, this device will not be suitable for all people – it is indeed necessary to provide a sustained effort for several minutes.
The price is a bit expensive for a single function manual device. It is possible to add herbs or other flavors to adapt the butter to your taste, however, this appliance does not allow infusion.
Note that the device (including the jar) is not dishwasher safe.
Summary of Kilner Butter Churner Features
Butter only
Item dimensions: 28 x 11 x 11 cm / 11 x 4.3 x 4.3 inch
Weight: 0.9 kg / 2 lbs
Colours: transparent (glass) and wood
Yes, the Kilner Butter Churner is a bit expensive and the process takes a bit of effort. But it remains a beautiful and clever device, which offers the pleasure of actually making your butter by hand!
---
3. LEVO II – High-Performance Butter Machine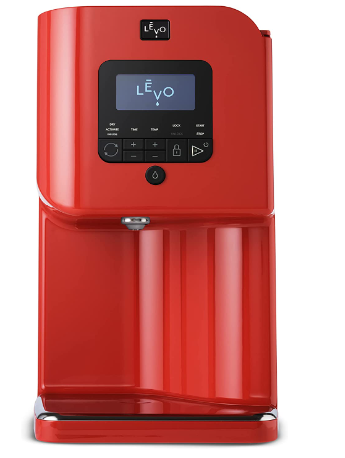 Are you looking for a high performance, versatile and easy to use model? In the top-of-the-range models, it is to the LÉVO II that we award the prize!
What we think of the LÉVO II
The "drying" function allows the ingredients to release their full flavor during the following phases.
The decarboxylation function is an essential step for your cannabis-based preparations, for example. This feature is missing from many other butter makers, and by offering it, the LÉVO II stands out from the competition.
Then, this device offers a very powerful infusion function. Thus, no emulsifiers, solvents or additives are needed to infuse, ingredients that may be essential with other devices.
Finally, the latest version, distribution, makes it easy to retrieve the infused product in the container of your choice. In its design, the LÉVO II is more reminiscent of an espresso machine than a kettle, which makes it an object that will naturally find its place in your kitchen, especially since several colors are available.
The main function of the LÉVO II is to infuse flavors into butter and oil, but it offers many more possibilities. So you will even be able to make soaps with this machine!
The LÉVO app is a valuable companion to this device. Thanks to it, you can program your own settings and synchronize them with the device via wifi. It also serves as a calculator for herb and oil quantities, or to control settings such as temperature, and provides access to recipes. You can even share your own.
But the main use of the application is to be able to check the progress of the preparation from anywhere in your home, without having to stay near the device.
This practical side is found when using the machine manually: everything is pleasant and simple. This simplicity is reflected in the maintenance: the tanks are easily removed for cleaning and the lower pipe of the main tank is unscrewed. Bonus: all the elements are dishwasher safe.
In terms of regrets, some will note that the capacity of the tank is a bit limited. You may also find that the heating time is a bit long. Finally, note that the lid must be handled with care because the hinge can end up being damaged with use. Too bad for a device at this price.
Summary of LEVO II features
Multi-usage
Dimensions: 33 x 20.1 x 17.5cm / 13 x 7.9 x 6.9 inches
Weight: 4.2 kg / 9.3 lbs
Colors: Jet, Meyer, Alpine, Robin, Cayenne
The LÉVO II is undoubtedly the most complete device in our selection, and it combines performance with ease of use. It's up to you to see if all its features justify its price, which is significantly higher than other butter machines.
---
4. Chef'N Buttercup – Best Budget Butter Machine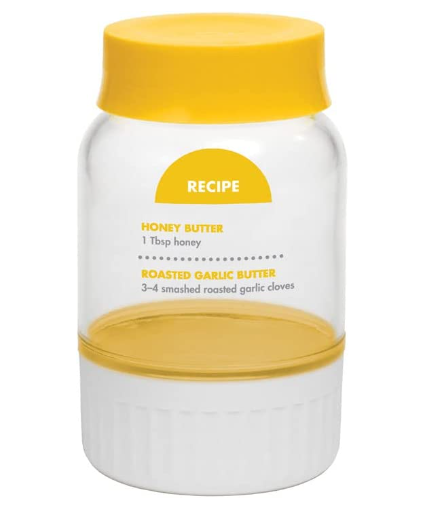 Shake, rinse… and there you are, with butter, as if by magic! This is the promise fulfilled by this nice little simple and effective device.
What we think of the Chef'N Buttercup
This device is the simplest of our selection.
All you need to do is leave heavy cream (minimum 36% fat) at room temperature for 6-8 hours. Then, put it in the device and shake! After a while the butter will solidify, so all you need to do is pour the buttermilk through the sieve and rinse the butter in very cold water several times. You can then open the lower compartment: you will have made your own butter!
It is therefore a very basic device and one that requires the most work and steps in our guide. But it accomplishes its task: to allow you to obtain butter from cream.
The butter obtained can be kept for 5 to 7 days in the refrigerator. Note that you can flavor the finished product, for example to obtain garlic butter and honey butter. However, no recipe is provided, and this is a step that you will have to perform manually, independent of the device. Also, the flavors will not be infused.
Be sure to close the screw compartments tightly, especially after many uses, otherwise the whole thing may leak a little.
There is a rather playful side to this process, because you really shake the device. You can think of it as a little fitness session! Do not hesitate to go there frankly.
The quantity of butter obtained corresponds to the capacity of the removable part at the bottom of the appliance. It's a small amount, and it's not necessarily economical, because the amount of butter obtained for the amount of cream is not huge (count about ½ cup of butter for 1 cup of cream).
He had to go back to it several times and rinse the butter between each step. It's quite laborious and the process is a bit messy. It is also advisable to clean the butter obtained with a cloth because a little buttermilk may remain on it. The advantage is that there is no need for an additional filter or cheesecloth.
In addition, the container is dishwasher safe, which is nice.
Summary of Chef'N Buttercup Features
Butter only
Dimensions: 14.2 x 8.1 x 8.1 centimeters / 5.21 x 3 x 3 inches
Weight: 177g / 0.39 Pounds
Colours: lemon/meringue
It's a butter machine, no doubt about it: you will indeed get the desired product. It's its only feature, however, but we don't expect more for such a price.
---
5. ONGROK Butter Machine – Comprehensive Cost-Effective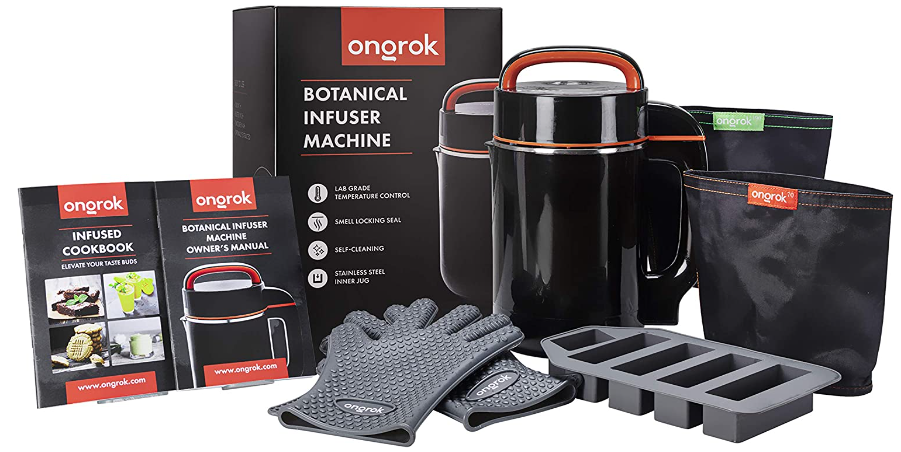 Do you want to buy local? In the field of butter machines, the one offered by Ongrok, a Canadian brand, does not have to be ashamed of the comparison with competing products.
What we think of the ONGROK butter machine
The device is supplied with very complete equipment so that you can have everything you need: a silicone mould, 2 silicone gloves, 2 nylon filter bags (190 and 73 microns). All of these items are dishwasher safe. A recipe book is also provided.
Like many other butter machines in the same category, all you have to do is insert the ingredients into the device and close the lid. All you have to do is press one of the buttons, each dedicated to a particular program, and to let the machine work!
The ONGROK Butter Maker offers cycles of up to 8 hours, depending on whether you're using it for oil, tincture, or butter. The first setting allows you to obtain an infused oil in just 1 hour, a speed that is highlighted by the brand. And it works very well!
Thanks to this machine, you will be able to obtain flavored oils or butters, topical creams, tincture drops, jujubes, honey infusions, and much more. The possibilities are great.
In use, this machine does its job very well and with simplicity.
The device itself is comprised of a stainless steel interior, and it's the same material found in the stem.
Hard to find fault with the ONGROK butter maker! In use, you may notice some finishing problems, but this is rather rare.
Summary of ONGROK Butter Machine Features
Multi-usage
Dimensions: 33 x 23 x 16.5 cm / 13 x 9 x 6.5 inches
Item weight: 3.4 kg / 7.5 lbs
Colors: black & orange
Guarantee "RiskFree"
Direct competitor of the STX Infuzium 420 in terms of price and performance, the Ongrok is a solid choice that will allow you great possibilities.
---
6. Herbal Chef Butter Dish – Simplest Butter Machine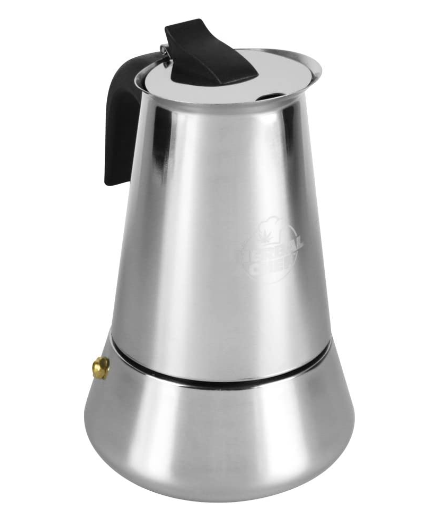 What we think of the Herbal Chef Butter Dish
The device consists of an upper compartment, a filter and an upper compartment. The interior of the compartments is made of stainless steel. Note that this product exists in several sizes: it is the "4 sticks" version that caught our attention.
The Herbal Chef Butter Dish looks like a steel coffee percolator, moreover it uses roughly the same principle. Here is the method to use: place water and the butter to be flavored in the lower part, place the herbs to be infused into the filter, insert the filter into the lower compartment. Screw on the top compartment and heat on your stove. After about ten minutes, the preparation is ready: you can pour it into a container. As it cools, the top layer which will have solidified will give you the finished product.
What impresses is the speed of the process: the infusion is done in 10 minutes! Note that you will still have to wait for the product obtained to cool in order to be able to clearly separate the cannabutter obtained. In addition, it will sometimes be necessary to repeat the operation, which can be laborious since the device remains hot for a short time.
The device is however rather easy to clean when it is cold.
We regret that the instructions are so brief, many may even qualify them as insufficient. Also, no additional equipment is provided. Damage!
Herbal Chef Butter Dish Features Summary
To make infused butter
Dimensions: 28 x 14.4 x 14.2 cm / 11 x 5.7 x 5.6 inches
Item Weight: 970g / 2.1lbs
Color: metallic gray
One year limited warranty
If you are primarily looking for a device to infuse cannabis on your stove, without having a larger device to plug into the power and take up your counter, the Herbal Chef Butter Dish is an excellent solution. It's not the most practical in terms of cleaning, but it's a machine that will serve its purpose wonderfully.
---
7. Magical Butter MB2E – Best All-Purpose Butter Maker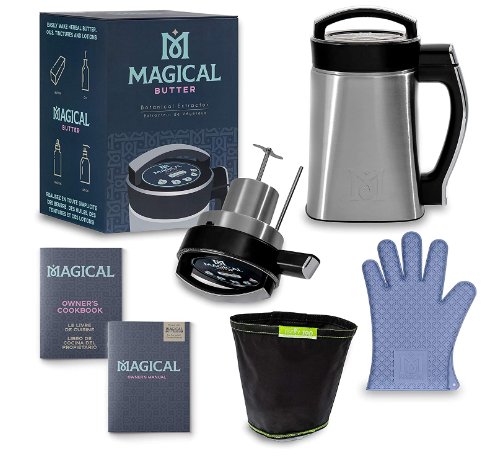 Are you a person who likes to experiment and make a wide variety of edibles or cosmetics yourself? Take an interest in Magical Butter MB2E!
What we think of the Magical Butter MB2E
The device is also supplied with a silicone glove which makes it easy to handle hot products. The glove is easy to clean, non-stick and textured for better handling. You also get a 190 micron nylon filter, reusable and washable in the dishwasher. On the other hand, we regret the absence of molds.
The Magical Butter MB2E is simple to use. Just put the herbs and other ingredients inside, press a button, and everything starts, the temperature and time are set automatically. The capacity of the device is 1134 ml, which allows you to get 5 cups: you will therefore be able to produce significant quantities.
Four pre-programmed steeping sequences are available: 1 hour for oil, 2 hours for butter, 4 hours for tincture, or 8 hours for perfect steeping. Light indicators around the lid indicate the progress of the process. Note however that it may happen that the cycle does not stop at the end of the timer… we advise you to monitor the time during the first uses.
Of course, you can easily create herb-infused butter that you can use in a lot of recipes. But the Magical Butter MB2E is far from limited to this.
A recipe book is offered with the device. It is short (7 pages), but practical, since it gives recipes for making an infused vinaigrette, a sauce, cereal bars, a drink, as well as the basic recipe for infusing flavored oil.
You can even create your own vegetable milk yourself (almond milk, oat milk, etc.). A strong argument for vegans or lactose intolerant people. And why not flavor your soda? This is also possible with the Magical Butter MB2E.
It is also possible with the Magical Butter MB2E to make dips (hot or cold) and marinades, or even personalized creamy dressings. You can even use this device to prepare soups, without using your stove.
Also, by adding the right ingredients, such as beeswax, cocoa butter, or essential oils, you can make homemade skin care products. A big plus, these products require some preparation without a device.
As you will have understood, what we like about this model is its great versatility. This is a machine that will allow you to express your culinary (or cosmetic!) creativity in so many different ways.
However, we still have a few small regrets:
The stirring blade inside the device is a little high, so there is a little loss of product.
The smell can be quite strong when making cannabutter
The price is also higher than other machines in this category.
In addition, the Magical Butter MB2E has an automatic cleaning function. However, this function is not optimal, in the end you still have to clean and it can be a chore.
Finally, note that this device comes with a lifetime warranty from the manufacturer, however this only applies if the device is purchased directly from the manufacturer's website.
Magical Butter MB2E Features Summary
Multi-usage
Dimensions: 35.05 x 24.13 x 24.13cm / 13.8 x 9.5 x 9.5 inch
Item weight: 4 kg / 8.81 lbs
Color: metallic gray
Lifetime warranty (manufacturer's site)
Despite some small flaws, the Magical Butter MB2E goes beyond the boundaries of the kitchen by allowing you to also make cosmetic products. This versatility comes at a price that puts the Magical Butter MB2E in a high bracket compared to directly competing machines.
---
Things to know before buying a butter machine
What are the differences between a manual and electric machine?
A manual machine will only create butter from cream.
Electric butter makers allow for a greater variety of products with their infusion capabilities. This process controls the heat to transfer the flavor, aroma, color and nutrients of the plant ingredients into the desired finished product (butter, oil, etc.).
Can I start using the machine with everyday ingredients?
The ingredients of the recipes are very variable depending on the products you want to make. You can look up recipes readily available online, to give you a better idea.
For several recipes, note that you will need particular ingredients, such as lecithin, for example.
The machines have a decarboxylation function?
Several machines have the ability to make cannabis-infused products (butter, oil, tincture). But before that, the raw material must undergo an essential process, called decarboxylation. Only high-end butter makers have the decarboxylation function. For the others, you will have to do this step separately (in the oven, for example).
---
Our selection criteria for buying a butter machine
Cleaning
Making homemade products is messy! Many butter machines offer a handy automatic cleaning system. This can represent a more practical good appreciable, which can influence your purchase.
Versatility
The range of products that can be obtained with these machines is very variable.
If you want to experiment continuously, in a wide variety of product types, you can choose a model that allows it. On the other hand, there is no need for a more expensive device, capable of doing everything, if you are only looking to obtain a particular type of product.
In this guide, we have tried to tell you which machines are best suited for which product.
The equipment provided
Several models are supplied with equipment (gloves, molds, filters, etc.) to help you with the butter-making process. This can clearly play a role in choosing one model over another.
---
We do our best to offer you a product comparison allowing you to choose the best butter machine possible. If we missed any information or new designs, feel free to leave a comment below or send us a message.