Wine glasses are one of the must-have everyday utensils in Canadian households. It's summertime, and it's time to enjoy a glass of wine while taking advantage of the beautiful weather outside: by the pool, camping, at the cottage, hiking, or simply at the park. It is then essential to equip yourself with the essential accessory for any wine and outdoor enthusiast: a wine goblet. But finding a wine goblet that holds up is not always easy.
Indeed, far more than the plastic-stemmed glass from the Dollarama that will already be broken in your bag before arriving at your destination, or the famous red or blue plastic cups that are even less solid and durable, there are a multitude of wine goblet models on the market. Some will work more on sturdiness, others on style, or even on the quality of the insulation to preserve the temperature of your wine.
Whether it is for the ecological and reusable side, to better respect nature while drinking a glass, the practical side to open a Chardonnay by the lake, without drinking too many flies with it, or simply the festive side to serve glasses by the pool or at Laurier Park without risking a broken glass, the wine goblet is a must for those who enjoy a Riesling in the sun.
To help you make your choice, we analyzed and compared 50 models of wine goblets available on the Canadian market for 40 hours, and we took into account the opinions of 800+ consumers and wine lovers.
---
1. Southern Homewares Vino – Best Overall
Southern Homewares Vino Features:
Double wall insulation
Acrylic
Holds 300 ml
Merlot red lid
Sturdy and easy to carry
What We Think of The Southern Homewares Vino
Sturdiness, versatility, practicality, and stylish design: the Southern Homewares Vino wine tumblers combine several notable elements that put them at the top of our ranking. One of the best choices for safe poolside drinking, camping or outdoor festivals.
Southern Homewares has chosen acrylic to meet one of the most important arguments: solidity. Handle with care, but in case of a fall for example, acrylic will be more solid than glass, and we will avoid a damage, and a lot of trouble on the terrace with the children in the middle… And moreover we can put them in the dishwasher without any problem, which is very practical and is not the case of some plastics.
As for the insulation, we have here a double wall which allows a better conservation of the temperature, in particular the cold. A notable advantage is to be able to enjoy a bottle of white wine in summer without it heating up too quickly!
But the most important thing to mention is the design of this double wall: the stemmed glass inside, wrapped in an additional transparent wall. Basically, it's as if your classic wine glass has been turned into acrylic and put inside an extra cup for added strength and insulation, while still looking elegant with the stemmed glass appearance.
It is also possible to close the glass with a colored plastic stopper equipped with a spout for drinking. This can be useful for example to avoid unwanted intruders in the glass when you are outside under the trees, and you do not want leaves or twigs in your wine, or other intruders.
Beware, however, of the lid's tightness, which can sometimes leave something to be desired, especially over the long term, as the plastic becomes a bit softer over time. Some users have noted that liquid can sometimes leak out even when the lid is closed. However, it is never recommended to tip a glass too far, even when sealed with the cap. It should be considered more as a safety feature to avoid spilling liquid when moving around outside, for example. And for this role, the lid fulfills its role perfectly.
And to conclude still with the lids, we must underline their beautiful merlot red color, which adds the small touch of elegance in agreement with the color of the red wine. And if you are more of a Chardonnay or Sauvignon Blanc drinker, you should know that there is a version with green grape-colored lids, if you want to push the style agreements and also match with white wine!
We love these goblets from Southern Hardwares because they will satisfy most of the right criteria for the outdoor wine glass: sturdiness, insulation and temperature maintenance, lightness, simplicity, lid convenience, dishwasher compatibility, but also the elegance of a classic wine glass! A great choice for anyone who wants to sip outdoors in style.
---
2. Camelbak Horizon Tumbler – top-of-the-range wine Goblet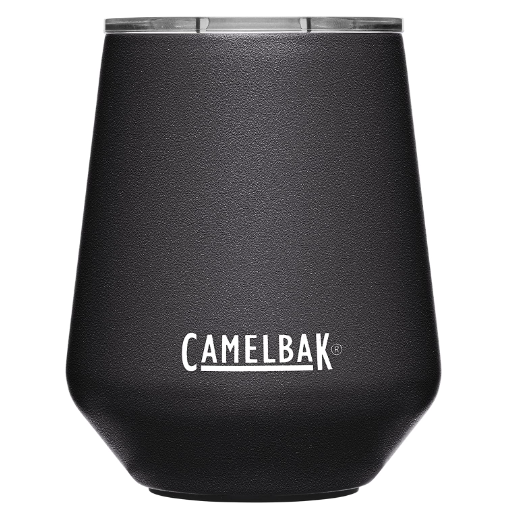 Camelbak Horizon Tumbler Features:
18/8 stainless steel
Double wall vacuum insulation
Eye-catching powder coating
3 position lid, flow control
Silicone underneath the cup for stability and protection
What We Think of The Camelbak Horizon Tumbler
Camelbak is an outdoor brand, so we can trust them for quality products studied for transportation, travel and outdoor. Here they offer us the Horizon tumbler, a choice that stands out for its good manufacturing materials and its format.
Let's start with the shape: with a capacity of 12 ounces, a little more generous than most of the classic wine cups, the Camelbak Horizon also seduces by its shape, like a big glass or cup. Many users are delighted because this cup fits in the famous cup holder of the camping chair, unlike normal stainless steel cups.
We continue with 18/8 stainless steel with a double-walled vacuum insulation: no worry for the freshness of the Chardonnay which will be preserved here! The plastic lid, equipped with 3 removable positions to change the flow rate for drinking, protects the wine from insects and splashes, provided of course that you are still careful and do not turn or spill the glass, where some users have sometimes noted a lack of watertightness. At the same time, no lid will work miracles in certain situations…better to be safe!
We like the eye-catching powder coating that allows a good and safe grip, it doesn't slip even with perspiration. Moreover you can choose between several colors, from black to pink, there is something for everyone! But there is a remarkable addition from Camelbak: the bottom of the glass is covered with a thin layer of silicone. A detail that makes a big difference when putting the cup down, whether it's so that it doesn't slip on a wet plastic table, or so that it doesn't scratch a surface like a glass table, or so that you don't feel the icy coolness of the drink when you put the glass down on your thigh for example!
Sure it's an investment, but the Camelbak Horizon should become your travel and outdoor companion for many years to come, and can also be used for hot drinks like coffee. A solid and durable product with quality materials, a glass that you are proud to put on the picnic table, or on the patio.
We go into a higher quality with this CamelBak Horizon. We like the format a little bit bigger but stable and well taken in hand, the quality of the materials which makes it a solid and durable cup, in addition to its isothermal efficiency which will also work for a hot drink. We like its design and the small details that make it better, the 3 positions of the lid, the small protection under the glass: a quality wine goblet for outside and for the open air, but also at the edge of the swimming pool.
---
3. Chillout Life – Low-Budget Wine Goblet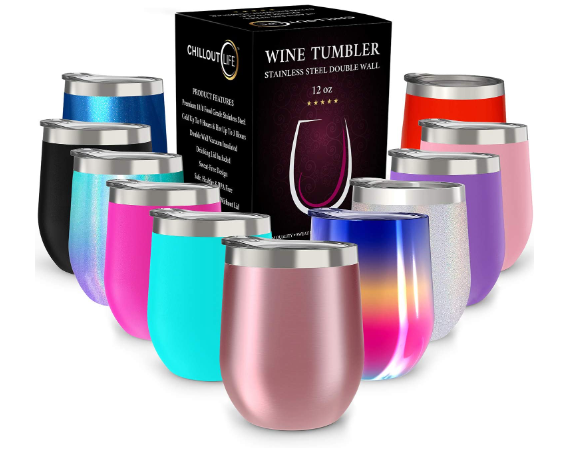 Chillout Life offers us a nice little wine goblet, in a classic stemless glass format, but with a choice of bright colors and various very festive patterns! Stainless steel, BPA-free plastic lid: the quality is there for this model of cup that will brighten up your outings and keep your drinks cool!
Chillout Life Features:
Double wall stainless steel insulated design
Removable BPA-free lid with straw option
Non-slip coating for a better grip
Can keep cool for up to 9 hours
Wide choice of bright and festive colors
Sturdy and unbreakable, safe for children
Capacity: 12 ounces / 340 ml
What We Think of The Chillout Life
When it comes to pouring a glass of wine outside, some people prefer the more compact goblet format, like a normal glass and not a stemmed glass. More practical, more portable, safer, easier to clean. That's why we really like this wine goblet model from ChilloutLife, very well designed overall, and for a very affordable budget.
First of all, we notice the solidity, a priority in a wine goblet. We are here in stainless steel and with a double vacuum wall, which allows not only a good quality of insulation, but also a robustness to the outdoor.
This isothermal quality also allows you to keep a drink fresh for a long time. As for the coating, we like the gripping surface that facilitates the grip, avoiding accidents when the glass is wet.
But it is also important to underline the possibility to use these nice cups for other drinks than wine, and we can think for example about the children who love the nice colors available and would like to drink in the same glasses as the adults.
We also like its removable lid without PBA which allows to drink with the lid closed, but also to slide the cover to insert a straw. Even if, as for many plastic lids, the permeability is not 100% reliable and you have to be careful. However, it will still be effective enough to prevent spilling wine, which can easily happen when you are in a pool or a park!
A detail to note for some: drinking with the lid on can be uncomfortable due to the bubbles created by the passage of wine through the spout to drink. But it depends on the use, some wine lovers prefer to drink without the lid, directly from the glass.
We remain with a quality product that seduces by its fancy colors, and will become a precious ally of family outings to enjoy a small glass of wine outside!
We love the color choices of Chillout Life, from rainbow to pink to leopard. Despite the quality and the design of the lid which can leave something to be desired, this small glass fulfills its role perfectly when filled with red, white or even other drinks. We like its size and its easy grip, as well as its solidity thanks to the double isothermal wall of stainless steel. A fun and appreciable product for families, and without breaking the bank!
---
4. Simple Modern Goblets – A Wine Goblet For Elegance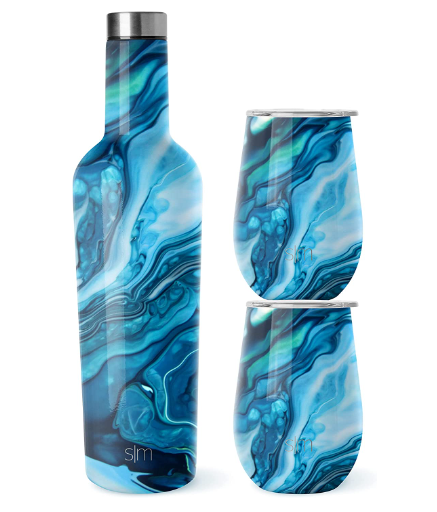 Colorful wine cups with 34 colors available
Are you looking for elegance with beautiful colors, and good insulation quality? Simple Modern offers us a beautiful range of wine goblets, with a variety of interesting choices, whether it be in terms of glass sizes or colors. A model that will give you style while keeping your Sauvignon Blanc cool!
Simple Modern Wine Tumbler Features:
Double vacuum insulation
Reinforced insulation with copper coating
18/8 stainless steel
Easy grip, does not get hot or sweaty
Wide range of colors
Several glass sizes to choose from: 8, 12 and 16 oz
What We Think of The Simple Modern Wine Tumbler
Wine goblets can sometimes look a little cheap, or unattractive, whether it's plain plastic or silver stainless, their appearance is not always classy, which can be frustrating for some wine lovers for whom elegance counts, to honor a noble bottle for example. The Simple Modern brand has focused on this aspect and offers us a quality range with remarkable designs and colors, which will give you a modern and elegant look by the pool!
We obviously like the wide range of colors offered, from rainbows and coral to ocean geodes, red fruits and other stylized shades, with a slightly tropical theme: you should find what you are looking for and the one that suits you best to look good at your next outdoor party!
We also note the quality of the insulation, the glasses are vacuum insulated with a double wall, the second of which is covered with a layer of copper. This results in a good isothermal performance to keep the liquid cold, but also warm.
And for sturdiness, Simple Modern chose a high-quality 18/8 stainless steel, guaranteeing durability over time. We also like the shiny coating of the glasses and the quality of the grip.
Only one criticism: the plastic lid was a bit neglected in terms of efficiency. Although designed in a quality material, without titanium, and studied to be able to drink through it, it does not generally close very well. So it may not be the ideal cup if you are on the move, for example in a pool or on a boat.
On the whole, this is a good quality product that will stand out because of the elegant lining and colors. Note that Simple Modern also offers a range of related products such as an isothermal wine bottle, so you can take not only your glasses but also the bottle to refill at the dockside
Simple Modern offers us here a quality choice that will please those who care about elegance, provided you like the choice of gradient colors with a modern style, perhaps more corresponding to tropical cocktails than to red wine! Not the best as far as the lid is concerned, but we like the durability and quality of the materials used: your Riesling will stay cool and you will look good with your wine cup shining with its beautiful colors in the sun!
---
5. Homemakr goblet – Best For Travel & Outdoor Use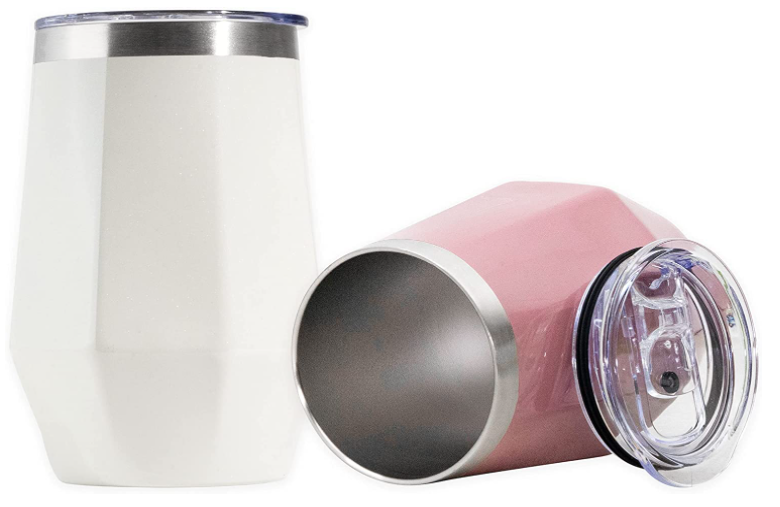 Looking for a durable pair of wine goblets for your outdoor outings? One that holds up well when you're out and about, with a small lid to keep Chardonnay-loving insects away, and one that keeps wine at the right temperature, and even hot drinks? Then this pair of tumblers from Homemakr should satisfy you.
Homemakr Insulated Stainless Steel Tumblers Features:
Stainless steel, double wall
BPA free lid
Smooth pearlescent finish for a sturdy, sweat-proof grip
Keeps wine cold for up to 12 hours
12 oz
What We Think of The Homemakr tumbler
Summer is here, and you want to go to the next level for sipping a glass of wine outdoors, and also to a more ecological level than plastic glasses: a quality, durable, solid, and efficient wine cup. Homemakr offers us a good product that will meet all the criteria and requirements of those who enjoy a Riesling while camping.
Homemakr chooses the simple format of the 12-ounce glass, but adds a little hexagonal diamond shape, which adds a much easier grip, less slippery with perspiration for example, but also a unique, modern, and a little more sleek look than the classic round glass! The good grip is also reinforced by the glossy pearlescent coating, a slightly "powdery" style of paint that is less slippery.
In terms of strength and durability, these reusable cups are made of 18/8 stainless steel, a quality material that makes them notably non-toxic, BPA-free, and highly resistant to rust, bacteria, and flavor alteration. It also makes it a shock and fall-resistant container, with no danger for children for example, in case of a glass explosion…
We also like the isothermal double wall which allows for optimizing the conservation of freshness in the glass, the wine remains fresh for several hours according to some users. The brand claims up to 12 hours of freshness. At the same time, if you need 12 hours to drink a glass of wine…
We really appreciate the accessories provided: a mini brush for cleaning, reusable metal straws, and the BPA-free plastic lids, adapted for straws and preventing dust, insects, and splashes. Beware, however, of the durability of these small plastic lids, which are less durable.
Finally, you will have the choice between two pairs of colors: either burgundy red and dark blue for the more sober side, or white and bright pink for the softer and more elegant touch.
We like the slightly different shape that gives a unique style to these Homemakr cups, in addition to an excellent grip. Despite the fragility of the plastic lid that makes them lose a star, these wine goblets impose themselves with an excellent quality-price ratio, notably thanks to the accessories provided, the durability and the solidity of the materials used: a pair of reusable glasses that will be perfect at the cottage and by the lake!
---
6. Cupture cup set – Meet various needs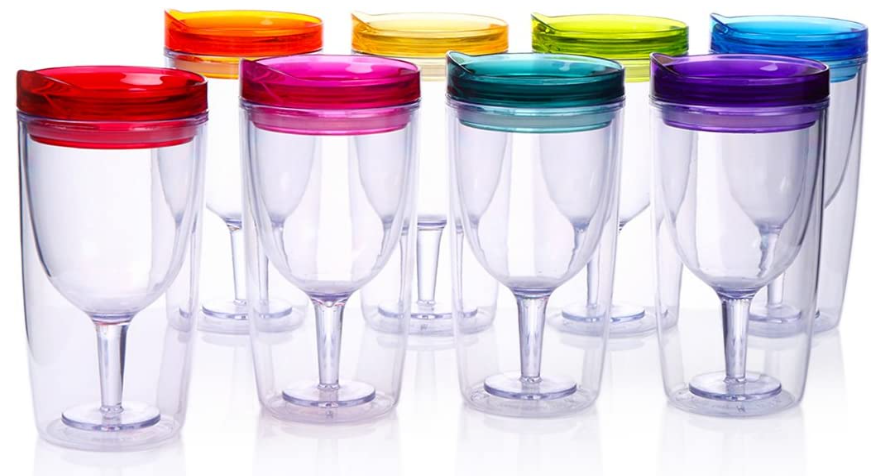 Cupture Wine tumblers Glasses Set Features:
8 cups in different colors
Double insulated
High quality acrylic and BPA free
Lid for drinking and straw
Wine glass shape
Lightweight
What We Think of The Cupture Tumbler Set
Not everyone absolutely needs a hand-painted triple-insulated stainless steel wine goblet, some will be satisfied with a simple set of plastic glasses, but without giving up the stemware and bright colors! This is where Cupture comes in with this charming set of 8 wine goblets.
They are made of high-quality acrylic, and are BPA-free, so good plastic if you will, and no risk of glass shattering by the pool, that's a good argument for plastic wine cups. That said, it's still plastic, and it can also break, you have to be aware that these glasses are a bit fragile and not necessarily durable on the long run, depending on your use and your precautions.
We like the different colored lids, despite their inefficient sealing according to some users, allowing everyone to recognize their glass on the patio table. Some users went further by personalizing the glasses, by sticking their vinyl labels on the cups: success guaranteed.
We also like the shape of the stemmed glass, a bit like a stemmed glass enclosed in a transparent cup, to keep the look of the wine glass without the problems of broken glass on the outside. We also note the double insulation, relatively effective to keep the freshness of the liquid.
We remain aware that these are fancy quality cups, we are more for occasional use, and we are less in the solid and long term. However, for an outdoor event with your guests, these Cupture cups will perfectly fulfill their role once filled!
We love the party look of these little wine goblets from Cupture, with their colored lids and the look of a stemmed glass. Of course, we are not talking about high quality and durability, either in terms of the plastic's solidity or the lid's waterproofness, but for an outdoor summer occasion, they will be charming and will delight your guests. Use with care, perhaps not for children, but perfect for a boat trip or a pool party with friends!
---
7. Camco Wine Tumbler Set – Perfect for Camping, Tailgating and Parties
Want to have the option of having a stemware or not when camping or picnicking? To have style while keeping the materials strong and optimized to keep fresh? Then this wine goblet model from Camco should appeal to you with its removable stem and its different colors!
Camco 51917 Life is Better at The Campsite Wine Tumbler Set Features:
18/8 stainless steel
Double wall vacuum
BPA free lid
Removable colored feet
Capacity: 8 ounces / 237 ml
What We Think of The Life is Better at The Campsite Cups
Life is better at the cottage, camp, hunting camp, or summer camp: the warm weather is here, and what better way to enjoy a nice bottle of wine than by the lake or in the great outdoors? You'll need a wine cup that's perfect for being outside. Some brands offer simple tumblers, others steel stemmed glasses, but Camco has gone one step further by offering wine tumblers with a removable stem! This will allow you to choose the size that works best for you, if you're sitting at a table or by a dock with less stability for example.
Let's talk about the glass itself first: it looks like a classic outdoor tumbler, made of raw stainless steel, silver color, 18/8 stainless, it's solid, to withstand travel. But we also note the double vacuum wall for the isothermal side that will allow you to keep a white wine well chilled outdoors.
As for the removable foot, which is made of plastic, to be used with care because it remains a removable foot and in a lighter material than steel, so you have to be careful, and pay attention to the stability. But we like the different colors for each foot, which allows for example to recognize the glasses during an outdoor party, and to go to another level much more ecological than disposable plastic glasses with the name marked with a felt pen.
It is worth mentioning that these wine cups are closer to the size of traditional wine glasses, smaller in capacity. This remains a detail, and actually an advantage for white wine in a way, since it should be known that a smaller glass will necessarily stay cooler for longer than a larger glass with a larger quantity. So in terms of Chardonnay, it's really not a problem.
We like the original and daring concept of these wine goblets and their sweet name of Life Is Better at the Campsite, trying to find a versatile in-between to go from stemmed glass to normal glass! Maybe more gimmicky and for the color schemes than anything else for the removable feet, but on the side of the glass itself, we stay in good solid stainless that keeps the wine fresh for quite a long time, with the little lid as practical, definitely a good choice for the outdoors!
---
What to know before buying a wine glasses goblet
Why buy a wine glasses goblet?
It's a question that comes up, especially when the weather is nice and you're sipping wine outdoors: at the cottage, in the park, at the pool, or even camping. So what's the point of buying a wine goblet?
Enjoying a glass outdoors: This is of course the first use, to be able to enjoy a bottle of good fresh and fruity white wine outdoors under the sun! And lugging stemmed glasses in your bag is not very practical for the outdoors and for transportation. So to be able to drink by the lake, sitting on the dock at the cottage, at the campground in the evening after a hike, or at Lafontaine Park with a group of friends, or simply in the garden at home during a family meal, the wine goblet is a must for any outdoor event.
Safer: There is a reason why bottles and other glass containers are often prohibited in public places where alcohol consumption is permitted: if a glass falls, it can quickly lead to an explosion and glass debris everywhere. Especially when there are children around, it's quickly panic. That's why a wine goblet is practical and safer to enjoy a glass outside without risking an accident, whether it is made of steel or acrylic for example.
More durable and ecological: When you say drink outside, you often mean plastic cups. A simple and efficient solution, it doesn't cost much and there is something for everyone. However, you must have heard about this plastic continent floating off the Pacific Ocean: it is urgent today to limit our ecological footprint with a more responsible and sustainable consumption. In this sense, buying a good reusable wine cup will allow you to enjoy a glass of wine in the middle of nature while respecting it better.
Keeping the wine at the right temperature: Who hasn't had the bitter experience of the bottom of a glass of white wine on a hot summer afternoon, whether in a plastic cup or a classic stemmed glass on the patio table, becoming warm and no longer drinkable? The advantage of a good reusable wine cup is also its isothermal quality, which will allow you to keep the wine cooler for a longer period of time to better appreciate it, and not to waste it.
Protect the wine from insects and debris: Drinking a glass outdoors at sunset, especially in Quebec, especially in cottages in the region, from Abitibi to Mauricie, is also sharing with other wine lovers, insects: flies, wasps and other flying bugs that invite themselves against our will in the glass. So to avoid these unwanted intruders, and not have to hear your boyfriend's "protein" joke again, most wine cups are equipped with a plastic lid. This also helps prevent other outdoor intrusions like leaves or twigs when you're under trees.
Style and Elegance: Whether you're camping or at a simple backyard family party, it's not easy to stay classy while drinking a glass of wine from a disposable plastic cup, even if you have a nice dress or shirt. More and more quality wine goblets are focusing on the look with various designs and colors. Whether it's in the shape of a stemmed glass or a modern, slender glass shape, or in the funky patterns and gradient colors, there's something for everyone today. So a good wine goblet will also keep you stylish and elegant when drinking outdoors.
What is The Principle of a Wine Goblet?
As you can see, this is simply a transportable and practical outdoor container for drinking wine in a different way than a classic glass or plastic cup from the dollar store.
In the way it works, it is similar to the isothermal containers used for coffee or water, thermos flasks, which try to keep the temperature of the liquid at its best with various technologies, such as double vacuum insulation. Many wine cups opt for a double wall to keep the temperature of the wine stable once served, and to preserve the freshness.
There is also often a plastic lid or cap that seals the top of the glass to prevent not only intrusions (insects or leaves) but also splashes and spills when moving around outside.
Our Criteria For Buying a Best Wine Glass Goblet
Obviously, the consumption of wine outside and the use of wine cups will be different for everyone. One will not choose the same model for a camping trip or for a reception at home.
Types of Wine Goblets:
Plastic: for occasional use
Some wine goblets are made of acrylic, a sturdy, high quality plastic that is often transparent and shaped like a stemmed glass. These models are more recommended for occasional and domestic use as they are often less durable, such as if you are entertaining for a meal or an event in your garden or in public, or if you only plan a few outings to the park around the corner, or to the pool with your friends.
Stainless Steel: more durable
Steel wine goblets will be more durable, especially in terms of strength, and more efficient on the isothermal side for freshness. They are more often without stem, with a more classic glass shape, more stable and sometimes holding more. These types of models are recommended for a more regular use, and more resistant to transport, for those who really use them outdoors: hiking, camping or various excursions.
It's up to you to choose the wine goblet that best suits your needs and usage! Here are some criteria to consider.
Sturdiness and Solidity
Ideally you want to be able to reuse your wine cup, so you need to consider the sturdiness in relation to the use you make of it. If you use them at home or with neighbors and family, rather occasionally, and you put them on tables, you will not necessarily need steel cups, while if you travel a lot with your cups and you use them in the open air, on all kinds of surfaces, and you use them more intensively, you will rather invest in something stronger.
The Quality of the Isotherm
Depending on the quality, wine cups have a different isothermal capacity, meaning that some are more efficient at keeping wine at temperature longer. Again, this criterion will be different depending on your use, outdoors in the woods or near a lake under the hot sun, or at home, near the kitchen, or in the pool, with more shade nearby, and depending on the temperature outside of course.
The Style
Some wine lovers will be sensitive to the look of the wine goblet. Drinking out of a stemmed glass and a goblet can quickly make you lose your elegance, for example! Fortunately, there is a wide variety of shapes, designs, colors and materials available on the market, so you can make a choice in accordance with your aesthetic values and your style, whether it is a transparent goblet in the shape of a stemmed glass, a more sober goblet in the style of a "sport" or outdoor gourd, or a goblet in the colors of a rainbow shining in the sunlight.
Cleaning
Always depending on your frequency of use and the place of use, you will have to take into account the ease of cleaning your wine goblets. The choice will be different if you have access to a dishwasher and you plan to buy 8 glasses and you want to clean everything quickly, or if you are away on a camping trip for a week and you wash your cups by hand.
The Price
We try to select products with the best value, but it comes down to your personal judgment and your goals for using your wine cup. If a simple acrylic tumbler is right for you, for example, if you use it very occasionally, you can get it for around 10 to 15 CAD per tumbler, considering sets of 2 or 8 depending on the brand and model. If you are looking for something more solid and durable, for a more regular and long term use, you will be able to find good value models with a budget of 25 to 40 CAD for a cup.
---
We do our best to provide you with a product comparison to help you choose the best wine goblet possible. If we have missed any information or new models, feel free to leave a comment below or send us a message.