In winter, do you enjoy getting together with your friends, to chat and have fun around tasty little dishes? The season is conducive to conviviality and good humor.
But, in order to really benefit from it, certain tools seem essential. This is particularly the case of the fondue set.
However, choosing the model that meets your expectations can quickly become complicated. Indeed, depending on the number of people to receive, or the main ingredient used (cheese, oil, chocolate, etc.), you will not necessarily select the same product.
In order to help you see more clearly, we analyzed then compared 30+ models for 40+ hours and took into account the opinions of 600+ consumers.
The seven models presented here are those which seem to us the best after numerous comparisons and analyses. A guide is at your disposal to find out more about our sorting method.
Following our last update, our favorite model is the Starfrit The Rock 024704, with its very good quality-price ratio, it will allow you to share excellent moments with your family.
---
1. Starfrit The Rock 024704 – Best Overall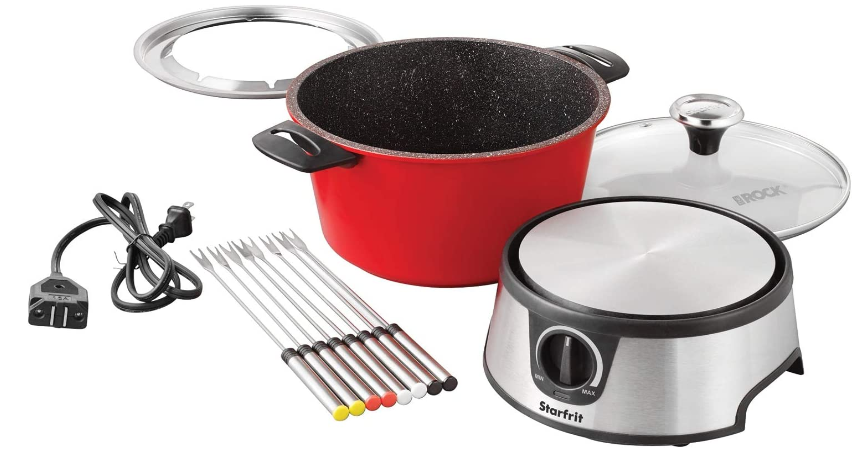 Although fondue sets look similar to each other, they are not all of the same quality.
If you want a model at a good price that ensures simplicity, practicality and safety, look no further.
The Starfrit The Rock 024704 might be the one for you.
Starfrit The Rock 024704 Feature Summary
The best value for money.
Ultra-thick cast aluminum fondue pot, The Rock non-stick coating.
Compatible with stoves, including gas.
Electric stove with knob for temperature control, magnetic plug.
The stove and power cable slide into the fondue pot for storage.
Includes a tempered glass lid, 8 stainless steel forks and a stand.
1500 watts.
Pot capacity: 3 L / 3.2 quarts.
Warranty: Limited, 1 year.
What we think of Starfrit The Rock 024704
The Starfrit The Rock 024704 is a value-for-money appliance that can be used for all types of fondue dinners.
Its ultra-thick caquelon is made of cast aluminum, which allows good heat distribution.
It is coated with a patented non-stick coating for which The Rock products are famous, thus greatly simplifying its cleaning.
This caquelon offers a large volume, ideal for families of four or more.
It can also be used on a stove, to speed up meal preparation, before being placed on the included stove.
The latter uses a dial for temperature control.
It is connected to a magnetic plug, which means that if a person catches the cord, it comes off without spilling the fondue pot and its contents.
This product comes with eight stainless steel forks with four different colors on their tips.
They are somewhat fragile, so handle them with care.
A tempered glass lid is also included and allows you to keep your fondue warm while waiting for the start of the meal.
Another advantage of this product is its efficient storage.
Indeed, you can save as much space as possible by sliding the stove and its cable inside the fondue pot, then closing the lid on the whole thing.
The Starfrit The Rock 024704 is a practical and safe fondue set. Its non-stick coating is effective and the heat is well distributed in the caquelon. Despite its large volume, its well-conceived design requires only limited storage space.
---
2. Ricardo Silver Set 63402 – High-End Fondue Set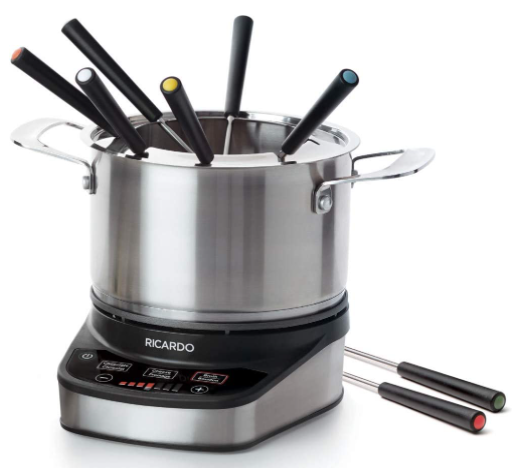 Sometimes, certain fondue sets require constant temperature monitoring.
What if a model offered a constant and pre-programmed heat according to the type of fondue?
This is what the Ricardo Silver Set 63402 offers.
Ricardo Silver Set 63402 Features Summary
The model for precise control.
Graduated stainless steel fondue pot for all types of fondue.
Compatible with all types of cookers, even induction.
Pre-programmed temperatures, adjustment thanks to 7 additional settings.
Dishwasher safe for convenience.
Includes 8 stainless steel forks and a splash guard to support them.
1200 watts.
Pot capacity: 3 L / 3.2 quarts.
Dimensions: 19 * 12 cm / 7 * 5 in.
What we think of the Ricardo Silver Set 63402
The Ricardo Silver Set 63402 is a device with a slightly higher price, but whose versatility and precise control make it stand out from the pack.
It can be used directly with Chinese, cheese or chocolate fondue.
Its large fondue pot with large handles is entirely made of stainless steel and its interior is graduated.
Just like the other accessories included except the heating base, it can be placed in the dishwasher for simple cleaning.
It is also compatible with all types of cookers, including induction and gas.
Once your fondue is ready to be served, simply place the fondue pot on the stove.
The latter offers three pre-programmed temperature options, to be selected according to the content to be kept warm.
The heat level is considered to be optimal, but it is always possible to adjust it if it is not to your liking.
Simply select one of seven settings using the buttons on the touch control panel.
This model comes with eight stainless steel forks that are distinguished by their colored tips.
The user guide also provides six recipes to vary your dinners.
The Ricardo Silver Set 63402 is a versatile device that keeps your fondue at the right heat. This is due to its programmed temperatures, which can still be adjusted according to your tastes. Plus, it's stovetop and dishwasher safe.
---
3. Starfrit 0925210040000 – Best Budget Fondue Set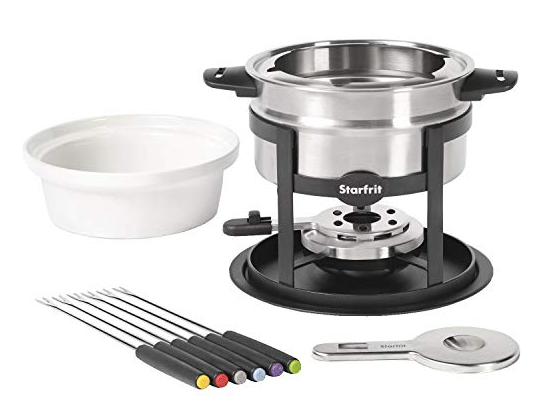 For you, the fondue is above all a little daily pleasure, which you like to share from time to time with your other half and your children? You might as well not bother with a huge device. The Starfrit 0925210040000 takes up little space while being perfectly versatile.
Summary of Starfrit 0925210040000 features
Induction-compatible stainless steel fondue pot, ceramic bowl.
Adjustable burner for more control and safety.
Supplied with 6 stainless steel forks with different colored tips.
Plate and support in carbon steel, anti-splash ring in stainless steel.
Gel fuel required .
Pot capacity : 1.6 l / 1.7 pint.
Ceramic bowl capacity : 600ml/21 fl oz.
What we think of Starfrit 0925210040000
You are here facing a fondue set in a traditional spirit, which therefore works thanks to a burner (with gel fuel). The latter has the particularity of being adjustable, which allows more precise and safer operations, to guarantee that the evening ends as well as it began.
The particularity of this batch is to include the classic caquelon (with a capacity of 1.6 l, that is to say 1.7 pints), but also a ceramic bowl (with a capacity of 600 ml/21 oz liq.), intended to accommodate chocolate or cheese.
This is rather a good idea, because the surfaces are thus better preserved.
Despite a very affordable average price, the Starfrit 0925210040000 is particularly well made. The fondue pot, the fork guide, the forks and the burner are in stainless steel, while the support and the plate are in carbon steel. You avoid suffering from plastic.
We find the fondue pot very practical, as it can be placed on all hobs, including induction. This is perfect for heating up the fondue more quickly before eating.
The six color-coded stainless steel forks allow everyone to find their way around without difficulty.
The device adopts a simple and sober appearance, which suits all situations. It is also significantly less bulky than other models, which is why we recommend it to people who lack space. In addition, the fondue pot's handles make it easy to move and store.
We note two small drawbacks: some people find the capacity a bit limited compared to their needs, and we have seen isolated cases of users having received the broken ceramic bowl. This last point should be put into perspective, since the defective products have obviously been replaced.
If you are mainly looking to share good times in small groups, the Starfrit 0925210040000 is ideal: it is an accessible and versatile fondue set, with little stress thanks to the absence of electricity. On the other hand, to organize more lively evenings, the capacity may seem limited.
---
4. Nostalgia FPS200 – Best Stability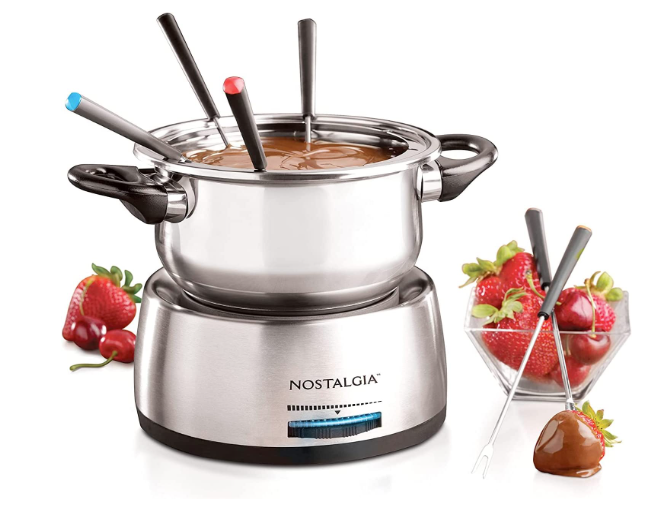 Do you love fondues, but find that the devices available on the market are not always as safe as they should be? If you are looking for a stable, practical product that best limits the risks, the Nostalgia FPS200 seems capable of meeting your requirements.
Summary of Nostalgia FPS200 features
Large base with blue illuminated temperature control dial.
Anti-heat pot handles for easy movement.
Stainless steel construction, removable parts compatible with dishwashers.
Support ring with slots to accommodate the 6 colored forks.
Pot capacity : 1.4 l/1.5 qt.
Dimensions : 17.1*19.7*26.7cm/6.75*7.75*10.5in.
Weight : 1.25 kg/2.75 lbs.
What we think of the Nostalgia FPS200
The main specificity of the Nostalgia FPS200 is not difficult to notice: indeed, the device takes the form of a solid base, which you put directly on your table. Since there are no legs or supports, it is less easy to tip over and therefore you benefit from better safety conditions.
Just place the fondue pot on the unit, and you're done.
To adjust the temperature, you simply have to turn the dial, which is equipped with blue lighting ideal for enjoying better visibility, especially when it is a little dark.
Note that this fondue set does not heat up very much, which means that we recommend it above all if you want to prepare cheese or chocolate recipes. Nothing prevents you from using it with oil, but you may need to be a little more patient in this case.
The manufacturer has chosen to equip the fondue pot with anti-heating handles, which is an excellent idea: you have the possibility of moving it more easily, and you do not burn yourself during service, cleaning or storage.
The machine comes with six forks, each fitted with a colored tip, for differentiation. The ring has slots for forks, so your guests are free to focus on fun and conversation.
The Nostalgia FPS200 is generally offered at a fair price, and is solid: stainless steel being the main material, the removable elements are durable and can be cleaned in the dishwasher.
The Nostalgia FPS200 is the fondue set that we recommend to people who have a practical sense and do not like giddiness. Thanks to its large stable base, you gain peace of mind and efficiency. It is more suitable for chocolate or cheese-based fondues than for oil-based ones.
---
5. NutriChef PKFNMK23 – Easiest to Clean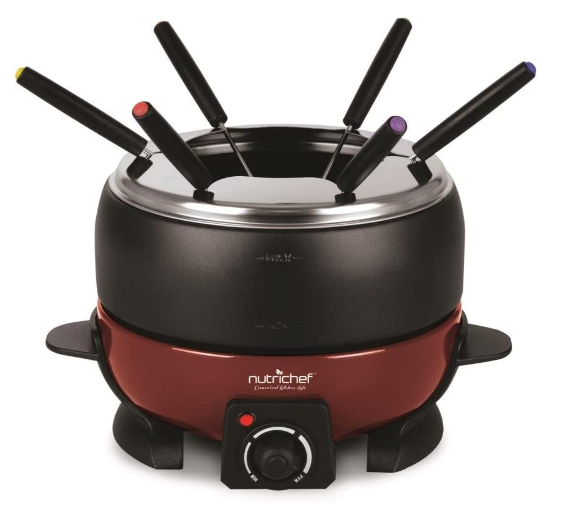 You consider that the cleaning stage ruins all the pleasure of the fondue, and you are looking for a solution to organize convivial evenings without spending hours cleaning and cleaning? The NutriChef PKFNMK23 may be a solution to your worries.
Summary of NutriChef PKFNMK23 features
Teflon fondue pot, non-stick surface for quick washing.
Rotating knob to adjust the temperature, suitable for any fondue.
Anti-heat handles on the unit.
Extremely intuitive operation: all you have to do is plug in the device.
Includes six color-coded forks.
800 watts
Pot capacity : >2 pints.
Diameter of fondue pot : 20 cm/7.9 in.
Cable Length : 1m/3.3ft.
Dimensions : 25.65*22.6*16.8cm/10.1*8.9*6.6in.
Weight : 2 kg/4.5 lbs.
What we think of the NutriChef PKFNMK23
The NutriChef PKFNMK23 fondue pot is made of Teflon, with a non-stick surface. If you're wondering what that entails, it's simple: first, it's rather robust, then it's really very quick to clean, since chocolate or cheese don't stick too much to the walls.
This fondue set is suitable for all your favorite recipes, based on cheese, chocolate, oil or stock. If you are a fan of Chinese fondue, you will not be blocked.
Many users say they are particularly satisfied with the intuitive handling offered on this product. Admittedly, it's not complicated: you plug it in, use the rotary knob to adjust the temperature and you're done.
You even get some useful security ideas. For example, an operating light is provided. The unit also features heat-resistant handles, so you have the ability to move it around without burning yourself.
With its red and black appearance, the NutriChef PKFNMK23 makes an aesthetic choice that is a little different from what we observe in some competitors, but which we consider rather successful. It is very sober while having character.
To facilitate the organization of your evenings, six forks are included. Thanks to the colors, each guest easily recognizes his own.
As you can see, the NutriChef PKFNMK23 is an excellent fondue set. However, keep in mind that the capacity of the caquelon is not huge (just over two pints). It is therefore more designed for family meals or evenings with close friends than for large receptions.
The NutriChef PKFNMK23 is the perfect fondue set if you hate wasting time on chores, the fondue pot is one of the easiest to clean. It is rather intended for gatherings with family or close friends, and is distinguished by superior security and versatility.
---
6. Starfrit 024700-004-0000 – Safest Fondue Set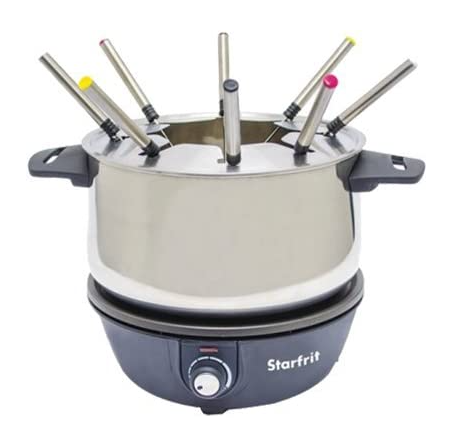 Are you the type to panic easily when you organize a meal whose central element is a fondue pot filled with hot oil? You are not alone, and manufacturers understand that security is a key requirement. Some models make it their specialty, such as the Starfrit 0247000020000.
Summary of Starfrit 0247000020000 Features
Detachable cord to limit the risks associated with tipping.
Insulating handles to avoid the risk of burns.
Temperature adjustable via rotary knob.
Anti-splash ring with holders for 8 forks (included).
Caquelon compatible hobs (except induction) and dishwasher.
1500 watts
Pot capacity : 3 l / 3.1 pint.
What we think of Starfrit 0247000020000
One of the main features of this model is that it is equipped with a detachable magnetic cord. This makes it easier to prevent certain risks related to overheating or tipping over, and is soothing to many people.
Note however that, according to some buyers, the cord sometimes tends to come off a little too easily. So be careful when setting it up.
The Starfrit 0247000020000 caquelon is also equipped with insulated handles, which do not heat up: thus, it remains easy to grip and move.
Finally, the anti-splash ring is quite covering, so there is little risk of oil getting on the fingers of your guests or your children. Especially since the slots for holding the forks are wide and offer excellent stability.
Eight forks are included with your purchase. Colored tips in four different colors make it easier to find your way around. You benefit from a capacity of 3 l, that is to say 3.1 pint, which seems sufficient to us to accommodate some of your friends.
The Starfrit 0247000020000 is easy to use: it is an electric appliance, which therefore does not require fuel, which also contributes to making it safer. You adjust the temperature using the dedicated button.
If you want to prepare an oil-based fondue, it may be appropriate to place the fondue pot on a hot plate beforehand. Be careful: it is not induction compatible.
However, as it is made of stainless steel, it is dishwasher safe.
Finally, know that we consider this fondue set to be good value for money: it is durable, practical and economical while costing a little less than some of its direct competitors.
If you're very concerned about safety, the Starfrit 0247000020000 may be the answer to your problems: it's a device that you can use with confidence, and that allows you to have peace of mind even if you share your fondue with children (or clumsy adults).
---
7. Rival FD300-CN – The Cheapest Electric Fondue Set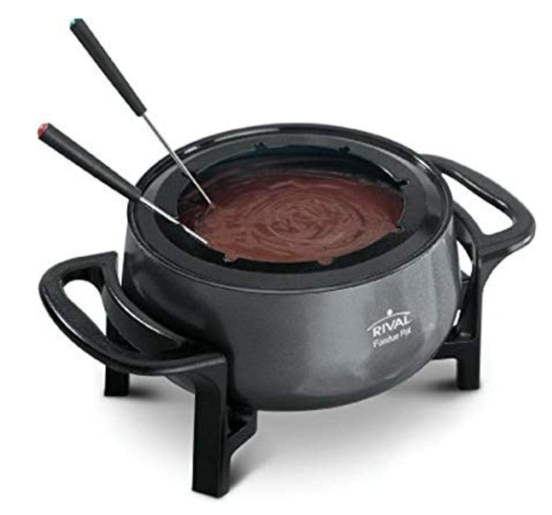 Do you absolutely want to avoid cast iron fondue sets that work with a burner, but you have a limited budget? The Rival FD300-CN is the cheapest option we know of, perfectly suited for hosting a fondue bourguignonne or chinoise.
Summary of Rival FD300-CN Features
Electric appliance with the possibility of slightly adjusting the temperature.
Insulated handles to move the unit without the risk of burning yourself.
Made of Teflon with non-stick coating.
Removable thermostat.
8 forks included.
Pot capacity : 2.8 l/3 quarts.
What we think of the Rival FD300-CN
The Rival FD300-CN is an inexpensive electric fondue set.
Naturally, the small price implies some counterparts. First, in terms of temperature adjustment: the precision is fairly average, and the product is intended more for the preparation of oil or broth fondues. Indeed it heats up quickly, which is practical, except with chocolate or cheese.
Secondly, the non-stick coating is of a slightly lower quality than what is observed on more expensive models, so cleaning must be done quickly after use.
The cord is a little short, but this is a problem that we also observe on much more expensive references.
As far as we are concerned, we still recommend this product, especially if you cannot invest more. You benefit from the comfort of electricity (no fuel to buy, and therefore less risk) and a really comfortable capacity of 2.8 l, that is to say 3 pints.
In addition, you have no additional costs to foresee: the device comes with eight forks (with color code). It is equipped with a ring that allows you to put the forks down to let your meat cook quietly and chat.
One of the good things about the thermostat is that it is removable, which makes storage and maintenance easier.
You can submerge the fondue pot.
And the manufacturer has taken your safety into account: in fact, the Rival FD300-CN is equipped with insulated handles, so it is possible to move it quickly and without burning yourself, which is convenient to make placing it on your table a after the meal is finished.
We also appreciate the effort on aesthetics: the product is not low-end, its black color gives it a sober and all-purpose appearance that will work with your family, your friends, and your friends' friends.
Logically, the very affordable Rival FD300-CN has its limits (short cord, average temperature control) but the proposal is honest and the promise is kept: you can organize a fondue with a good level of comfort and safety without breaking the bank.
---
8. Trudeau Alto – Best Lightweight Electric Fondue Set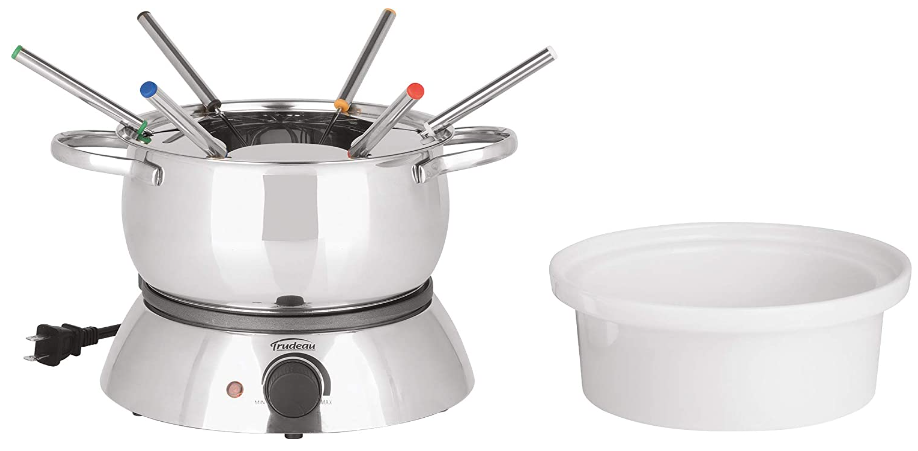 Fondue sets don't have to be fancy to be practical and efficient.
A model that is both versatile and durable will suit the vast majority of consumers.
The Trudeau Alto is one of those products that puts quality before frills.
Trudeau Alto Features Summary
The no-frills model.
Stainless steel fondue pot for Chinese and Burgundy fondues.
Ceramic container for cheese and chocolate fondues.
Electric stove with knob for temperature control.
Quick release power cord for added safety.
Includes 6 stainless steel forks and a splash guard.
1500 watts.
Dimensions: 26.7 * 27.9 * 24.1cm/10.5 * 11 * 9.5in.
Pot capacity: 2.4 L / 2.5 quarts.
Warranty: Limited, 1 year.
What we think of the Trudeau Alto
First of all, it is true that the Trudeau Alto seems to have a slightly high price for a device without elements that distinguish it from the others.
On the other hand, the manufacturer has rather bet on its versatility and quality of manufacture, which makes it a durable product.
It is in fact a 3-in-1 model, that is to say that it can be used with all types of fondues.
Its stainless steel fondue pot is perfect for a family fondue dinner.
A ceramic container can be installed in the fondue pot when you want to make cheese or chocolate fondue.
It therefore heats up at a lower intensity and its reduced size is more adequate for this type of content.
Its electric base is very simple: just place the fondue pot on its surface to keep it warm.
You can control its temperature with a dial and adjust it according to your needs.
Its power cord is quick-release, which means it won't tip the pot over if someone accidentally pulls it.
This model comes with six easily distinguishable forks thanks to the unique colors found on each of them.
The Trudeau Alto is a very simple and easy to use fondue set. This in no way affects its efficiency and high build quality. Its ceramic container as well as the fondue pot in which it fits allow you to concoct all kinds of fondue.
---
9. Cuisinart CFO-3SSC – The Fondue Set Offering The Most Freedom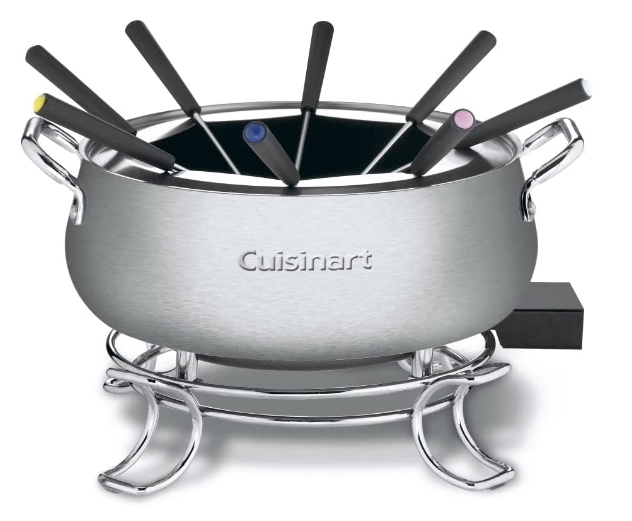 In your eyes, the purpose of the fondue is to release the pressure, and to forget the time of an evening all that is likely to stress you? In this case, you need a simple, beautiful and conflict-free device. The Cuisinart CFO-3SSC seems to us to fit this description perfectly.
Summary of Cuisinart CFO-3SSC Features
8 temperature settings available to suit all recipes.
Solid and chic design in brushed stainless steel.
Bowl opening diameter of 8-¼"/21 cm, includes 8 colored forks.
Easy cleaning, dishwasher safe after removing the probe.
Equipped with anti-splash ring.
1000 watts
Pot capacity : 2.8 l/3 quarts.
Size : 15.55*26.7*17.8cm/6.1*10.5*7in.
Weight : 2.9 kg/6.3 lbs.
Warranty : limited, 3 years.
What we think of the Cuisinart CFO-3SSC
What you will probably notice first about this fondue set is its very chic appearance. The brushed stainless steel design ensures elegance and solidity. Know also that you are perfectly peace of mind, since you benefit on this product from a limited warranty for a period of three years.
The Cuisinart CFO-3SSC is suitable for cheese, chocolate, broth and oil recipes.
You benefit from a large caquelon, whose capacity is 2.8 liters, which corresponds to 3 pints. This is perfect for eight people: each guest can thus equip themselves with one of the eight forks included in the purchase. They each have their own color, so there is little risk of being wrong.
In addition, the large opening diameter of the caquelon favors a fluid service, which allows everyone to have a good time.
The Cuisinart CFO-3SSC has an anti-splash ring: you are protected, just like your table. Once the probe and cord are removed, all of the remaining parts can be put in the dishwasher for effortless cleaning.
The probe offers eight temperature options, allowing perfect management of your fondue party.
This fondue set is a little more expensive than the average, but it is really very pleasant and practical.
The only downside that we note is a somewhat short power cord: even if it is not recommended by the manufacturer, most users solve this problem with a good quality extension cord, without encountering any problem. .
As long as you have the right budget, in our opinion, there is no hesitation in having: the Cuisinart CFO-3SSC is a fondue set that is very easy to use and maintain, which will allow you to have a good time. with your friends and family without even having to think. It is an essential model.
---
10. Swissmar F66706 – Best Cast Iron Fondue Set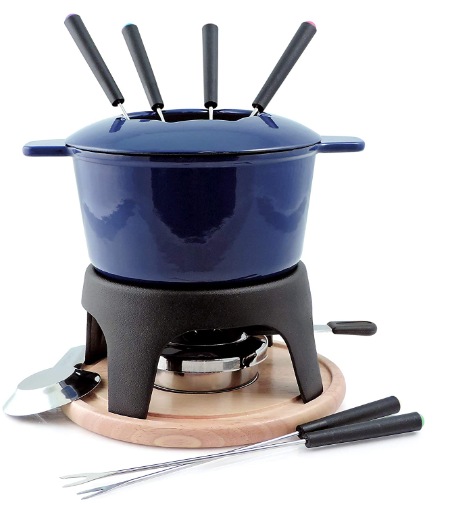 What do you like about fondue is, of course, the conviviality, but also the authentic side? Then it is likely that you are looking for a cast iron fondue set. We can recommend the Swissmar F66706, an efficient and attractive high-end product.
Summary of Swissmar F66706 features
Superb cast iron fondue pot, several colors available (blue, red).
Comes with anti-splash ring, wooden base, stove and burner.
Includes 6 color coded forks.
Compatible with all hobs.
Pot capacity : 1.5 l / 1.6 pints.
What we think of the Swissmar F66706
The Swissmar F66706 comes with the stove and the burner. The advantage of cast iron fondue sets is that their use is more flexible than electrical references: here, you don't have to struggle with a cord.
In addition, the fondue pot is compatible with hotplates: you are free to prepare your recipe in advance and heat it beforehand. Your guests won't have to wait to treat themselves!
Another great advantage of cast iron is that it retains heat very well without intensifying it. Therefore, you are almost guaranteed to enjoy your fondue at the right temperature, neither hot nor too cold.
The fondue pot is more specifically designed for the Burgundy fondue, but it is quite possible for you to place cheese or chocolate in it. If this is what you want to do, the manufacturer recommends removing the splash guard.
Your purchase includes six color-coded forks, and the ring has slots to accommodate them. Thus, hesitations or family conflicts are definitely eliminated.
The manufacturing quality of this product seems irreproachable to us: all the elements are particularly solid, and the lifespan of cast iron appliances is generally significantly longer than that of electrical references. You should be able to keep it for many years.
We also find the effort on the style very appreciable.
Indeed, a wooden base is included, to improve the presentation.
The caquelon is also very pretty. On Amazon, two colors are available. Our preference goes to blue, chic and discreet without being dull, but the red version can give a warm and colorful atmosphere to your evenings.
The fondue pot's handles allow it to be gripped securely, making it easy to serve, clean up and store.
If you don't feel like struggling with a cord, but still want to enjoy an efficient fondue set, the Swissmar F66706 is the perfect fit. It is also a product that we find really elegant, which helps to enhance the class of your evenings.
---
Things to know before buying a fondue set
You have decided to organize convivial evenings, but there are a few questions that prevent you from considering them with serenity? Don't worry, we are going to study together the essential things to know before getting a fondue set.
What to choose: an electric or burner model?
First, know that there are low-end and high-end options in both categories. In fact, there is not one that is superior to the other, they each have their advantages and disadvantages, here you go.
Burner models usually feature a cast iron pot , which means they are more efficient at retaining heat and sometimes stronger. In addition, there is no cord, which limits the risk of tipping and increases ease of movement and storage.
But you have to buy fuel, and there may be more risk of getting burned.
Electric models are much easier to handle, save you from having to think about buying fuel, and sometimes come with very reassuring safety options.
On the other hand, the cord must be placed in a smart place where no one is likely to step on it, and since it is often short, the purchase of a good quality extension cord may prove essential.
---
Should the appliance be chosen according to the type of fondue?
The majority of devices are versatile.
However, there are four main ingredients for fondue, which can be divided into two camps: cheese and chocolate on the one hand, and broth and oil on the other.
Cheese and chocolate must be heated at a fairly low temperature, otherwise, they harden and make cleaning extremely tedious. They should melt without burning.
Oil and broth must be heated to a high temperature, because foods that need to cook, such as small pieces of beef, are usually immersed in them.
Some products, especially entry-level products, are more oriented towards one of the two categories (sometimes the manufacturer specifies this).
Our selection criteria for buying a fondue set
Selecting the fondue set that really suits your needs is not as simple a task as it seems. In order to allow you to make comparisons between the products that interest you, we present here the list of criteria that we ourselves have used.
The price
Count at least $25-30 for a decent fondue set with a cast iron fondue pot, a burner, and a good lifespan.
For the electric entry-level, the price is more like $40.
Then, the best appliances (whether electric or with burners) offering good adjustability and irreproachable solidity can cost up to around $90 or $100.
The capacity
The higher the capacity of the fondue pot, the more guests you will be able to receive. A relatively common value is 2.8 liters or 3 quarts.
All pots have a splash ring with slots or brackets to stabilize the forks, there are usually six or eight of them, but this is not necessarily a reliable indication of how many people can use the pot. the device simultaneously without it becoming disturbing.
The Thermostat
The thermostat can be built into the unit or removable. The removable cords, in particular magnetic ones, have the great advantage of limiting the risks of overturning (and burns with hot oil). The precision and amplitude offered to tend to expand as you go upmarket.
On burner models, the burner may be adjustable.
Ease of maintenance
Cast iron and stainless steel are very easy to clean.
The ideal option is to have forks and a stainless steel pot: in this case, you have the possibility of placing everything in the dishwasher and not worrying about it.
Teflon, even when equipped with a non-stick coating, tends to retain more cheese or chocolate, and it is therefore strongly recommended to clean up as soon as the meal is finished.
Dimensions and ease of movement
Fondue sets are generally not too bulky, but still make sure you have adequate and non-obtrusive storage space, as it is not necessarily a type of machine that one uses every day. .
We also recommend that you choose a model equipped with insulating handles: it is much more practical if you need to move the fondue pot, even temporarily.
Compatibility with hobs
It is not uncommon for caquelons to be compatible with hotplates (including, sometimes, induction). And this can be extremely handy, especially if you happen to organize impromptu fondues and need to go a little faster than the devices allow.
Appearance
Fondue is also a spirit of conviviality and sharing. As a rule, you invite relatives. So, might as well impress them! Do not hesitate to choose an elegant and colorful device, which will help to set the tone of the evening.
In this respect, models with a cast iron fondue pan are often more original, with a greater variety of colors available.
---
We do our best to offer you a comparison allowing you to choose the best possible fondue set . If we missed any information or new designs, feel free to leave a comment below or send us a message .