Cooking with a pressure cooker has many benefits. This household appliance allows you to cook your food in record time, thanks to its high-pressure cooking system.
The pressure cooker, also known as presto, multi-cooker or Instant Pot, is very useful for large families looking for an appliance to cook large quantities quickly, as well as for people with a very busy schedule.
If you have finally decided to start cooking with a pressure cooker, or if you want to change your appliance, it is important to choose the right brand. Indeed, the best brands on the market offer quality products, with a good quality-price ratio, interesting guarantees, and efficient customer service. Together, let's discover our top 9 best pressure cooker brands so that you can cook with peace of mind and in a quick and easy way.
---
1. Instant Pot, The Leading Brand in Pressure Cookers
Instant Pot is a branch of multi-cookers designed in Canada.
Founded in 2010 by Robert Wang, the parent company is Instant Brands, which sells several million products worldwide, and employs more than 2,400 people on all continents.
The company owns such big names as Pyrex, Corelle, Snapware, Chicago Cutlery and CorningWare.
All kitchen equipment is at Instant Brands!
By owning such brands, Instant Brands enjoys a solid reputation among consumers, who find the products functional, sturdy and of good quality.
They also emphasize the efficiency of the customer service in case of a glitch on a device. And let's face it, the fact that the Canadian brand works in its favor!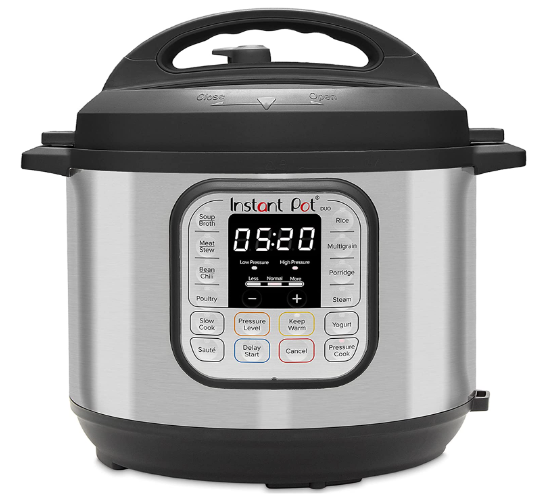 This Duo Plus 60 model is especially designed for large families who want to cook fast and still taste good.
With its ideal capacity, the appliance is able to replace most kitchen appliances.
Its price is very affordable (about 160$) considering the numerous preparations it allows you to make.
It measures 34 x 31 x 31.8 cm, or 13.39 x 12.2 x 15.52 in, and weighs 5.37 kg, or 11.84 lb.
In our opinion, it is a perfect volume, not too bulky or heavy, and can be easily stored in a kitchen cupboard.
Its offered capacity is 5.68 L, or 6 Qt, a very decent value for three to four people.
However, this capacity is quickly reached for three big appetites, but four small gourmands can find their account.
If in doubt, don't hesitate to change to the higher capacity.
The operation of the machine is very simple and intuitive: the functions are written on the dashboard of the device, and you can consult the settings on the blue LCD screen, very practical.
We advise you to watch video tutorials if you still need clarification, because the user manual is not very clear, in our opinion.
The big strength of this Instant Pot is its versatility in cooking.
For example, you can prepare eggs, cakes, rice, and even use it as a yogurt maker or slow cooker.
We repeat: you are really investing in a multifunctional appliance that will save you a lot of money on independent purchases of kitchen appliances.
However, there is a small drawback: the heating time is rather high, and the power of 1000 watts does not offer an optimal speed.
The preparation time is therefore not eliminated.
Concerning the programs, 15 are already pre-recorded: keep warm, delayed start, cooking oatmeal, cooking broth, grains, chili, sterilization of jars …
There's not a single thing you can't do with your Instant Pot Duo Plus 60!
In addition, the product is UL certified, which ensures compliance with North American safety standards.
The food contact parts, including the lid and bowl, are made of a special stainless steel.
They are dishwasher safe, and the rest of the maintenance of the machine is also very simple and quick.
The Instant Pot Duo Plus 60 requires a little preparation and effort on your part.
There are no major weaknesses to be found, apart from a heating time that may seem a little long for those in a hurry.
This appliance can really make your life easier in the kitchen, especially if you are a household of at least 3 people. We can only recommend it, with its very attractive price!
---
2. Ninja – An Efficient & Ultra Safe Pressure Cooker
Ninja Kitchen is a subsidiary of the American company Shark Ninja, specialized in the manufacturing and distribution of household appliances.
Founded in 1993, the company has consistently responded to new consumer needs by developing air fryers, blenders, pressure cookers, indoor grills, convection ovens, juice extractors, and multi-function cookers.
These high-performance appliances revolutionize our experience in the kitchen, allowing us to focus on the purpose of our recipes, while saving time and simplicity.
The brand is also well liked by its consumers, who always have a good experience with Ninja.
In addition, they praise the company's efforts in terms of speed of delivery, efficiency of customer service, simplicity of use of the appliances, and willingness to innovate.
Ninja's Flagship Product: Ninja OS301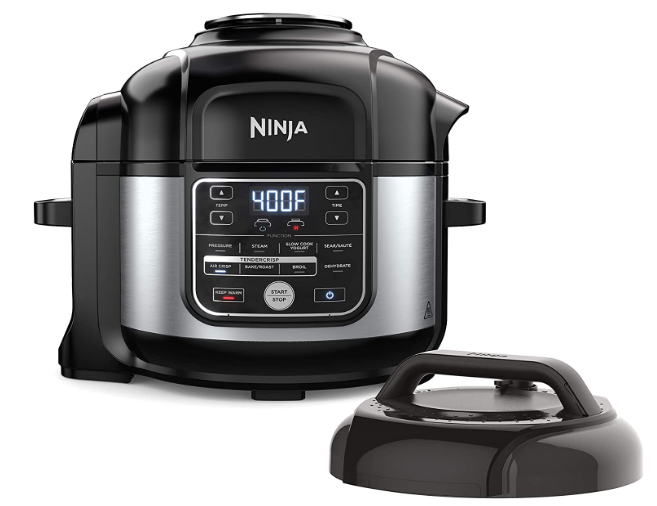 The Ninja pressure cooker has many advantages, both in terms of its versatility and the time it takes to cook food.
Let's face it, what matters most to cooking enthusiasts is the quality of the cooking and the taste it brings to the dish.
In this sense, the Ninja OS301 masters this aspect perfectly.
This model is a little more expensive than the average, but there are several reasons for this: it is a rather powerful device with its 1460 watts, and its capacity of 6.5 quarts, or 6.15 liters is ideal for a family of four.
For example, it can easily hold a five-pound chicken.
Some people find its design a bit big, but you have to take into account that it is a multi-functional appliance: it combines several appliances in one.
In fact, this Ninja OS301 can do the work of ten cooking machines.
For example, you can use it as a dehydrator, a steamer or an air fryer. Isn't that great?
That last feature, in particular, is great for preparing healthy, crispy food.
Its 4.6-quart, or 4.35-liter, Cook & Crisp tray allows for efficient and even air circulation in fryer mode, and can cook up to 3 lbs, or 1.4 kg, of fries.
Its TenderCrisp technology allows you to pressure cook a chicken to keep it tender and juicy, then fry it without oil for a crispy and absolutely delicious exterior.
The lid connected to the base is primarily used for the frying option, while a second lid is used for pressure cooking.
The unit also comes with a metal shelf, ideal for gaining surface area, steaming or even grilling or frying your food.
When you buy it, you get some recipe ideas and cooking tips, including a recipe book.
In conclusion, the Ninja OS301 is a very efficient pressure cooker, offering efficient cooking and giving great flavors to your food.
---
3. T-Fal – The Multifunctional & Accessible Pressure Cooker
Tefal is a brand specialized in non-stick cooking appliances.
In 1968, it became a subsidiary of the French group SEB, the world leader in small household appliances.
You can buy absolutely everything in the kitchen, from pots and pans, to mixers, casseroles and slow cookers, to air fryers.
Investing in Tefal products means benefiting from decades of proven product quality, equipping homes with the best appliances, always at a competitive price.
The brand's reputation is well established, and its customer service is there to prove it.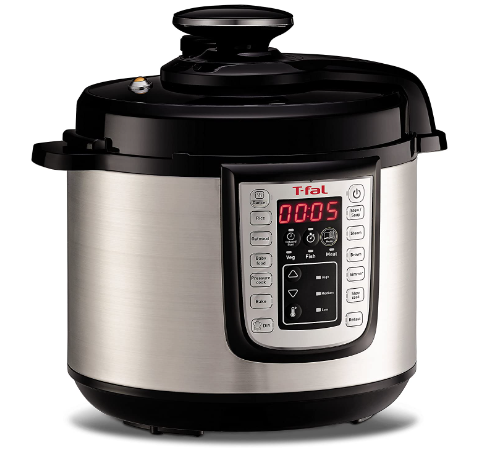 If you believe that cooking should be a time-saving activity without sacrificing taste, the T-fal Rapid Pro 12-in-1 is the perfect appliance for your needs.
It can be found on the internet for around $110, however, it takes a little getting used to, and patience before you see your preparations perfectly done.
Its versatility is exceptional: you can use it as a slow cooker, to make pastries, to heat up preparations, to make baby food, to make yogurt etc.
You save a lot of money by buying 12 separate machines.
However, keep in mind that despite an interesting power of 1100 watts for its capacity of 5.68 L or 6 Qt, the machine is sometimes slow.
In addition, the pressure setting is not always optimal: you have to get the hang of it in order to get a really tasty meat or rice.
The product also has a rather large size (32.1 x 32.1 x 37.3 cm or 12.64 x 12.64 x 14.69 in), which is not a problem in itself, but it can quickly take up a lot of space.
On the other hand, its weight is quite correct: 5.79 kg, or 12.76 lb.
As for the use of the device, it can be a bit tedious at first.
The buttons are clear enough and the options are simple.
However, you will have to adapt and experiment with your preparations.
Indeed, the machine is not always 100% reliable in its presettings.
Admittedly, its selling price is not very high, but in our opinion, it is worth putting a few extra dollars for a more accurate product.
To conclude, the T-fal Rapid Pro 12-in-1 is a device that combines two qualities: it is accessible and versatile.
Its selling price is very affordable for this type of device.
However, its quality is a bit below standard and may push you to invest a few dozen dollars more in a more robust and reliable pressure cooker.
---
4. Crock-Pot – The Pressure Cooker For Large Tables
Crock-Pot is a renowned brand of pressure cookers, founded in the USA in 1971.
For over 40 years, Crock-Pot has had a special place in many kitchens, and is the leader in simplified cooking with an electric appliance.
Indeed, more and more consumers prefer high pressure cooking to save time and concentrate flavors.
Consumers are very attentive to the user experience, and the gains they can make through the purchase of such a machine.
On Amazon, positive comments are pouring in about Crock-Pot products, which they consider solid, reliable, very practical and time saving.
A brand that we recommend with our eyes closed!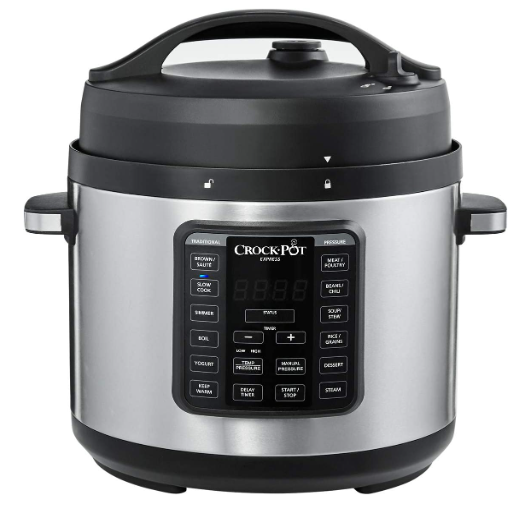 The Crock-Pot® Express 12-in-1 programmable multi-cooker has a capacity of 5.6 liters.
This makes it perfect for larger households of up to 6 people.
For variety, the appliance has 4 cooking modes: pressure cooking, steaming, slow cooker and stir-fry.
With its 8 pre-programmed functions (meat/stew, chili/vegetables, rice/risotto, yogurt, poultry, desserts, soups, plus manual settings), cook your meals up to 70% faster than with traditional cooking methods.
It also has 2 heating levels and an automatic "keep warm" function.
With its delayed start function, the meal cooks quietly while you're away, whether you're at the office, on a walk or at the gym.
If you don't come home in time to finish cooking, don't panic: the appliance automatically activates the "keep warm" function until you return.
The big advantage of this pressure cooker is that it is very fast: enjoy a dinner cooked in less than an hour with a cooking time up to 70% faster.
For example, cook your roast chicken in 30 minutes, while steaming your vegetables and reheating your roast.
Vary the cooking in the same appliance, and save precious time thanks to the pressure cooking.
If you want a risotto, it will be ready in 8 minutes.
Caramelized ribs? Only 15 minutes.
A tender braised pork? Can you wait a little over an hour and 15 minutes?
Regarding the safety of the appliance, you can't remove the safety lid until all the pressure is released, if you use the pressure cooking mode.
Also, we like the design of the side handles, which allow the lid to stay upright while you serve or mix.
Gone are the days of not having enough room on your countertop, and hello convenience!
---
5. Insignia – The Pressure Cooker & Its Multiple Accessories
Insignia is a brand specialized in the design of home appliances and technological products.
It was founded by Best Buy, and has then a nice trust from the consumers, who appreciate the products of the parent company.
Regarding its range of pressure cookers, the brand offers a very good service, according to the different consumer reviews left on its website.
Ease of use, quality and value for money are all highly rated. We recommend Insignia with closed eyes to all our readers!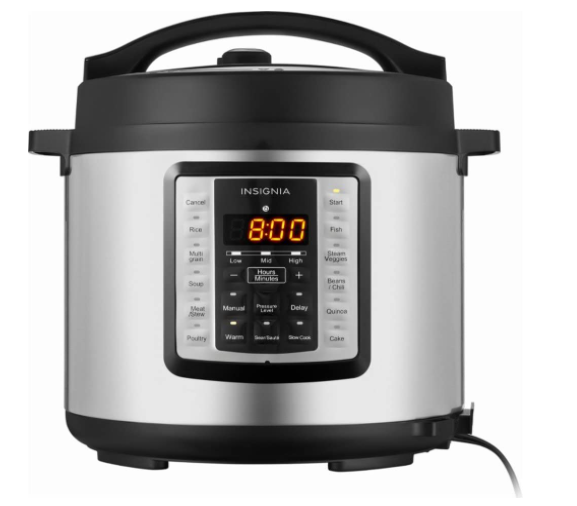 If you're familiar with Instant Pot products, or if it's a brand you enjoy using, then this Insignia model should satisfy you in the same way!
Indeed, many consumers point to not only a similar design, but also similar features and programs.
This is rather good news when you know the quality of an Instant Pot.
Moreover, the selling price remains almost the same: $111, 25 on Amazon.
Let's get to its features and functionality.
Its 6-quart capacity provides enough room for large families or guests.
Overall, the device is imposing and robust: mean a secure multicooker.
Your ingredients cook together without being crushed.
There are 10 programs to choose from: rice cooking, soup, grains, meat and stews, poultry, fish, steamed vegetables, beans and chili, quinoa and pastries.
With such versatility, you can easily do without the rest of your appliances, right?
Its built-in 24-hour timer allows you to program the pressure cooker to start, so it's ready when you are.
All you have to do is put the ingredients in the tank and program the time to start cooking.
And if you don't get home in time to finish cooking, the appliance automatically activates its keep warm mode.
As with the Instant Pot model, handling the pressure cooker is easy and simplified, for maximum cooking comfort.
The LCD screen allows you to view your options, and the buttons are easy to recognize.
In order to use your appliance immediately upon receipt, the manufacturer also includes: a measuring cup, a rice spoon, a ladle for soup, a stainless steel rack to gain cooking surface and a condensation collector.
Regarding the maintenance of your appliance, the lid and all the other accessories are dishwasher safe.
As for the bowl itself, its coating is non-stick, so you shouldn't have too much trouble cleaning it with hot water and soap.
In conclusion, we really appreciate this model for its simplicity of use, and for all the possibilities it offers.
---
6. The Ricardo Pressure Cooker – A Sure Value In The Kitchen
You must certainly know Ricardo, this chef, author, television personality and entrepreneur from Quebec.
This ultra-popular and friendly chef is recognized throughout Canada, and instills the art of family living to perfection.
With his many books and cooking shows, he also develops a whole line of kitchen utensils bearing his name.
With a phenomenal popularity rating, you can trust Ricardo to provide you with the best products, and thousands of recipe ideas are available on his various platforms.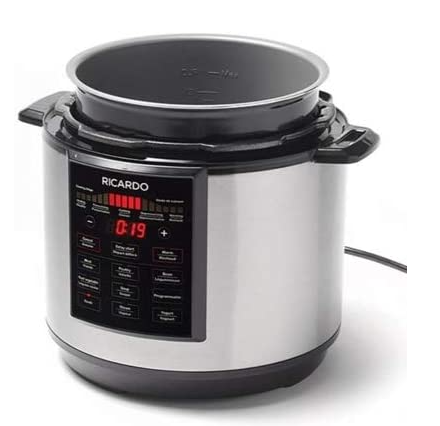 This 6-liter RICARDO electric pressure cooker allows you to cook delicious meals for 4 to 8 portions in 30 minutes.
Its design makes it very easy to use, thanks to the digital LED control panel, which displays the cooking progress.
There are 10 pre-programmed functions to choose from at the touch of a button.
The lid lock mechanism and pressure regulator make it very safe, so there is no risk of steam burns.
Its keep warm function allows you to keep your preparation at a good temperature when cooking is finished.
Take advantage of the built-in timer, which allows you to program a delayed start up to 24 hours in advance.
You can manually adjust the cooking times if the preset times don't suit you.
The non-stick cooking bowl, spoon and stainless steel cooking rack are all dishwasher safe for quick and easy cleaning.
Finally, included with your Ricardo pressure cooker is a book of 13 recipes, as well as a user and maintenance guide.
To conclude, we can only recommend a Ricardo product, the guarantee of reliable and quality equipment.
Its value of $119 is in the price range of pressure cookers, with the reputation of a great chef to boot!
In addition, many recipes are also available on its platform, to help you discover the full potential of your pressure cooker.
---
7. NutriChef – The Perfect Pressure Cooker For A Couple Or Single People
Founded in 2014, NutriChef is an American brand whose mission is to democratize healthy home cooking that is accessible to everyone, regardless of skill level or economic status.
The company offers all appliances for the kitchen: dehydrating machines, blenders, extractors, vacuum sealers, pans, pressure cookers etc.
The feedback from consumers is generally good to very good, and the prices are very interesting.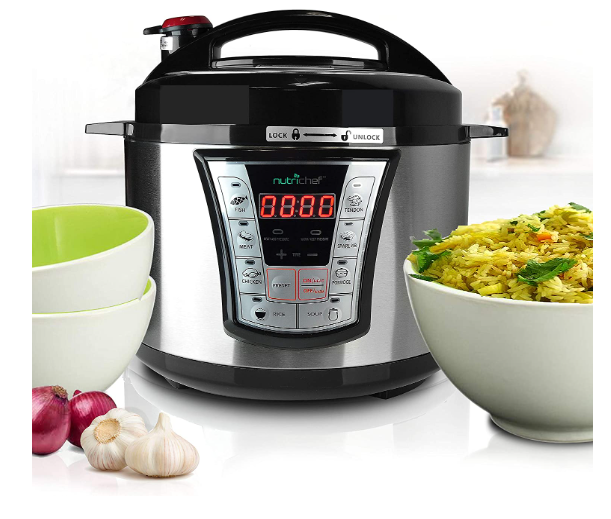 If you need a pressure cooker just to cook faster and eat better with a busy schedule, the NutriChef PKPRC66 is for you!
With its low price ($100) and basic but effective features, this multi-cooker convinces even the most modest budgets that fast and tasty cooking is accessible to all.
The strength of the appliance, but also its weakness, is the capacity of its cooking tank.
Indeed, with 4.73 L or 5 Qt, it will be difficult to cook for more than two people, especially if you have a good fork.
Above all, it is a product that has been designed to be compact and efficient, without any other consideration.
Therefore, it has reduced dimensions and weight: only 28.4 x 28.4 x 30 cm, for 5.08 kg (the equivalent of 11.8 x 11.8 x 11.81 inches, for 11.2 lbs).
It is therefore by far one of the most compact pressure cookers, ergonomic and easy to place on a countertop.
However, there is one flaw: its lack of versatility.
Apart from cooking your food in different ways, and the possibility to bake, it will be difficult to push the performance beyond that.
However, its speed is really nice, and far surpasses other models of bigger brands.
For example, since its power at 900 watts is quite low, but its capacity is not huge, the cooking time becomes very satisfying.
Small size + medium power = fast performance!
Overall, comfort is the key asset of this NutrifChef model, and this is especially true for maintenance.
Cleaning is easy thanks to the cleverly chosen materials for the different elements.
The exterior of the machine has a stainless steel coating, and the bowl has a Teflon coating.
For support options, you have the essentials: keep warm and delayed start, as well as 8 cooking programs.
In conclusion, we would say that the biggest problem with this pressure cooker is a somewhat disappointing capacity-to-price ratio.
It's a perfect appliance for individuals or couples, but if you plan to use it often, don't hesitate to pay a little more and get a larger model.
---
8. De'Longhi – Simple, Fast But Bulky Pressure Cooker
The De'Longhi group is an Italian company producing household appliances.
Founded in 1902, you might know them for their unique design of the authentic Italian coffee machine.
However, De'Longhi also produces air conditioners, pressure cookers and everything related to small appliances.
Moreover, the De'Longhi group also owns the brands Kenwood, Ariete and Braun.
These brands are known for the high quality of their products.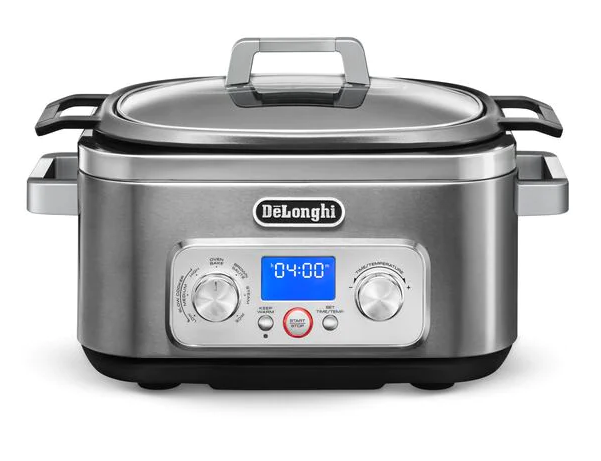 The Delonghi CKM1641D is a very easy-to-handle appliance that requires almost no effort on your part.
However, peace of mind and ease of use often come at a price, and it is much more expensive than most of its competitors.
In fact, you'll have to spend close to $230 to hope to get it on the various retail platforms.
This De'Longhi pressure cooker is among the most massive products, with dimensions of 31.5 x 46 x 27.5 cm and a weight of 7.55 kg.
That's the equivalent of 12.4 x 18.11 x 10.83 in, for 16.64 lbs.
So certainly, it stores a little less easily and weighs a little more than its competitors.
Among the other drawbacks that may make you hesitate, there is a very limited versatility that is increasingly rare for pressure cookers, especially in this price range: you only get 5 programs.
This simplicity in the programs makes it easy to get used to.
Here, no complicated options: the pre-existing settings are the right ones, no need to look for or to make any mistakes.
The buttons are very clear and located on the front of the device, while the LCD display that indicates the timer, is sober and readable.
As with most models, you can keep warm or program a delayed start.
With its dedicated ExacTemp technology, the De'Longhi appliance promises a fairly impressive cooking finesse.
The machine is made of solid stainless steel and the bowl is dishwasher safe.
To sum up, the manufacturer takes advantage of its reputation to charge a rather high price, even if the handling is easy and quick.
However, we are a little worried about its small capacity of 5.68 L, or 6 Qt, and the ultra-thin versatility compared to competitors.
---
9. Cuisinart – The Efficient & Resistant Pressure Cooker
Cuisinart is a brand of kitchen appliances created in 1971 by Carl Sontheimer.
It is the eponym of the food processor that it introduced in the United States.
Toaster, coffee maker, food processor, electric mixer, pressure cooker…
Cuisinart is a brand that consumers have trusted for decades.
The products are praised for their sturdiness and reliability, which ensures long use over many years, even decades.
In fact, the brand offers two types of warranties: a three-year warranty on manufacturing defects that may occur on appliances, and a 20-year warranty on food processor motors.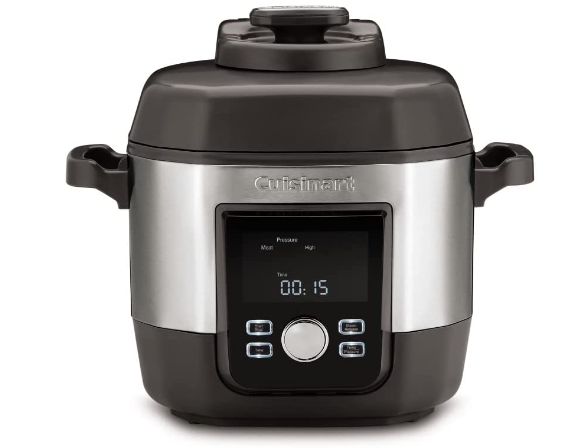 Granted, it's not always easy to master all the features of a pressure cooker.
Fortunately, there are some models that are more intuitive than others, such as the Cuisinart CPC-900.
This pressure cooker offers a good value for money considering its brand.
Cuisinart is indeed known for very solid products, so the price is quite satisfactory.
The appliance has a capacity of 6 quarts, or about 5.7 liters.
Its power can reach up to 1000 Watts.
Its unique design, made from stainless steel, is equipped with two ergonomic handles for easy transportation.
On its lid, there is another handle, which allows to lock it once it is well in place.
On the front, the LCD screen gives us useful information, including the different functions offered, as well as the pressure level and temperature.
The control of these options is done with only four buttons and a knob, so it is quite intuitive to use.
For programs, 12 are available and include the most commonly used: rice cooking, beef stew, yogurt, grains, soup, chili, pastries, fish etc.
The Cuisinart CPC-900 is a simple and well-designed pressure cooker.
Its practical, flapless design makes it easy to move and use.
The controls are intuitive, and you'll have no trouble navigating through the various options.
---
Finding the best brand for your pressure cooker is a breeze when you are guided. When making your choice, we advise you to compare the prices, the customer reviews on the websites, as well as the different features offered by the appliance.