Whether you are a keen cook or use your sink for everyday household tasks, a quality kitchen faucet can make all the difference. Manufacturers are bursting at the seams to innovate new, high-performance models that compete directly with more traditional, but equally functional models. However, with so many options on the market, it can be difficult to know where to start your search. Don't panic, Jitpro.com comes to the rescue with this comparison guide that will save you hours of research! We've taken a close look at the most important features, performance and customer reviews to bring you the best choices available on the market.
Whether you're looking for a dual-function faucet, a stylish design, or durable options, We've covered all the bases to help you make an informed decision for your next kitchen faucet purchase. We analyzed and compared 30+ kitchen faucet brands over 100 hours, and took into account the opinions of hundreds of consumers.
Following our latest update, our favorite model is the Delta Essa 9113-AR-DST.
This advanced model combines a lifetime warranty, Diamond, Touch-Clean and MagnaTite technologies that allow for a leak-proof and scale-free faucet, as well as a magnetic base that holds its extension arm in place. With its two types of jets, you can adjust the flow rate and the quantity of water, in addition to having a 360° rotating spout to facilitate your tasks and your filling of containers. The price is higher than average, but its impeccable bow design and minimalism will make all the difference in your kitchen!
Editor's Choices for the best kitchen faucets:
---
1. Delta Essa 9113-AR-DST – Highest Quality
Are you in the middle of renovating your kitchen and would like a faucet with an impeccable finish and a design that will immediately enhance your interior? The Delta Essa 9113-AR-DST offers a very good quality, in addition to innovations that make your water consumption safer and more optimal.
Delta Essa 9113-AR-DST Features:
1 or 3 hole installation
4 finishes available
Pull-down model
MagnaTite anchor
DIAMOND sealing technology
Touch-Clean spray ports
360° rotation
2 types of spray: continuous or rain
Maximum flow rate: 1.8 GPM (6.8 LPM)
Maximum faucet height: 15.25″ (38.7 cm)
Lifetime warranty
Delta Essa 9113-AR-DST Review
The Delta Essa 9113-AR-DST kitchen faucet is made of Arctic stainless steel and has advanced features that set it apart from its competitors.
First of all, it is very easy to install, even if you are not very good at DIY. Secondly, the flexible arm of the pull-shower releases when you give it a gentle tug, giving you total flexibility, while its MagnaTite anchor incorporates a strong magnet that lifts and holds the spray arm in place to prevent it from sagging over time. The Touch-Clean soft rubber spray holes are easily cleaned, and quickly remove calcium and lime build-up. InnoFlex® PER pipes keep the water inside the faucet away from potential metal contaminants.
In addition, its patented DIAMOND sealing technology is Delta's revolutionary new water distribution system. It consists of an inner contact surface coated with tiny diamonds that makes the valve leak-free and durable, ensuring that the faucet performs like new for its entire life, which is twice as long as the industry standard. This technology also keeps the water safe from potential metal contaminants.
Installation is easy thanks to the integrated InnoFlex PER supply lines, and the valve is suitable for 1 or 3 hole installation with a 20.32cm centre distance. The large arc gooseneck model rotates 360° to make everyday tasks easier, and the 51 cm retractable hose provides extra reach. The big plus? 2 types of spray are available with a push button: continuous or rain to suit your tasks, and it's available in 4 finishes (arctic stainless steel, matt black, chrome and Venetian bronze).
On the other hand, expect a slightly higher than average selling price, but considering the innovations, it's worth investing a little more for a high-performance product!
Designed to make your life easier, the Delta Essa 9113-AR-DST's innovative design has all the features you want in a kitchen faucet, and its lifetime warranty policy gives you complete peace of mind with this product.
---
2. KRAUS Bolden – Best Kitchen Faucet with arc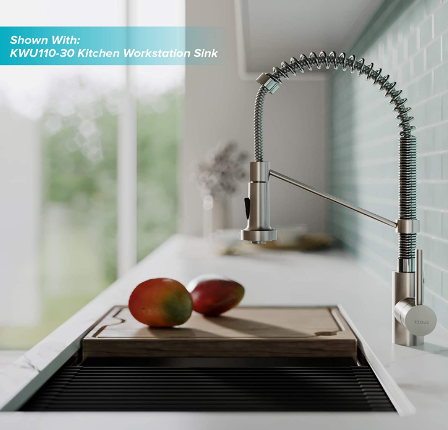 If you want to spruce up your kitchen sink with a contemporary looking designer faucet with a convenient and easy-to-use removable shower system, the KRAUS Bolden™ model seems ideal, as well as offering a fairly attractive price.
Summary of KRAUS Bolden™ features
1-hole installation
7 finishes available
Material: stainless steel
Pull-out model operating at 90°
All-Brite finish
Air Gap included
180° rotation
2 types of jets: continuous or rain
Maximum flow rate: 1.8 GPM (6.8 LPM)
Maximum faucet height: 18″ (45.7 cm)
Lifetime warranty
Our Review of the KRAUS Bolden Single Handle 18-Inch Commercial Kitchen Faucet
The KRAUS Bolden™ arc faucet is an ideal product for bringing a modern, designer touch to your kitchen sink. Its first advantage is its flexible, soft pull-down spray head, which allows a wide range of movement around the sink to make everyday tasks easier. You can detach the head as you wish, and point it anywhere, to keep the sink clean, or to pour water into any container. What's more, the all-Brite stainless steel finish resists water stains and fingerprints, so it always looks great. And if you're not sure about the colour, you can choose from 7 shades to suit your design preferences.
The dual-function spray head with easy-to-clean rubber nozzles offers an airy jet for daily cleaning and a powerful jet for intensive rinsing. The docking arm with bracket keeps the flexible spring sprayer securely in place and can be rotated 180°.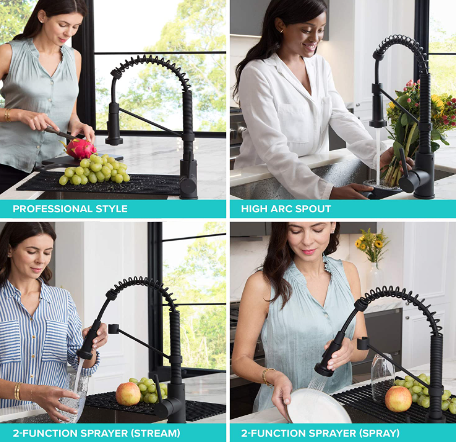 The smart handle design allows for a 90° forward rotation, making it easy to install in tighter spaces. The premium ceramic cartridge ensures long-lasting, leak-free use. In addition, the faucet is ready for installation with pre-attached water supply lines, matching deck plate and all mounting hardware included. The KRAUS Bolden™ faucet also features an Air Gap to prevent waste water from flowing back into your dishwasher, eliminating the risk of contaminating your clean dishes.
On the downside, the only negatives are that the area where the water comes out is made of plastic and not stainless steel, which may disappoint some users expecting a truly high-end design. Of course, this is by no means a defect, but more of a purely aesthetic feature. Also, the paint seems to peel off quickly when hit…
To bring a stylish design to your kitchen, and to make your tasks easier, the KRAUS Bolden™ kitchen faucet is the perfect compromise between affordable price, practicality and ergonomics. It's just a pity that some small aesthetic concerns slightly mar its visual appeal.
---
3. Delta Leland 9178T-SP-DST – Best Touch Sensitive Faucet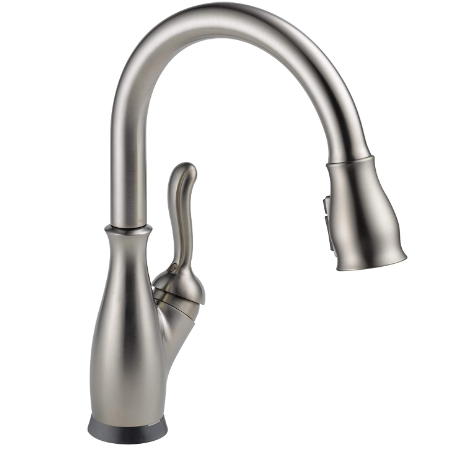 Want to bring a little modernity and technology to your kitchen? If so, the Delta Leland 9178T-SP-DST is a touch-sensitive faucet that allows you to keep your hands clean.
Delta Leland 9178T-SP-DST Features
1 or 3 hole installation
4 finishes available
Material: stainless steel
Pull-out model operating at 90°
All-Brite finish
MagnaTite anchoring
DIAMOND sealing technology
Touch-Clean spray ports
Touch2O touch technology
TempSense LED indicator
360° rotation
3 spray patterns: Continuous, Rain, SpotShield
Maximum flow rate: 1.8 GPM (6.8 LPM)
Maximum faucet height: 40 cm (15.4″)
Lifetime warranty
Our Review on the Delta Leland 9178T-SP-DST Touch Sensitive Faucet
The Delta Leland 9178T-SP-DST kitchen faucet incorporates several innovative technologies that make it fun, easy and clean to use.
First, its Touch2O technology allows you to start and stop the flow of water with a simple touch or stroke of your forearm, helping you keep your faucet clean at all times, even if your hands are dirty. What's more, when you're done washing, this faucet automatically turns off after four minutes so you don't waste water. This is ideal for children or people with reduced mobility, who will not have to worry about having forgotten to turn off the faucet. In addition to this, Delta has also added a coloured LED indicator that displays blue when touch mode is active, and flashes red when the batteries are low, so you'll never be surprised by unexpected dead batteries again.
There's another TempSense LED indicator in case you forget the exact temperature of the water – it changes from blue to magenta to red as the temperature rises. Some people may need time to adjust to this new mode of operation. Finally, this faucet uses 6 AA batteries, which are included, and will last for up to 1 year. If you prefer up to 3 years of autonomy, then you just have to buy 6 C batteries (not included). The good news is that even if the batteries run out, you can still use your faucet as normal, using the joystick.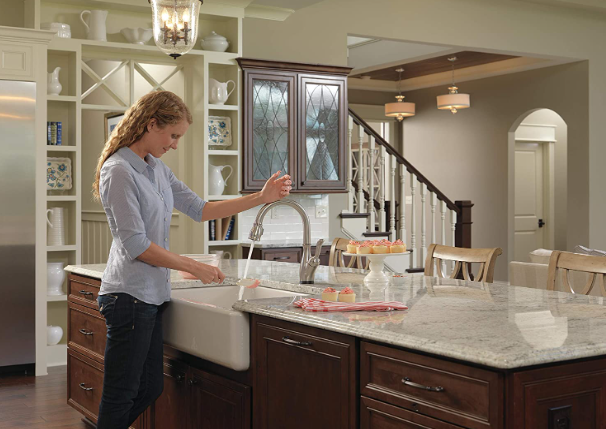 The MagnaTite system is a magnet that allows the pull-out shower head to be securely attached, while ensuring flexibility of movement during use. ShieldSpray technology makes cleaning easy, with its concentrated spray dislodging dirt so you never have to worry about cleaning the most stubborn stains again. And don't worry, its innovative water shield reduces splashing, keeping everything safe and dry.
For the fanatics out there, SpotShield technology protects your faucet from fingerprints or splashes that can stain, and makes cleaning much easier in the long run. This gives you a faucet with 3 types of spray: continuous, rain and SpotShield. To top it all off, the soft rubber Touch-Clean spray holes make it easy to remove limescale deposits with your fingertips, making it as easy as possible to maintain this faucet and avoid contamination of your water. In terms of design, this model is a little more traditional and less contemporary than other models; a shame as a more modern look would have been great with touch technology!
Finally, each set comes with state-of-the-art DIAMOND sealing technology, which greatly reduces leakage points and keeps your faucet running like new for its entire life. A lifetime warranty is offered on this product, in case you were hesitant to shop around in the first place.
If you like innovative and technological appliances, and above all, making your life easier in your cleaning tasks, the Delta Leland 9178T-SP-DST faucet is definitely worth considering. We love all its features designed to make your daily life easier.
---
4. Delta Foundations B1310LF – Best 1-Handle Kitchen Faucet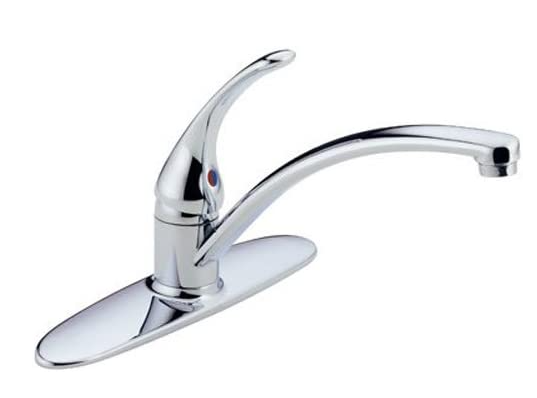 Should the faucet be practical for you, or easy to handle and install? What's the point of spending hundreds of dollars on a highly complex faucet? If you are looking for a functional and very simple product, then the Delta Foundations B1310LF will meet your expectations.
Delta Foundations B1310LF Features
3 hole installation
2 finishes available
Material: stainless steel
Pull-out model operating at 90°
360° rotation
1 type of jet: continuous
Maximum flow rate: 1.8 GPM (6.8 LPM)
Maximum faucet height: 6.6″ (16.8 cm)
Lifetime warranty.
Our Review of the Delta Foundations B1310LF
The Delta Foundations B1310LF single-handle kitchen faucet is easy to install, and is only available on a three-hole installation. Its 360° swivel spout means you can always find the right angle to use, while it is available in chrome or stainless steel finishes.
Now, you'll notice that this faucet is a far cry from the other innovative models on the market: no extendable spray to make it easier to fill large containers/rinse the entire sink surface, no different types of spray, no advanced sensors to know the temperature of the hot or cold water etc.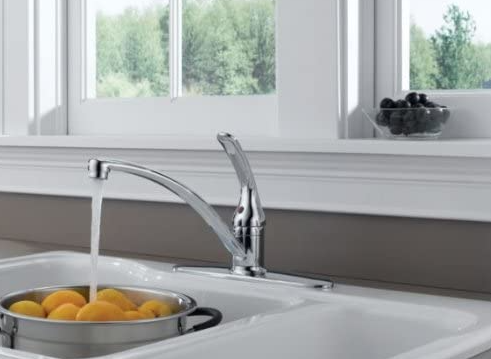 In short, you will love this faucet for its minimalism, and for its ease of operation. This may explain its very affordable price, especially since you get a lifetime warranty. In other words, it's a bargain! Of course, if you have a modern kitchen and want to match your equipment accordingly, this model might look a little out of place.
Perfect for anyone who needs a reliable, efficient and simple faucet, the Foundations single-handle faucet from Delta is an ideal choice and still a high-quality product, especially with its very competitive price!
Overall, the Delta Foundations B1310LF is a good kitchen faucet, but one that may look out of place in a very modern or contemporary kitchen. Delta's quality is very good, but its design is far from its strongest point.
---
5. WEWE A1001-02-01BN – Best Low Budget Kitchen Faucet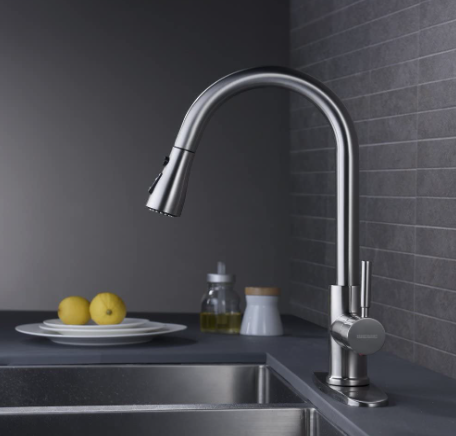 Who says you have to spend a lot of money on a kitchen sink faucet? Certainly not. The WEWE A1001-02-01BN! This faucet offers great value for money and looks great in any interior.
WEWE A1001-02-01BN features
1 or 3 hole installation
5 finishes available
Material: metal
Pull-out model operating at 90°
360° rotating
3 spray patterns: continuous, rain and pause
Maximum flow rate: 1.8 GPM (6.8 LPM)
Maximum faucet height: 40 cm (15.7″)
5 year warranty
Our Review of the WEWE A1001-02-01BN
The WEWE A1001-02-01BN kitchen faucet is an affordable option with a sleek design that fits easily into most kitchen sinks. It offers a 3-way spray (flow, spray, pause) for multi-tasking, with a flow rate of 1.8 gallons per minute.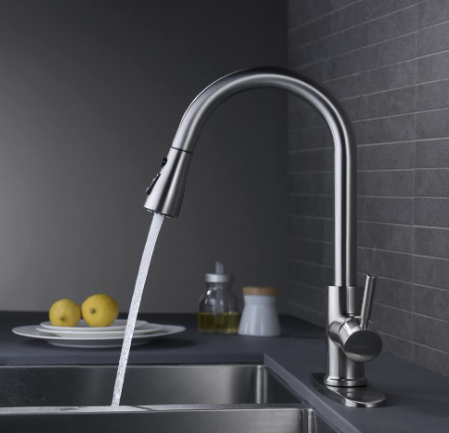 Continuous flow allows you to wash fruit or hands, for example, while spray rinses away stubborn stains and the pause option allows you to 'pause' the water while you move the hand shower to the desired location. These settings can be accessed via the button on the spout. A big plus on this model is that installation is quick and easy, with fully pre-installed pipes, allowing users to install it themselves without the help of a plumber, in less than 30 minutes. Once installed, it is easy to use with a single handle controlling the water temperature and flow rate, as well as a 360° swivel spout providing full access for washing.
The spray head always retracts to the spout after each use for convenience, not with a magnet as with most models, but with a simple pull motion that is just as effective. Also, the direction of the faucet for hot and cold water seems to be reversed from the standard norm: cold water is obtained by tilting the lever backwards, while hot water appears by pulling the lever towards you. Again, nothing serious in itself (though it may confuse some), a plumber can even help you make a connection to swap them.
There is no need to make it complicated and expensive if you can make it simple, cheap and elegant. That's how you can describe this WEWE A1001-02-01BN. The quality of the material, the durability and the almost unbeatable price make it a pleasant surprise!
---
Other Kitchen Faucet Alternatives:
6. Moen Arbor 7594SRS – Best Kitchen Faucet Alternative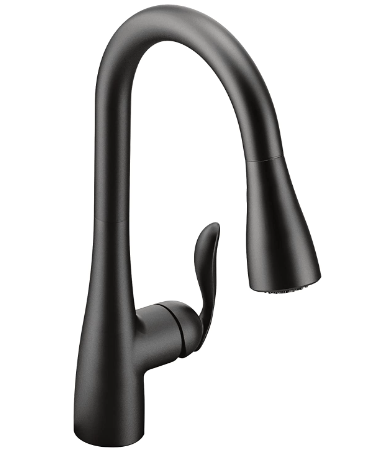 Do you have a nice budget to treat yourself to an ultra-modern, high-tech faucet for your kitchen sink? If so, the Moen Arbor 7594SRS is a great choice in this premium category!
Moen Arbor 7594SRS Features
1 or 3 hole installation
5 finishes available
Material: metal
Spot Resist streak-free finish
Power Boost™ technology for accelerated cleaning
Reflex system for improved flexibility of the hand shower
Duralock system for easy, secure, tool-free installation
Pull-out model operating at 90°
360° rotation
4 spray types: aerated spray, enhanced rinse, enhanced spray, powerful rinse
Maximum flow rate: 1.5 gpm (5.7 L/min)
Maximum faucet height: 40 cm (15.5″)
1 year warranty
Our review of the Moen Arbor 7594SRS
Don't let the simple appearance but not simplistic design of the Moen Arbor 7594SRS faucet fool you; its performance will amaze you! With its subtle, graceful and elegant curves, this model blends in beautifully with a variety of decorating styles, giving your kitchen a contemporary look.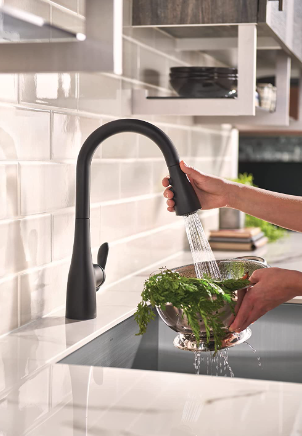 It is available in 5 finishes and can be installed in 1 or 3 holes. With its Power Boost™ technology, you can speed up the cleaning and water-filling process by simply pressing a button for a boosted water jet. Be careful though, this can increase splashing! The Spot Resist stainless steel finish prevents finger and water stains, giving you an ever-cleaner kitchen. The Reflex system allows for easy use of the hand shower, offering freedom of movement and fixed support of the spray nozzle.
The faucet also features a Duralock quick and secure connection system, for easy, tool-free installation in one step. It's ideal if you're on your own or not used to DIY.
The unique lever handle allows easy adjustment of water flow, while 4 spray patterns are available to suit every occasion:
Aerated spray for everyday cleaning
Enhanced rinse
Enhanced spray
Power Rinse for intensive cleaning
It's a pity, however, that the flow rate is a little lower than the norm (1.5 gpm here compared to 1.8 usually on other models).
As you can see, with so many features, this Moen Arbor 7594SRS model is still quite expensive compared to other models on the market. However, we feel that this selling price is not really justified because even though this faucet offers great features, it is not touch-sensitive, offers a slightly less powerful flow than other cheaper models and does not have a sensor.
Also, a point worth mentioning is that if you install this faucet in a 3 hole structure, all the pressure will be concentrated on the middle hole (where the faucet is placed). This causes an imbalance in the structure, where water from splashes gets trapped underneath the two ends, as these are not as well secured as the centre.
This is quite frustrating when you decide to invest in such a premium and expensive product. Afterwards, you can always take advantage of the lifetime warranty offered by Moen in case of any inconvenience. If you want to treat yourself, go for it! However, if you are on a budget, other mid-range models in this guide will do just fine.
A top of the range model, but it could do with some improvements, especially in terms of its water flow, but also in terms of some missing features that could have justified such a high price. However, this is a very beautiful and innovative model, so if you want to treat yourself to a sleek product for your kitchen, go for it!
---
7. Gimili GM1019N Kitchen Faucet
You want a kitchen faucet that is durable, flexible, ideally not too expensive and in harmony with the rest of your decor, right? Well, the Gimili GM1019N has all of these features!
Gimili GM1019N features
1 or 3 hole installation
3 finishes available
Material: brass and stainless steel
Pull-out model operating at 90°
360° rotating
2 spray patterns: continuous, rain
Maximum flow rate: 1.8 GPM (6.8 LPM)
Maximum faucet height: 16.3″ (41.4 cm)
Our review of the Gimili GM1019N
The Gimili GM1019N kitchen faucet offers a high-quality design with a solid brass body covered in a rust-resistant brushed nickel finish. Its dual-function spout makes it easy to adjust the flow of water and choose between a continuous stream for washing hands or fruit, or a spray for rinsing, making cleaning easier.
Plus, its high arc, 360° swivel spout and hand shower allow full access to the sink for convenient use with single or double sinks. You can pull on it as you wish, and it's extremely strong and flexible, so you can use it as close to your needs as possible.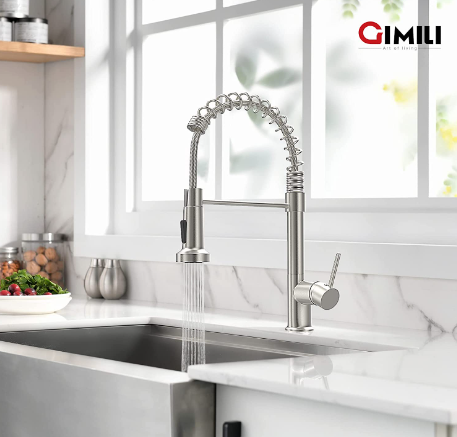 Some users prefer it when the hand shower is extractable and can be detached from its base for use anywhere; this is a non-detachable spout, but its flexibility offers great freedom of movement. It's up to you to decide what you prefer for your kitchen. The single handle easily controls hot and cold water, as well as the volume of flow.
The nanomaterial used in the manufacture of the faucet ensures long-lasting protection against fingerprints and stains, while the corrosion and rust-resistant top finish prevents dirt from sticking to the surface of the faucet. In short, this is one of the most durable faucets in this selection! The spring is specially heat-treated to prevent warping, while the strong, durable brass body ensures the life of the faucet and the safety of your family, especially children.
The 5-year limited warranty offered by the manufacturer may seem short to some consumers.
In summary, this kitchen faucet is an excellent choice for those looking for high-quality design and easy, convenient operation, with effective protection against fingerprints and smudges, but potential buyers should consider the drawbacks mentioned.
If you are looking for a complete, inexpensive, beautifully designed and efficient faucet, you will be very satisfied with the Gimili GM1019N. Perfect to enhance the design of your kitchen, without spending too much money!
---
How do we Pick These Kitchen Faucets?
All of our recommended products on jitpro.com are the result of many hours of research, comparison, analysis of consumer reviews and, where necessary, asking for expert advice.
The products we recommend here are those that perform their daily tasks best, pass all the tests of safety, reliability and effectiveness with flying colours, and offer you a good price/performance ratio.
What are the criteria by which we judge the products reviewed and selected by jitpro.com?
Quality: Is the product of solid construction? Is it reliable over time? Does it have a good warranty and after-sales service?
Efficiency: Is the product effective in its task, or do you need to give it some help? For example, is it powerful, fast and quiet?
Usability: Is the product easy to handle, easy to use and easy to maintain?
Price: Is the product and/or accessories and spare parts reasonably priced compared to other products on the market?
In addition to these main criteria, we have developed a list of specific criteria for each product category, which is further detailed in this article. The products we recommend are the ones we would like to buy for our own staff, but also the ones we have chosen for our friends and family.
---
What You Should Know Before Buying a Kitchen Faucet?
The style of the kitchen
The style of your kitchen faucet should be consistent with your kitchen style to create a harmonious look. If you have a rustic or traditional kitchen, an antique brass or oil-rubbed bronze kitchen faucet can be an excellent choice to complement the overall aesthetic.
If you have a modern or contemporary kitchen, a stainless steel kitchen faucet with clean lines may be more appropriate. Keep in mind that the choice of style will depend on your personal taste and the overall style of your home.
Kitchen and sink configuration
There are different kitchen sink and faucet configurations, so make sure you choose a faucet that fits your existing sink. If your sink is designed for a single-hole faucet, then you'll need to buy a faucet that can be installed via a single hole.
If your sink requires a three-hole kitchen faucet, make sure the faucet you buy fits that configuration as well. The good news is that many models are compatible with both one and three holes.
Also, check the location of the faucet handle, which can be side or top mounted.
Finally, if you choose a 360° rotating model, make sure you have enough space for it to rotate properly.
The material chosen
Kitchen faucets are made from a variety of materials, each with its advantages and disadvantages. Brass faucets are strong and durable, but can be expensive.
Stainless steel faucets are easy to clean and resist corrosion well, but may not have the same luxurious look as brass faucets.
Nickel faucets are also very durable, but require a little more maintenance to maintain their shiny appearance.
Functionality
Some types of modern kitchen faucets can have a variety of useful features that will enhance your cooking experience.
For example, a detachable hand shower is useful for rinsing fruits and vegetables or cleaning pots and pans. The touch function allows you to pause the water with a single touch or stroke of the forearm without staining the faucet. Water flow regulators can help you save water by reducing the flow without compromising pressure. Water filtering features can provide pure, healthy drinking water, or Air Gap devices can prevent dishwasher water from backing up into your sink.
Think about your needs and how you use your kitchen to determine which features will be most useful to you. If simplicity and convenience are your main concerns, then a simple kitchen mixer faucet will do the trick (a faucet that is extremely easy to use, as it only uses a lever to adjust both the water flow and temperature).
Plumbing in your kitchen
Your future faucet must be compatible with the existing plumbing connections in your kitchen in order to be installed correctly.
Kitchen faucets can be fitted with different types of connections, such as compression, screw or press fittings. Make sure that the new faucet you buy is compatible with the type of connection used in your plumbing.
In addition, it is important to check whether your plumbing is capable of supplying sufficient pressure; for example, high-end faucets with advanced features such as detachable sprayers may require higher water pressure to operate properly. In this case, it may be necessary to call in a plumber to check and adjust your plumbing system if necessary.
Spout height
The height of the spout determines the height at which water flows from the faucet into the sink. If you have high pots or dishes that need to be filled regularly, a kitchen faucet with a higher spout may be more convenient and easier to use.
Similarly, if you have a deep or wide sink, a kitchen faucet with a higher spout can provide enough reach to reach all corners of the sink. This makes filling pots and pans easier and quicker, and washing up more efficient.
The type of handle
The type of handle determines the ease of use and user-friendliness of the faucet. There are two types of handles commonly used for kitchen faucets: single lever and double lever.
Single lever handles are easier to use as they allow you to adjust the water flow and temperature with one hand.
On the other hand, double-lever handles require the use of both hands to adjust the water temperature and flow rate, but they can be more precise in selecting the desired temperature.
In addition, there are also handleless kitchen faucets that use a motion sensor or touch control panel to activate the water flow. These types of faucets are convenient for avoiding cross-contamination and for more hygienic use. However, they can be more expensive and require more complex installation.
With or without a soap dispenser?
A soap dispenser can be handy if you use it often to wash your hands or kitchen utensils. It can help keep your sink clean and tidy, avoiding having soap bottles lying around the edge of the sink.
In addition, a soap dispenser can look better than a plastic soap bottle. However, a soap dispenser requires regular maintenance to fill and clean, which can be a disadvantage for some people.
---
Our criteria for buying a kitchen faucet
Budget
The better your budget, the more interesting and practical your faucet will be in your daily life. We are talking about touch options, at least 2-3 different sprays, smart sensors to tell you the water temperature etc. The higher end models can go up to $600, while entry level single-handle models are priced between $80 and $100.
Again, the level of comfort and sophistication is different for everyone!
Spout height and reach
Choose a faucet with a spout height and reach appropriate for your sink and lifestyle. Faucets with a high spout can make it easier to fill large containers, while faucets with a shorter spout may be more practical for smaller sinks, such as in a bathroom.
Compatibility with your plumbing
Check the compatibility of the faucet with your existing plumbing to ensure that installation will be easy and trouble-free. Look at the number of holes in your installation, and choose a model that will fit without worry.
Sophistication
If you feel the need, choose a faucet with features that will meet your kitchen needs. This may include a soap dispenser, detachable sprayer, pull-out showerhead, built-in water filter, touch function, temperature sensors etc.
---
We do our best to provide you with a comparison of the best kitchen faucets for you.
If we have missed any information or new models, please feel free to leave a comment below or send us a message.