A wine aerator is an object dedicated to this precious nectar, which allows to oxygenate it better. This way, tannins and other unpleasant compounds will be reduced, while the wine's aromas will be more prominent. The objective is to obtain a result similar to that obtained by using a wine decanter, in much less time, and with a device that takes up less space.
Since the goal is to avoid buying a larger wine decanter, these devices compete in ingenuity, and several methods exist: pouring over the glass, device with a spout that fits the bottle, electric dispenser, etc.
In order to help you find the best wine aerator and make the best choice for your needs, we spent 56 hours and analyzed and compared more than 50 wine aerators, and referenced 1000+ people's opinions who have tested & used these products. We've picked out some of the best models out there and written a complete wine aerator guide.
---
1. Vinturi Essential Aerator – Best Overall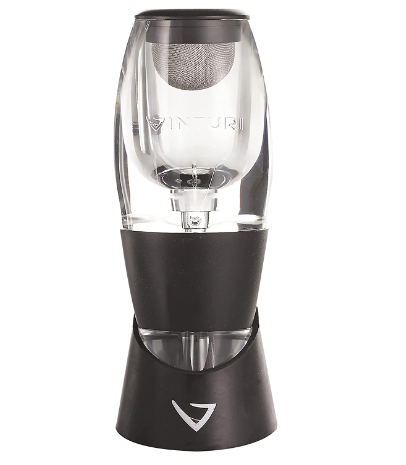 When you think of "wine aerator", one of the first models that comes to mind is the Vinturi Essential. With its design and efficient technology, it is a reference in the field.
What we think of the Vinturi Essential aerator
The Vinturi Essential aerator is an oblong device that fits in the hand. The principle is to pour the wine from the bottle into the aerator, which will then fall into the glass.
The top of the aerator consists of a cup that holds the wine. This cup has a hole at the bottom, which allows the wine to pass into the system that creates the aeration. This is where the magic happens: thanks to a patented technology, the device provides an intense oxygenation to the wine which is then aerated in a few moments.
The Venturi Essentiel aerator comes with a practical stand, especially for parties with several guests. Indeed, this support will allow you to put the aerator between each glass, which will avoid the drops.
The result is surprising! This aerator will effectively open your wine and enhance its bouquet.
If you use it for a wine with deposits, a filter is provided, which will collect the unwanted sediment.
The aerator is dishwasher safe, which is very convenient. However, we really recommend that you handle the Vinturi Essential with care at all times. Indeed, the plastic is not the most solid and a few small cracks can appear if the device is handled carelessly.
This little lack of sturdiness is unfortunate, especially since at nearly $50, this is a rather expensive model.
Vinturi Essential Aerator Features:
Wine aerator to be placed above the glass
Patented aeration technology
Stand included
Filter included
Dimensions: 15.24 x 5 cm / 6 x 2 in
Weight : 200g / 0.44 lbs
Dishwasher safe
Material : acrylic
With its rather effective results, this little device has become a must-have for those interested in wine aerators. We recommend it, even if its price is a bit high.
---
2. HEYPORK – Best Electric Wine Aerator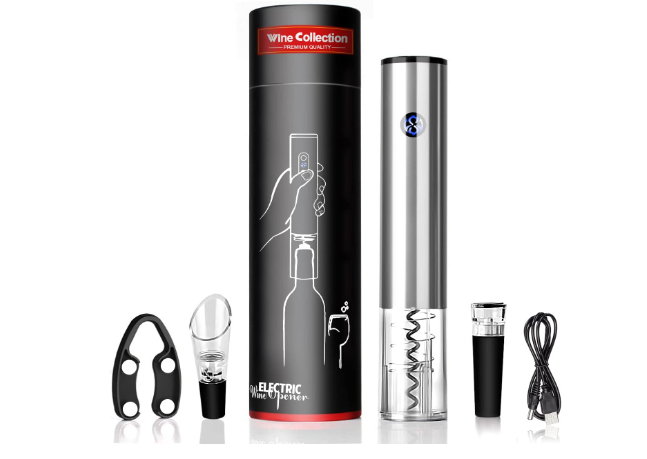 Filling your guests' glasses one by one is already a constraint, using a wine aerator for each guest is too much for you? The Heypork electric wine aerator will take away all your worries!
What We Think of The Heypork Electric Aerator
The Heypork aerator fulfills two functions: of course, it aerates your wine, but it also turns your bottle into a dispenser! This is an object that will surprise your guests for sure.
The device is a kind of tap with a long tube connected to it.
After opening your bottle, you can leave it standing and place the Heypork electric aerator on its neck. A long tube allows the device to reach the bottom of the bottle. The Heypork aerator is designed to stay in place with a sealed holder.
And that's it! When you want to serve a glass, you just press a button on the device and the wine will flow out of the spout. This system is nice and will be perfect if you have to serve wine to a large table.
But this model is above all an aerator. What you can't see is that from the bottom of the bottle, the wine has gone through many aeration stages. However, it should be noted that this one is not the most marked and for some wines, the difference will be subtle.
The aerator is electric, but don't worry: no cable will clutter your table! Just make sure it is fully charged before using it. Charging is done via the supplied USB cable.
It is also an easy-to-clean product. You don't have to clean it directly, but simply place the tube in a glass of water and turn the device on.
This product comes in two colors: note that the price may vary from one color to another.
Finally, we appreciate that the set comes with a velvet case that allows you to take it everywhere.
Heypork Electric Aerator Features:
Automatic aerator
Placed directly on the bottle
Triggering of the pouring by a simple pressure on a button
2 colors: lucky red and lucky black
Charged by USB cable (included)
Velvet pouch included
A practical and rather playful object, the Heypork electric aerator offers a pleasant way to drink wine and shows its full potential when many guests are gathered. The aeration, however, is not the most efficient on the market.
---
3. Trudeau Maison – Best Budget Wine Aerator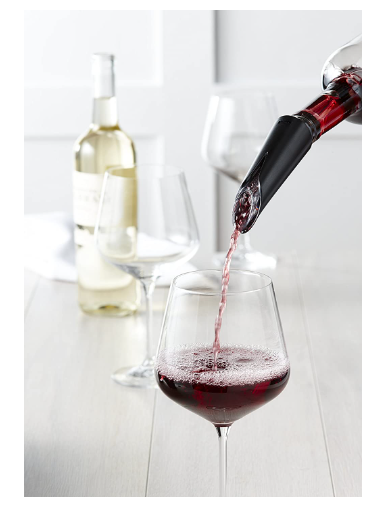 You want to buy a wine aerator from a local company? The Quebec company Trudeau offers you this nice aerator spout for a very attractive price.
What We Think of Trudeau Maison
Trudeau is a Quebec-based company that offers a wide variety of kitchenware. The Trudeau Maison is both a spout and an aerator.
This device could not be easier to install. After opening the bottle, simply insert the device into the neck. Thanks to its shape, the aerator will stay in place and be tightly sealed. You can pour the wine and the aeration will take place at the same time.
To do this, the device has a double aeration system.
The result is not the most striking. The manufacturer indicates that the aeration provided is the equivalent of half an hour in a decanter. Of course, there is a difference and the aeration is there, but don't expect to obtain an opening of the aromas as marked as with more elaborate models or a wine decanter.
On the other hand, the process is fast and overall, we appreciate the ease of use of this model.
One small regret: in this version, there is no support for the aerator, so provide a container to accommodate it when the bottle is finished. But we are not going to be picky because this is an entry-level product: count on about ten dollars only!
We also appreciate that at this price the product comes with a lifetime warranty from the manufacturer.
Trudeau Maison Features:
Aerating spout
Low budget
Fits directly on the bottle
Non-drip
Dimensions: 15.24 x 3.81 cm / 6 x 1.5 in
Weight : 90.72 g / 3.2 oz
Lifetime warranty
Very affordable, the Trudeau Maison aerator is quick to install, easy to use, and offers aeration that is not optimal, but still appreciable.
---
4. Eparér Pocket Aerator – Best For Adventure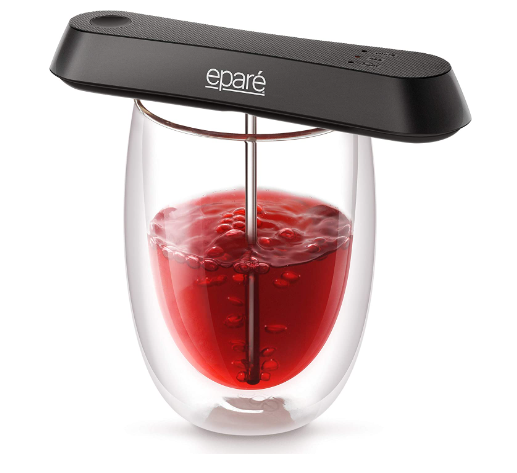 Do you have the opportunity to enjoy wine on the go? By taking the Eparé pocket aerator with you, your wine will taste even better, everywhere!
What We Think of The Eparé Pocket Aerator
The Eparé pocket aerator is a thin black box that takes up little space.
This device works according to a rather original system. You have to pour the wine into the glass, then insert the stem of the aerator into the device itself. The stem is then placed in the poured wine while the device remains in balance on the edge of the glass. You then simply press a button to start the aeration process. The Eparé aerator will then propel air into the wine.
Three settings are available: the operation lasts about 15 seconds for white wine, 30 seconds for red wine and 45 seconds for port wine.
An LED for each mode makes it easy to see which one is on.
The process does bring a result! There is a difference in taste, even if the aeration is much less than with a decanter or with other devices with more complex technology. On the other hand, we can remain rather reserved when it comes to the "white wine" function proposed: indeed, you will generally not notice any obvious difference.
A small constraint of this model is that it will not fit all glasses. The stem is 4.5″ (11.43 cm): for some glasses, this is too small or not enough. We advise you to measure your lenses before buying!
What will be a hindrance for many people is that the Eparé pocket aerator is offered at almost $50. It is a convenient and easily portable model, but it is up to you if you want to put that price tag on it.
Eparé Pocket Aerator Features:
Transportable electronic pocket aerator
Removable stem
3 settings: red wine, white wine, port
Color: black
Length: 13.4 cm / 5.75 in
Stem size: 11.43 cm / 4.5 in
Weight: 85 g / 3 oz
Requires two AAA batteries (included)
Limited lifetime warranty
Practical and easy to carry everywhere, the Eparé pocket aerator will give a little extra to your wines wherever you are. It is however an investment, its price being very high for such a product.
---
5. Secura WA-101 – A Real Ventilation Kit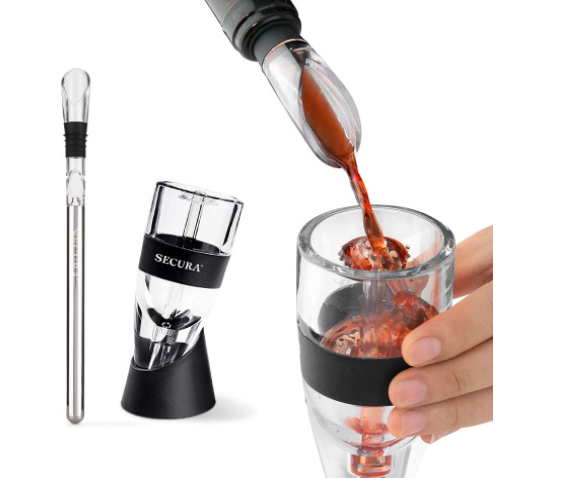 What We Think of The Secura WA-101
When opening the box, we are pleasantly surprised to find a complete kit. Thus, in addition to the aerator itself, a base and a cooling rod are provided. As a bonus, we even get a very practical carrying bag.
The cooling rod, which fits into the bottle, has not one, but three functions!
Its first function is in the lower part of the rod. When inserted into the bottle, it is used to keep the wine at the right temperature. For example, if you keep this stem in the freezer beforehand, it will keep the drink cool if necessary (for white, sparkling and even rosé wines, for example).
The second part is located at the level of the neck and creates a "mini aeration". This serves two purposes: on the one hand, to provide minimal aeration for wines that do not really need it (white wines, for example) without using the aerator, and on the other hand, to accentuate the process of the manual aerator when it is used.
Finally, the last use of the stem is its high end. This is a pouring spout that makes pouring wine more precise and easier, and prevents drips.
The aerator itself stands above the glass. A stand is included, allowing the device to be placed on the ground between uses, which is handy for avoiding stains.
One would think that all the equipment provided would drive up the price. However, this is not the case, and at around $25, this is a very affordable model.
At this price, it remains to be seen if this model will remain sturdy enough over the long term, but the good news is that this is a product with a lifetime warranty.
Secura WA-101 Features:
Wine aeration kit
Triple function stem provided: temperature control, mini aeration, pouring spout
Stand included for the aerator
Carrying bag included
Material: acrylic
Aerator + base length: 16 x 6.6 cm / 6.3 x 2.6 in
Stem length: 32.4 cm / 12.75 in
Lifetime warranty
It's hard to find faults with this Secura WA-101 set! The variety of the provided equipment is appreciable, and the result is really correct, for an excellent price. This is a very interesting alternative!
---
6. Kitchwise Aerator Spout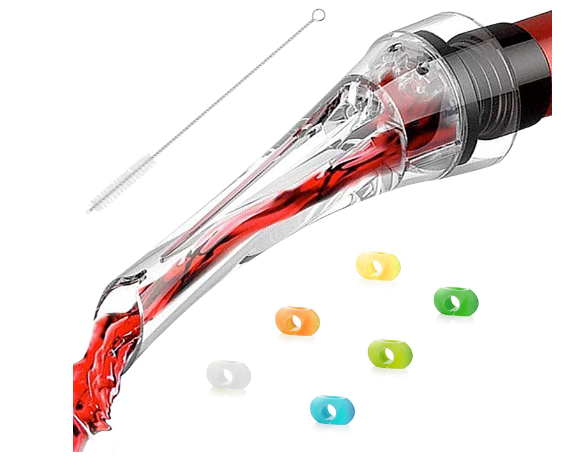 Pour vous, ajouter l'aérateur de vin au-dessus du verre est une contrainte que vous souhaitez éviter? Le bec verseur aérateur Kitchwise pourrait vous intéresser.
What We Think of The Kitchwise Aerating Spout
The Kitchwise aerating spout cleverly uses the technology of a classic wine aerator inside a spout.
Since the end of the spout is a full-fledged pourer, you'll have a much easier time pouring wine without dripping.
But the special feature comes from inside the device. It is truly a condensed aerator. It was designed to optimize Bernoulli's principle according to which a decrease in pressure generates an acceleration of the fluid flow. This works quite well and the process will allow the aromas to be released.
We appreciate that it comes with a small brush for cleaning. Overall, this is an easy to clean device but this accessory makes it even easier.
On the other hand, the manufacturer claims that this device is compatible with "all wine bottles," which is not accurate! You should not have any problem with most bottles with screw caps, but you may experience leaks with, for example, bottles with corks.
Finally, it is not a fragile object, but it should be handled with care – it could be damaged quickly by the slightest misuse.
These small flaws are balanced by a lifetime warranty offered on this model, which, by the way, is offered at a very attractive price.
Kitchwise Aerating Spout Features:
Two in one: spout and wine aerator
Material: acrylic
Weight: 150 g / 5.3 oz
Lifetime warranty
Practical and easy to use, the Kitchwise aerating spout does its job and will allow you to get a proper aeration. It's a pity that it doesn't fit all bottles, but we tend to forgive it thanks to its very attractive price.
---
7. Aervana Original Electric Wine Aerator and Pourer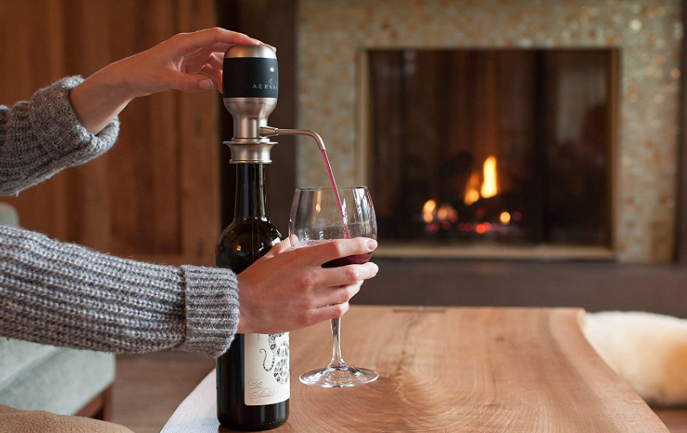 For you, a wine tasting should be an opportunity to impress your guests? The Aervana Original is sure to give your parties a new look!
What We Think of The Aervana Original
The Aervana Original is an electric aerator and you will need no less than 6 AAA batteries (included) to operate. The good news is that these batteries have an announced duration of more than 200 bottles!
The whole set, detached, does not take too much space and is easy to carry. To assemble the whole, it is very simple, you just have to attach the stem to the head of the device.
The installation is quite easy: you just have to place the tube in the bottle and press to fix the head. This will then serve as a dispenser: to pour the wine, just press a button on top of the device. The dispensing is done through a small, thin, non-drip tap. You can leave it pressed until you get the desired quantity.
The result is quite efficient: the wine is well aerated, the unpleasant elements are well blurred and the aromas come out.
The cleaning process might seem complex but it is not: you just have to do the same maneuver as with a full bottle, but with a bottle filled with water. Pressing the button for 3 seconds will then rinse the device.
The device, placed on top of a bottle, looks great and would be at home in a bar with its metal barrel look. In fact, you would think that adding a device to a bottle would be ugly, but it's the opposite effect with the Aervana Original!
However, the device is not protected against corrosion. This means that you have to keep it away from liquids at all times… at the risk of premature wear. It's a shame, we would have liked a device at this price to be better protected. Indeed, this is a luxury model and you will have to spend more than 100$ to acquire it.
Aervana Original Features:
Aerator and wine dispenser
Operates on 6 AAA batteries (included)
Colors: black and silver
Overall length: 30.48 cm / 12 in
Weight: 680 g / 1.5 lbs
The Aervana Original is a rather elegant luxury product that will transform your bottle into a real wine dispenser, while aerating it rather efficiently. We only regret its sensitivity to corrosion.
---
What you should know before buying a wine aerator
Does it take up space?
Generally, wine aerators take up very little space, since they are designed to replace a wine decanter. This allows people with limited space to make the most of the bottles in their cellar.
Is an aerator as effective as a wine decanter?
This question is a huge debate! Opinions are very divided on the question. When they first arrived, wine aerators were viewed with suspicion by connoisseurs. However, it turns out that in both cases, wine aeration is indeed beneficial for the tasting of young wines. In addition to saving space, the advantage of a wine aerator is that the process is much faster than decanting, since it is almost immediate. And we can see an improvement in the taste. On the other hand, certain subtleties, which can generally only be achieved over time, will be less pronounced with a wine aerator.
How does a wine aerator work?
Technologies vary, but the principle remains the same: to bring oxygen to the wine as it is poured. There is usually an aeration chamber and ducts that allow air to be brought quickly into contact with the wine. The whole thing favors an aeration of the wine in a reduced time.
---
Our criteria for buying a wine aerator
The pouring method
These devices do not use the same method to aerate the wine. Here are the three most common types, but there are others:
The pouring aerator
This is a device that is inserted into the bottle after opening. It looks like a spout, but has an integrated aerator technology. This way, you can enjoy aeration while pouring the wine, as well as the anti-drip function of the spout.
Manual wine aerator
This is the form in which the first wine aerators appeared. It is a device that you hold over the glass. You pour the wine into it, and the device performs the aeration in an instant, before pouring into the glass. This type of device generally provides the most effective aeration.
The electric wine aerator
This original system allows you to transform your bottle into a real wine dispenser, thanks to a device located on the bottle placed upright. All you have to do is press a button to obtain aerated wine. This is a very practical system for large dinners and for pouring wine without getting tired. However, we often find that the pouring function takes precedence over the aeration function.
It is up to you to choose the pouring system that best suits your needs!
---
Cleaning
The wine aerator is usually a rather complex device: if you just pour the wine, you may not realize the path the liquid takes, and the internal complexity of the device. Because of this, it could be a difficult object to clean. However, the manufacturers compete with ingenuity to avoid any constraining cleaning. We therefore advise you to check the cleaning method before purchasing, to see if it is suitable for you.
And in any case, don't forget to clean your wine aerator after tasting!
The wine you will use the aerator for
Knowing which wine you intend to use your wine aerator for is crucial to your purchase!
Indeed, a wine aerator is above all intended to bring out the aromas of rather young wines while reducing unpleasant tastes. On the other hand, older wines are generally too fragile to be aerated: by wishing to optimize all the aromas of your precious wine, you run the risk of ruining its taste. One of the reasons for this is that the wine has already undergone progressive aeration during its aging process, if it is a wine with a cork. If you wish, you can decant it, but it is strongly advised not to aerate it. Or, in this case, prefer wine aerators with low action.
---
Sturdiness
Some wine aerators will seem more "gimmicky" than others and their reliability may suffer. That's why a more expensive aerator may be a good investment, rather than one that will quickly break down. A crack in your unit can make it less efficient at best, and unusable at worst. In general, it is advisable to treat a wine aerator as a fragile object to ensure that you can use it for a long time without problems.
The price
The price to acquire one of these products is very variable and goes from about 10$ to more than 100$! At $10, you'll get a slightly improved spout, but don't expect miracles. The more expensive models feature more complex devices, often more practical and efficient.
---
We do our best to provide you with a product comparison to help you choose the best wine aerator possible. If we have missed any information or new models, feel free to leave a comment below or send us a message.